Toronto music pioneer Barbi Castelvi is a multi-instrumentalist, piano pedagogue, vocalist and DJ. She's shared stages with Lupe Fiasco, A-TRAK, Chromeo, Egyptian Lover, Morgan Geist, MSTRKRFT, Feist, Peaches, The Juan Maclean, Death From Above 1979, and many more. Castelvi is part of musical duo, Siviyex, with electro producer Cryogenetic.
Castelvi will be performing Friday, December 7th at Tennessee Tavern (1554 Queen W) as part of Evolved Entertainment's For The Record.
We chatted with her this week.
SDTC: What tracks/sounds are currently in heavy rotation for you these days?
BC: I really like this label called Disko Obscura. Mainly an artist who calls himself Ortrotasce.
Fave set you've EVER played?
I really enjoy the sets I play for a monthly party I do called Bingo Bango. We recently moved it to Red Light (1185 Dundas St. W). I love playing with Cryogenetic and Butr. The night focuses mostly on Electro music but we also play Italo, Minimal Wave and Synthpop.
What holiday tradition do you like to keep with your own family?
I love Christmas because I am very close with my family, and my husband has a huge family. Because we have a young son, it is a lot of fun and brings about warm fuzzy feelings.
What's your go-to song for getting stuff done?
I have recently discovered a very talented person who calls himself DVS NME and makes these incredible Post Punk Affiliated mixes full of goth, Shoegaze and post-punk music old and new. That really gets me motivated to do housework and cooking. There is really no particular song but more like a vibe.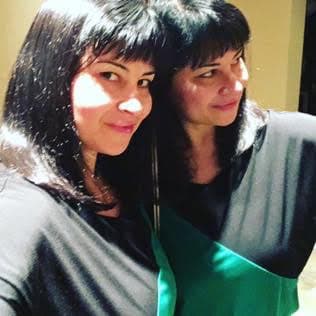 What advice would you give to your fourteen-year-old self?
Work harder on studying classical piano and if you get a record deal while you are still in high school, keep continuing your studies in your discipline. (This actually happened to me.)
Who has made a big impact in your life recently, and how?
The person who has made the biggest impact in my life has got to be a tie between my husband and my eight-year-old son for many reasons I'm sure you understand.
What does your ideal Saturday look like?
Saturday? Hmm…working on a new song with my husband in our studio while our son quietly watches and observes. We have a new musical project called Siviyex.
What's the best part of being your current age?
I know who I am. I am confident of where I am going in my life. I am making exactly the kind of music I have always wanted to make. I love my job as a piano pedagogue as well.
What are you sick of hearing about?
How people hate social media. You realize these people who complain about it don't actually like to socialize. Well, I do, and I embrace social media culture!
What is your mantra these days?
Look to the future and embrace the past.
What art work would you love to have in your space/on your walls, and why?
I have always enjoyed Dadaist and Surrealist art. I have always admired the work of Salvador Dali and have purchased his prints in the past. I also love lithographic art such as the work of MC Escher. I actually have a tattoo on my back of one of his drawings entitled "Path of Life II."
I like art that makes me think of what the artist was thinking while conjuring up such strange, out-of-the-box work. I can relate to it as a musician who has always loved being a part of projects that are considered "outside the box." If most people don't understand it, it's a good sign.
Fave rainy day comfort food? Or activity?
Food? Curry. Activity? Playing Bach on the piano.
Fave place to spend time in Toronto?
I love hanging out at this record store called Invisible City (1265 Dundas St. W). I love the people who run it and love talking about music and geeking out with the people that come by to shop or play records in their DJ booth. It's always a learning experience. I don't live in the downtown core anymore but if I did, I would probably be more of a fixture there.
When you were a kid, what did you want to be when you grew up?
Exactly what I am now. A musician that makes a living doing it, whether it is playing an instrument, DJing or teaching piano/voice.
What adult task would you like to get better at?
Probably taking better care of my aging parents.
If you could spend a year studying something, what would it be?
I have always wanted to play the cello. I would love to play Baroque music with that instrument.
What should we be paying more attention to?
We should be paying more attention to each other and be more loving and caring towards others, don't you think? These are strange times we are living in.