Smart, nuanced, and totally enthralling, Carly Stone's The New Romantic is a film that will evoke a variety of complicated feelings about figuring out your sense of self, self-love, and life's direction.
Blake Conway (beautifully played by Jessica Barden), aspiring journalist, hopeless romantic and college senior, is terrified of graduating. In order to escape her looming post-graduation fate, which includes student debt and zero romantic prospects, she becomes a sugar baby. While she documents the adventure, in the hopes of winning a journalism award with a generous cash prize, she sets out on a quest to figure out if society is right to judge these woman and if her own self-worth comes at a price.
While the topic of "sugar babies" is a salacious one, Stone realized after a few drafts that the film was less about that relationship, and more about a young woman trying to establish herself. "It's about ambition, and what that means to a young woman in today's society."
We love that Blake Conway isn't an easy character to dissect; like most humans, she has conflicting aspects to her personality and a lot of grey areas that aren't easy to decode. "Nora Ephron, Sofia Coppola and Jill Soloway are filmmakers I look up to," says Stone. "They inspire me to tell stories about women who make mistakes and don't necessarily figure it all out in the end. For this film, I wanted to create a character that was full of contradictions.I wanted her to be smart, funny, naive, adventurous, scared, rude and beautiful. Her superpower would be the ability to not be put in a box." And she's not, not at all.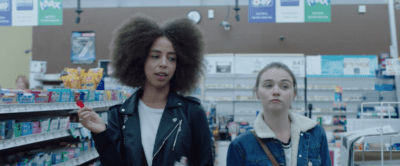 CONTEST
We think you'll love this film, and we know it will stir up interesting convo about love, romance, ambition and so much more. You've got three ways to enter: don't mess this up!
FACEBOOK & INSTAGRAM: LIKE + COMMENT on our New Romantic post.
TWITTER: Tweet "YES, @shedoesthecity! Please send me to the advance screening of #TheNewRomantic! I'm intrigued about sugar babies, but more so, I like a nuanced film about a young woman's ambition."
The advance screening will be taking place Wednesday, October 17 at Cineplex Yonge and Dundas at 7:00 p.m. Winners will be notified on Friday, October 12 at 1:00 p.m. EST.
The New Romantic opens in select theatres on Friday, October 19. Watch the trailer now.