It's Luminato's ten-year anniversary, and they're going BIG! Are you ready to #TurnOnTheHearn? HOLY ****! WE ARE SO EXCITED ABOUT THIS.
From June 10 to June 26th, Luminato will turn Toronto's historic Hearn Generating Station into a festival hub: the largest community cultural centre in the world where imaginative and compelling art, dance, theatre, music & food can be experienced against the backdrop of one of the most impressive industrial spaces.
"This is not Toronto's Tate Modern, this is not Toronto's Battersea Power Station…this could be a place that has no equal in the world," says Luminato Artistic Director Jorn Weisbrodt. We believe him, and we hope that Luminato's effort to do something extraordinarily cool with this space marks the beginning of an exciting era for Toronto's cultural landscape.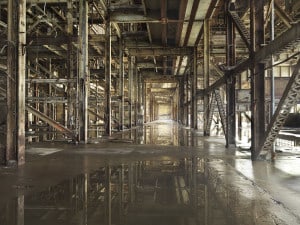 We can't wait to #TurnOnTheHearn and want YOU to be one of the first to check out how Luminato has transformed Toronto's majestic, decommissioned power plant, situated on the waterfront in the Portlands. We're sending a pair of culture vultures to Luminato's Opening Night Party on Thursday, June 9th.
Watch the video for a teaser of what to expect and enter our contest for a chance to win tickets for the highly anticipated opening night party of Luminato Festival: Year 10.
CONTEST: There are three ways you can enter!
Tweet, "YES @Shedoesthecity! I want to attend @Luminato Opening Night Party at The Hearn! #TurnOnTheHearn!"
Instagram: LIKE and COMMENT photos that @Shedoesthecity posts of the Hearn Generating Station.
Facebook: LIKE and COMMENT on the #TurnOnTheHearn video we post in our FB group.
The Hearn Generating Station is open to the public from Tuesday to Sundays, June 10-26. There will be a range of food and beverage options on site, including the Biergarten presented by Mill Street with custom menus from Parts & Labour, buffet-style Backstage Meals by Capers Catering and an immersive French bistro style dining experience in Le Pavillion by Fred Morin and John Bil. Beverage options include Camp Viejo and Stoneleigh wines, Absolut cocktails, spirits, Mill Street beers, glacéau smartwater and Van Houtte coffee.
For programming and transport info, go to the Luminato site.