An arts organizer, illustrator and paper-based installation artist, Kalpna Patel (a.k.a. Ghostfaceknitta) has been crafting all sorts of fantastical scenes in storefronts across the city for years. Kalpna works at Type Books and is the Artistic Director of City of Craft (one of our absolute faves), Toronto's three-day festival and juried craft exhibition.
This Saturday, you can see Kalpna in action at the new AGO All Hours. From 10:30 a.m. to 4 p.m., she (along with Cam Lee) will be leading an art playground in Walker Court. AGO All Hours is an all-ages block party taking over the gallery with en plein air drawing for kids, pop-up artist talks, dance lessons with Warehouse Jacks, DJs, entertainment and tons more.
We caught up with her this week.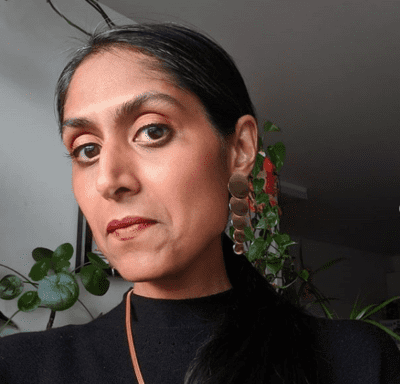 SDTC: Describe your dream getaway scenario.
KP: A silent retreat somewhere in the woods, where plates of tandoor-fired meats are left outside my door every afternoon.
What is commanding a lot of attention in your life lately?
I've been paying a lot of attention to my habits and trying to establish routines so I can automate the more mundane parts of my day and not have to make a billion tiny decisions all day long.
What have you learned about yourself in the past year?
That any thoughts/beliefs I have about myself are stories I've made up to reinforce some narrative that I think my life needs to follow but that are ultimately groundless.
What is a fun little-known fact about you?
I have no large intestine!
What book/film/show have you connected with recently, and what about it appeals to you?
I think about Jim Jarmusch's Paterson a lot, about a bus driver who writes poetry. I like that he has no plans to get published, or even cares if anyone reads his writing; he does it purely for himself. I think these days when it's so easy (and almost expected) to turn something you enjoy into a vocation, it's easy to forget that you're allowed to do things just because you like them. Not everything you do has to be validated or consumed by someone else.
What's the worst piece of life advice you've been given?
That by the age of twenty-six I should have my life sorted out. I've led four different lives since I was twenty-six and will likely lead many more.
What is your motto at the moment?
Energy management > time management.
Any plans for the summer?
Lots of reading outdoors and fresh fruit and ice cream.
What are the qualities you like least and most about your parents?
I hate that they are chronic worriers, and I love that they are generous.
Rewind five years. What advice would you give yourself?
Keep on top of your paperwork, and do your bloody taxes.
What is the most courageous thing you've ever done?
Putting City of Craft on hiatus after twelve years in order to re-group and take care of myself.
What childhood memory makes you laugh out loud?
Wearing mittens with the string attached, except my parents didn't realize the string was meant to go through the arms of a coat, so I just walked around with my hands basically tied together.
What unnecessary object would you love to own?
A garment steamer. I hate ironing!
What tip, technique, or hack has made your life better in the past year?
Meditation. And sharp scissors.
What issue do you wish people took more seriously?
Accessibility: making life in the city safer and more accommodating to people with different abilities.
What outfit makes you feel the most you?
Anything in mustard yellow.
Who has surprised you lately, and how?
The staff at the Junction Dollarama. They are so friendly and helpful and always seem to be in such a great mood. But I think that might just be Junction folks in general.