It's tricky to make new (real-life) friendships in this digital age. We'd like more in-person interactions but often don't have the tools to do that. And if you're new to the city, it can be even more challenging to forge new bonds.
Kate Tyshchenko is a co-founder of Kinza, a community that fosters social connectedness through small-group dinners. It's like Meetup meets Airbnb (except you don't have to have a spare room to rent).
We asked Tyshchenko about Kinza this week.
SDTC: What led you to create Kinza?
KT: I moved from Russia to Toronto and was beginning to feel quite lonely. Between not knowing many people and travelling five days a week for my consulting job, it was very hard to make friends and have a social life. I would be that girl who stayed at work until 10 p.m. on a Friday just because I literally had nowhere to be.
It made me realize how hard it is to make friends once you are an adult. I thought, there has to be other people like me. Everyone knows there's Tinder for dating, bars for small chats, networking events etc., but none of these actually create environments for long-lasting connections and friendships.
Back home during high school I always loved hosting my friends and seeing people happy at my place hanging out, discussing everything from heartbreaks to politics. This is what I wanted to recreate with Kinza: casual events where you can unwind and meet some cool new people.
Is Kinza your first entrepreneurial venture?
KT: I always wanted to be an entrepreneur, but I come from Russia where the culture really doesn't empower women to take on those roles. Growing up I would always tell my parents business ideas I wanted to do and they would say, "If it's such a great idea why has no one else done it?" or "It's too hard to have a business and you need a stable job," so I kind of put that on hold and went to school.
I received my masters in economics then entered the corporate world as a management consultant, which I did for four years, but all that seemed meaningless to me. Eventually, I decided it was time to do something that excites me. I started making small steps like building a [proof of concept] and seeing if there is a demand for the service I wanted to build. I met my co-founder, Sachin, who is a brilliant business mind and complements my skill set in every possible way. That's pretty much how Kinza came to be.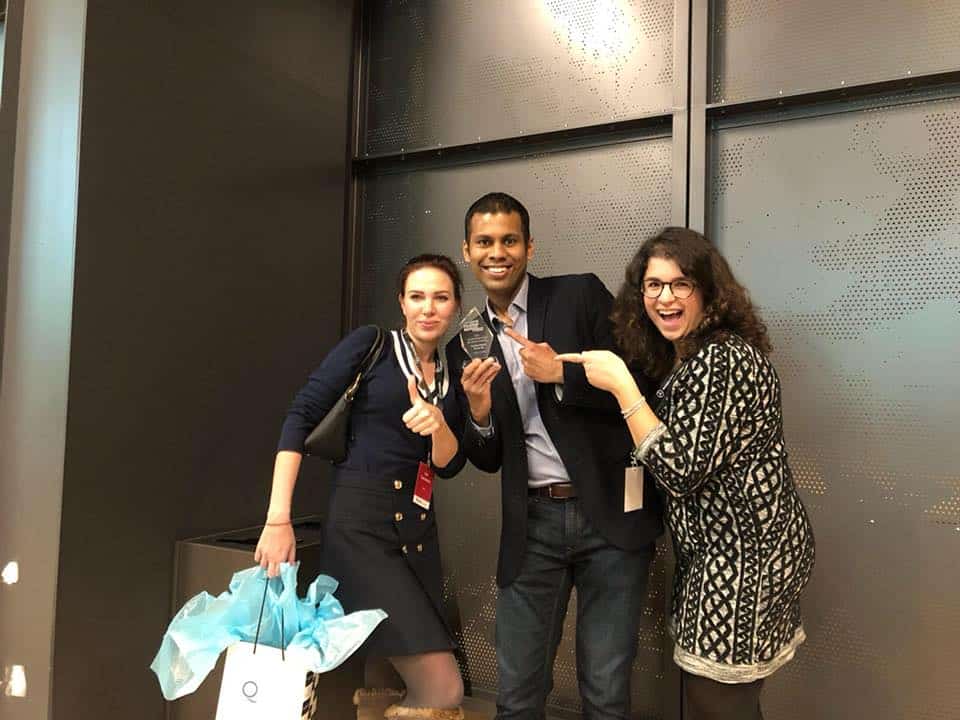 Can you walk us thourhg a typical day in your life, from getting up until going to bed?
I am definitely not an early bird. I get up around 8:30 a.m., feed my dog and get ready within twenty minutes then run to the office because I'm always late. Right now since Kinza is in its early stages, everyone does everything. One day I'll be writing articles, the next day I'll be running Facebook and Quora campaigns, meeting new hosts, learning about SEO and AdWords, doing market research.
I try to learn more about the type of people that use Kinza (i.e., their hobbies and passions). I love this part of the job because I'm constantly meeting so many interesting people. Usually I leave the office around 5:30 p.m. and I either go to an event or help out a new host with their first Kinza experience. Sometimes I host at my place too.
I get home around 11 p.m. then hit the gym. After that, I typically do some tech stuff (e.g., fixing our website, setting up retargeting campaigns). Then I'll usually try reading or listening to a podcast. I'm in bed around 2 a.m.
What have been the biggest challenges you've faced in getting Kinza off the ground? What has been the most rewarding part of launching this biz?
Having a start-up is a very humbling process. People have these crazy ideas of it being very glamorous, like flying private jets on investors' money, but that's far from the truth. My hero Brian Chesky once said, "When you are starting a company, it never goes at the pace you want. You start it, you build it and you think everyone is going to care. But no one cares. Not even your friends." This is very true and it's very much you against the world.
The hardest part for me is probably when people make promises then just ghost on you, and it happens a lot. The most rewarding part is hearing people talk about Kinza like, "Oh this is my 3rd Kinza experience!" or "I went to Hector's event and now we hang out all the time" or "The experiences have been nearly addictive." That makes me very happy and the hard work worth it.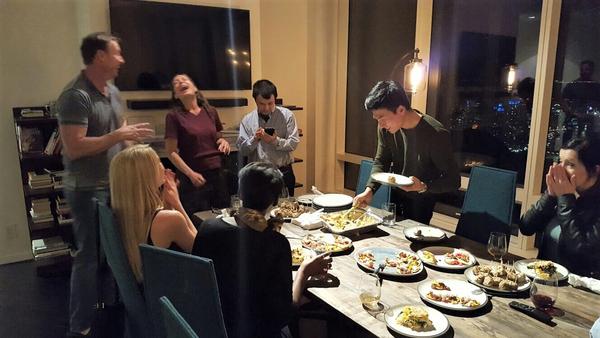 Any tips for other young women who may have a great idea for a start-up but are not sure where to turn next?
If you really have a passion for something and want to make people's lives better, just go for it full speed. Don't let anyone tell you that it's too hard or you are not fit for running your own business or it's not the right time or whatever. Just cut out this kind of discouragement. Read the right books about people who did make it happen. Reach out to people who have their own businesses and are successful. Learn every day by listening to podcasts, reading articles and sharing your knowledge with others. Even if you don't know how to do it and don't have a plan, just start and you will figure things out along the way.
Why should we try Kinza? What do you love about it?
I guarantee Kinza is very different from anything you've tried before. It's not like you are visiting your aunt from Saskatchewan and conversations are super awkward all night (in my case, she'd be asking when I'm getting married). You meet passionate, intelligent and well-travelled people and you do cool things together–play board games or enjoy Bombay Street Food or make tacos! Everyone laughs and everyone shares their thoughts, beliefs and hopes. Each person is like a thousand books that may never be written. By staying in your comfort zone and not diversifying your social circle, you are really missing out on hearing these wonderful stories. Kinza grows empathy, makes your social life so much brighter, and builds strong connections–that's why I love it.