In the past two years of Nuit Blanche, we have swam in muddy waters at Trinity Bellwoods, been mesmerized by floating penguins in bath house pools, stuffed our face with strange cake, been unimpressed by a giant deflating locust, fallen into garbage, peed in the trees, gotten lost, partied with strangers, been spooked, kissed in igloos, had alien encounters and walked with horse heads.
This year expect to get screamed at by psychotic shrieks in Union Station, run into zombies while taking the vomit comet, watch a waterfall cascade through a building, be encompassed by a giant blue bubble, have your fingers greased up from oil puddles around St. Lawrence Market and receive orders from your phone to act artistically.
If you opt for eating chicken wings and guzzling beer in a removed bar at Yonge and Eglinton this Saturday, well you are a fool. Nuit Blanche is not to be missed! Plan your route, don't walk with anyone high maintenance, bring your camera, stalk up on granola bars and red bull and open the door to an entirely bizarre and wonderstruck city. Let's all swallow the blue pill together and take a trip to the absurd, enchanting and sometimes scary land of art.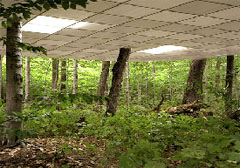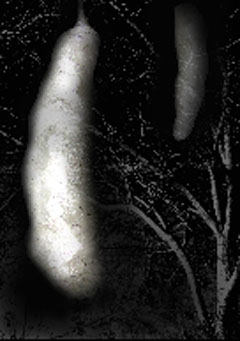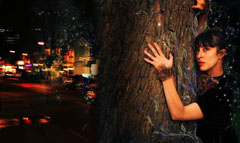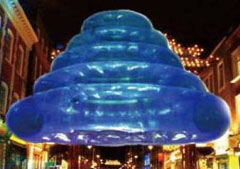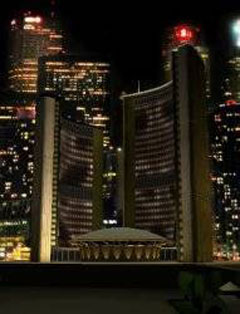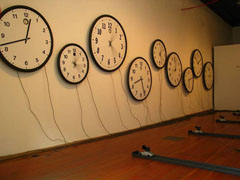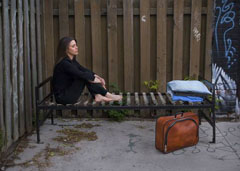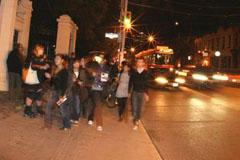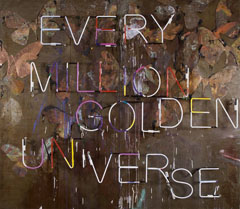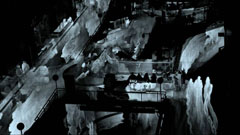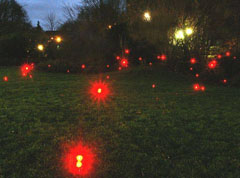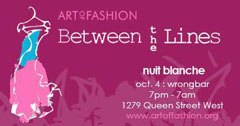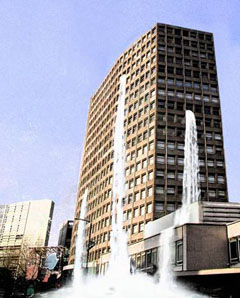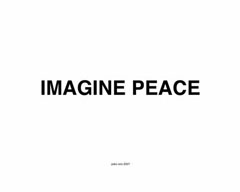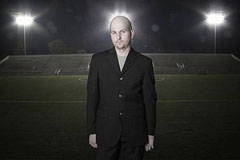 ZONE A (Jarvis-Queen-Spadina-Bloor)
Zombies in Condoland
Performance Art
Jillian McDonald – New York
"Zombies in Condoland" is a series of night actions that mimic a film screening set for a low-budget horror film such as the type made famous by George Romero whose latest film, "Diary of a Zombie", was filmed in Toronto.
Anyone can participate and be a zombie. Zombies are encouraged to come in character – nurse zombie, business person zombie, geek zombie, sports zombie. Instructional videos are included on the website (website really cool!): jillianmcdonald.net/zombie . What kind of zombie are you?
College Park
Domaine de l'angle #2
Installation
Sebastian Giguere, Nicolas Leverdiere, Jasmin Bilodeau – BGL artist collective from Quebec City
Known for installations that take over architecture and wryly comment on institutional space. BGL will construct a 40 metre long drop ceiling in the alley of St. Enoch's Square beside Massey Hall, framing the dumpsters, recycling bins and other life of the alleyway in the cool fluorescent light of the modern office.
Massey Hall, 178 Victoria Street
Cocoon Garden
Sculpture, Multimedia Installation
Jonathan Hlibka, Margaret Krawecka, Heather Shute, Chris Mutton
Wind your way around a web of hung and spun cocoons that will flicker bright lights and consumerism slogans and contemplate just how much of a consumer overeater you really are.
@ St. Patrick's Market Square, NE of Queen St. W and John St.
Ethereal Forest
Kristyn Wong-Tam, Jesse Dell, David Wootton, Jordan Sperdakos, Bridget Sinclair, Tina Fushell, Tracey Norman, Jennifer Robichaud, Fernando Escoto
Performance Art, Multimedia
A re-imagination of an 1800′s forest derogatorily named after it's homosexual owner, artists will use dance performance and found objects to create an eery, beautiful forest where trees grow awkwardly from ashphalt
@ Church and Wellesley Village BIA, on Church from Gloucester to Alexander
Into the Blue, 2008
Sculpture
Fujiwara Takahiro - Tokyo, Japan
Fujiwara Takahiro's "Into the Blue" is a giant, illuminated, transparent cone-shaped balloon. Floating in the middle of the Eaton Centre, "Into the Blue" will present two distinct faces. From a distance, it will reflect and refract the surrounding light. Up close, one will be able to walk beneath the work and experience it as an environment.
Eaton Centre
Stereoscope, 2008
Performance Art, Multimedia Installation
Tim Pritlove and Thomas Fiedler – Berlin, Germany
This installation by the German group Project Blinkenlights transforms the landmark towers of City Hall into a huge display screen by arranging lamps behind each of the 960 windows of the building. From dusk till dawn, the façade will serve as an ever-changing and evolving kaleidoscope of graphic animations automatically generated and interactively orchestrated. The public can influence "Stereoscope" through a variety of interfaces including smartphones, the web and physical controllers located at Nathan Phillips Square.
ZONE B – Downtown South
Horridor
Video Installation
Kelly Mark
Wander through Union Station and be screamed at from every direction. Using found footage from horror films this installation examines Hollywood's construction of the unknown. A great way to get scared in Union Station.
Union Station, 65 Front Street West
R u part of the art?
Conceptual Intervention
Farah Yusuf, Alex Stephen
Text 'yes' to 647-989-7707 and over the course of the night you will be given instructions and dares from your cell phone. Both private and public, you will interact with your cell phone like never before.
Check out www.textually.org for more intriguing phone art
Alternator
Performance Art
Rita McKeough
Searching for oil in a downtown parking lot, performance artist Rita McKeough will erect small oil rigs on every oil leak and oil stain scattered throughout the parking lot.
She will spend the twelve hours of Nuit Blanche using her skills as a car driver to generate electricity to operate her miniaturized oil pumps. She will drive a hand-cranked generator and her gestures will integrate with the movement of the oil pumps. As the night progresses McKeough will operate all of the pumps and frantically attempt to stop the oil from leaking away.
A sound track will permeate the humorous and chaotic environment of the parking lot where the performance is taking place
@ St. Lawrence Parking Garage, Yonge St & Esplanade
15 Minutes of Fame
Installation Sculpture Performance Art
Re-arranging the props in a prison cell, spectators can create their own installation which will be on display for 15 minutes, and photographed
330 Bay St.
Distillery District – Octopus Project: Secrets
Visitors can write secrets on white cards and place them in a box-throughout the evening, the cards will be attached to white balloons and suspended in the air-just high enough to read. You can also pick a secret from the box and whisper it into a telephone, which connects to the elevator. Participants can also select a secret from the box and read it into a telephone. In the freight elevator, surrounded by the sounds of whispers, riders can pick up a second phone to listen to the secrets being shared.
Balzac's Café, 55 Mill St
Speaking of secrets – if you haven't gone, you must check out:
http://postsecret.blogspot.com/
ZONE C (Spadina-College-Landsdowne-King):
Madame Zsa Zsa The Underwater Oracle
Installation, Performance Art, Video Installation
Andrew Harwood
A fortune telling mermaid sits perched behind glass; she plays with gender, identity, nature and possibly – your mind. The lovely Ms Zsa Zsa dispenses fortunes and tales from her Underwater Oracle, an imaginary kingdom situated on the border of human connection and entertainment. Video projections will tell tales of boats and water and other sailor's delights.
The Social, 1100 Queen St. West
Thrush Holmes Empire: Every Million Golden Universe
Every Million Golden Universe
Installation, Sculpture, Performance Art
Thrush Holmes
Herman Weiss, an alter ego of Thrush Holmes, will appear as a lost astronaut floating over the gallery entrance. Gallery walls will be converted into blackboard and there, with colored chalk in hand, the visitors will work together to create a map of the universe to help Herman Weiss find his way. Local musicians and artists will collaborate with Thrush Holmes to create experimental space rock all night long.
1093 Queen St. West
You Will Change Everything
Performance Art, Video Installation
David Rokeby
Explore David Rokeby's interactive video-based works throughout the Drake, plus live music performances and surprise happenings.
1150 Queen St. West
Glow Worms
Light Installation
Regine Schumann
Innovative German artist Regine Schumann will light up Trinity Bellwoods Park. Mounting at least 1,000 blinking and gently swaying red lights into the earth, Schumann will transform the southwest corner of the park into a sea of undulating light visible from within the park as well as from Queen Street West.
Trinity Bellwoods Park, Southwest Corner
Art of Fashion – Sponsored by Shedoesthecity.com
Between the Lines
Group Exhibition
Performance Art, Multimedia Installation
An unforgettable experience that speaks for itself. "Art of Fashion: Between the Lines" explores personal controversy through the lens of fashion design. Ten of the top emerging Canadian fashion designers express what lies between their own personal lines and what has helped to shape their life. Through a collection of six garments, each designer tells their story. Fashion then becomes moving art as dance, sound, and multimedia enhance their exhibit, engaging all senses and evoking deep emotion.
Wrongbar, 1279 Queen St. West
Overflow, 2008
Installation, Sculpture
Michel de Broin – Montreal
2007 Sobey Award winner Michel de Broin is known for suspending a mobile home from a crane, creating a bicycle that generates its own smoke and converting a 1987 Buick Regal into a pedal-operated vehicle. For Nuit Blanche de Broin continues his investigations into resistance, reorganization and chaos with a waterfall flowing from a third story window.
Former Prison Chapel, East Liberty Street and Lynn Williams Street
Imagine Peace (2001) Yoko Ono
Echoing the 'War is Over!' campaign waged by Ono and John Lennon in the late sixties and early seventies, this exhibit is a piece of art and a piece of modern history.
@ the corner of Liberty St. and Jefferson Ave.
Beginning To See The Light
Dave Dyment
Now that you have made peace with Yoko Ono's exhibit, swing by Lamport Stadium and pretend to die as you walk into a experiential light, sound and video project that tries to capture what the light at the end of the tunnel feels like.
Rising up from the grave, it's time to find the party. There will be many after hour happenings – make friends with the rabbit and follow him.
Nuit Blanche, c'est magnifique – non?