Nestled in the heart of Yorkville, MYNC Lash Lounge and Brow Bar is the go-to destination for your most important beauty needs. Amazing services and mad skillz aside, this place has heart. From the reception desk to the aestheticians, these ladies are as chatty and friendly as can be, and Nathalie, the general manager who pops in now and again is, hands down, the warmest and bubbliest person I've ever met. I toy around with the idea of asking her to be my BFF but realize it might come off a little creepy. I head off to begin my services instead and wonder about what may have been.
Tammy is my gal for the hour, and has the fun challenge of keeping me from blinking and yelping during my 2 week mascara application followed by Highbrow threading.
We begin with the mascara. I didn't even know such a thing existed up until a week ago. Washing off mascara at night is one of my most despised pastimes, so this is perfect! Tammy does her mixing wizardry on a silver palette with what looks like a dentist's tool and it's go time! I lie back and she applies the solution to my lower lashes (I already have lash extensions of the top) one coat a time. There is a little of involuntary tearing (the fumes get to me) but it dries real quick and before I know it we're done, and my bottom lashes look great! They're nice and long without being clumpy and will stay this way for two weeks without any work on my part. SCORE!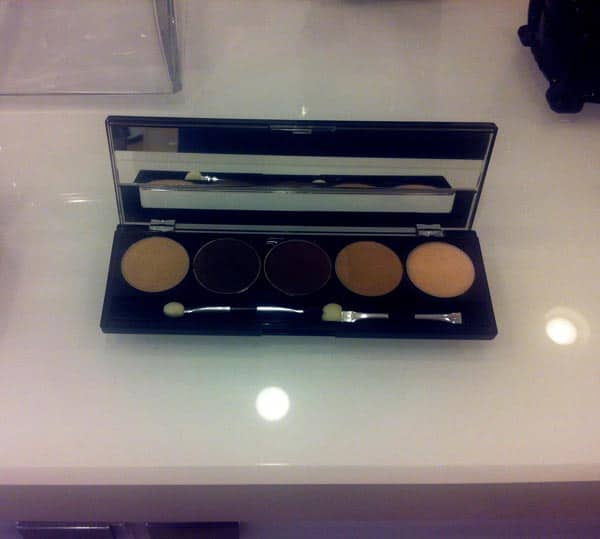 It should also be noted that you must abstain from getting your lashes wet for the first 4 hours after application. I highly suggest staying away from hot yoga and films starring Meg Ryan. If the storyline won't upset you her new face surely will. 
Next, it's brow time! First, Tammy marks my face with a white crayon to determine the perfect shape that suits my face and proportions. Apparently, I've been getting it wrong by over tweezing from the middle out, creating the illusion of a thicker bridge of the nose. 
How that I've been shown the error of my ways, it's time for threading. I'm a little scared because I've heard it hurts but it's not bad at all. It feels kind of nice, actually. Like, a really pleasant soft stinging sensation, similar to a lip plumper, that reminds you that you're alive and that your brows will look amazing as soon as you're done.
To my surprise, Tammy is at it for a while – I didn't know there was enough hair to keep her occupied for this long, but the woman is precise. She's been honing her beauty talents for over 10 years and has many beauty tricks up her sleeves along with a couple of sayings she shares with me. My favourite is, "Brows are like women – it doesn't matter if they're thin or thick as long as the shape is right."
Tammy also suggests sleeping a top of a u-shaped travel pillow (even if it's stacked on top of your regular pillow) to give lashes and brows a longer lifespan. Apparently, when we sleep on our sides, brows and lashes rub against the pillow and the friction causes them to fall out. WHO KNEW?
It's time for the final step. Tammy uses a little bit of powder on an angled brush to fill in my brows and seals them with a brown tinted wax. She suggests using brushes for a softer, more natural look. She only resorts to brow pencils to draw in hairs if brows are sparse, but never for filling.
I can't stop looking at myself! I'm loving the way my new Highbrows frame my face and make me look like a put-together lady (a wonderful illusion), and my awesome new lashes that I don't need to scrape the mascara off of for another 2 weeks! I realize now that I can never go back to the way things were. See you in two weeks, MYNC!
And remember, you have until October 20, 2012 to enter our Fabulous Fall Fashion contest for your chance to win a pair of smouldering eyelash extensions AND complimentary refill from MYNC! What more could a gal want?
MYNC YORKVILLE is located at 104 Yorkville Avenue