Power up to party mode–it's time to make some mischief at this year's Power Ball XX: Carousal, presented by Max Mara. With its heady & eclectic mix of art, music, food and fashion, Power Ball has emerged as a juggernaut in Toronto's cultural sphere. As usual, you can expect the unusual in every corner–even the washroom.
This year, we asked some of the featured artists what they have up their sleeves. Dominique Pétrin is a visual artist living and working in Montreal. For the past eight years, she has been working on installations created in situ, composed of silkscreened paper, and cut, assembled and pasted to the walls in order to create immersive environments. Look for her hyper-stimulating technicolour room at Power Ball this year.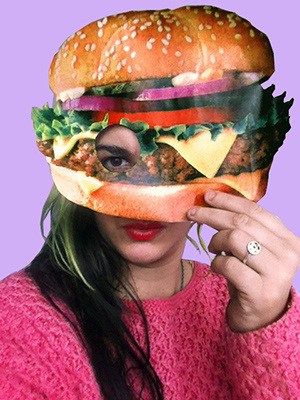 SDTC: Can you give us a hint about what you have planned for Power Ball XX?
DP: I have planned an installation that is a mise en abyme of the Power Ball itself. It contains a catering service, lots of champagne and toilet facilities. Designer clothes are indeed a big part of it.
When do you feel the most you?
I'm pretty much feeling myself all the time, 24/7. The only moment I lose myself and feel like decomposing is when I smell Bounce and Febreze in my surroundings.
What typically energizes your creativity?
Monster energy drinks.
What was the last party/event you attended that really wowed you?
Ru Paul's Drag Race All Stars Season 3 finale live screening. Everybody was screaming in the room; it was better than watching the Super Bowl!
What items in your home hold great value to you?
My two darling pet chihuahuas, Hermine and Mouchette. They are so yin and yang.
What recent discovery or idea really made you do a lot of thinking?
The discovery of love.
What should a great art party do?
Make people dance on banana peels.
If you could get on a plane tomorrow and head anywhere, where would you go and why?
I would go to Haida Gwaii because it always has been a dream.
When you think back to your childhood, what's the first memory of art that you have?
Being at the shopping mall and watching store displays and creepy water fountains with coloured lights. It's reminiscent of a scene from 2001: A Space Odyssey.
Power Ball XX touches down on Thursday, May 31 at The Power Plant Contemporary Art Gallery (231 Queen's Quay W). Get your tix here.