The Love (Actually) Exhibition (now up at the Gladstone) is inspired by the real moments that make up a wedding day, away from the contrived poses. There has been an emergence of photographers who focus on the candid and genuine interactions between people, and Scarlet O'Neill is one of them. Having just gotten married herself, she was able to truly understand "the value and beauty of a real moment" as opposed to a staged one.
We caught up with her this week.
SDTC: What inspired you to create the Love (Actually) Exhibition?
SO: Real moments and community are the two things that inspired me to create this show.
Real moments in weddings are so important and with the way the wedding industry has been transitioning in its focus towards a documentary type of approach, real moments have become a powerful part of what is created by photographers. I've personally made a transition in my own career to work with couples who truly want to be present on their wedding day. People that are interested in focusing on the things that matter like love, their partner, family & friends and the excitement of the day – those are the people with whom I want to work.
Community is really important and in my fourteen years of shooting weddings, there has never been a more positive group of people than there is at this moment. The people I call my peers are into helping and supporting each other in their careers. I feel like in the past it was all about competition, and now it's become so positive and full of growth. This is my way to continue this and give back to the community.
Is it a unique take on a wedding show, a photography exhibition or both? We can't figure it out!
It's definitely a photography exhibit and not a wedding show. But what's different about it is that it has the ability to educate people coming to the show on who's part of the wedding industry and what vendors are doing that may be in line with the person seeing the photo. Like a wedding show, it brings everyone together in one place and showcases their work, but its true form is that of an exhibition.
Can you show us + tell us a bit about one of your favourite moments that you captured on camera over the last year?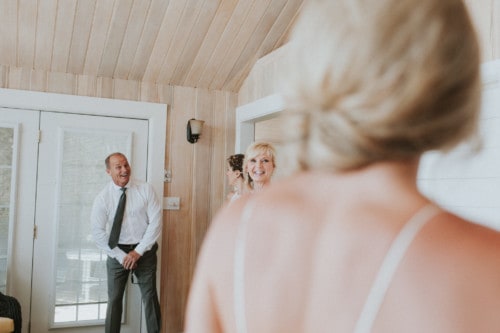 Abigail & Chris: This is the moment when Abigail's father came into the room after she had gotten dressed without realizing he was about to see her. He has two sons and one daughter, so it being his little girl, I think there is a little extra sweetness with their relationship. He was so excited and you could feel his happiness just by looking at him.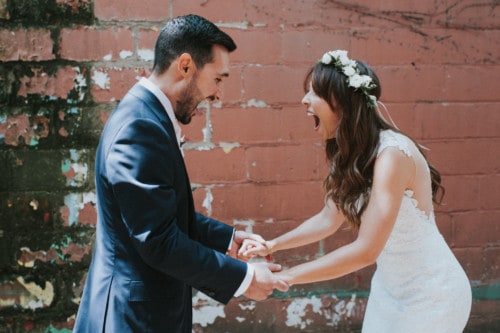 Adrianna & Dave: This was moments after they had laid eyes on each other all dressed and ready to say "I do." You can feel the excitement and almost hear it too. The first reveal is my favourite moment in a wedding. There is something so intimate and raw. I often compare it to waking up or falling asleep with the person you love. This day is about you two, but often there is little time actually spent together. But, by having a first reveal, you get to share something that is just yours on the day you wed.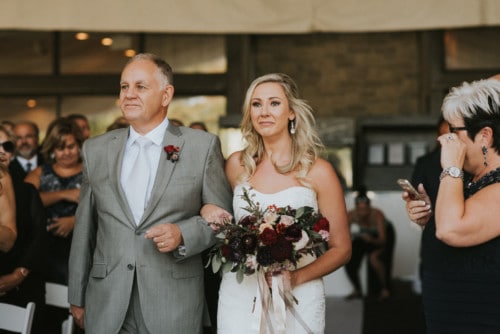 Claire & Sal: With the popularity of first reveals, I don't see too many couples who keep the tradition of waiting until the aisle during the ceremony to see one another. Hands down, this moment at Claire & Sal's wedding was one of the most emotional moments all year and it's just one of the reasons that these two give me all the feels.
You got married this past fall! Is there anything that surprised you about being on the other side of the lens on your wedding day?
There actually wasn't anything I was surprised about except how emotional I was. I wasn't prepared for that. I was always afraid that having been through as many weddings as I have, it would leave me incapable of truly feeling the emotion of my day. Instead, I was completely present and ended up being emotionally open to every little moment all day long, and for that I honestly feel like I have richer memories for it.
What do you hope spectators will take away from Love (Actually)?
I think people will be able to see a range of wedding vendors work, a variety of types of weddings and the details that fill up a wedding day. People will also be able to see that all those details continue to be so very important all the while having people be fully present and true to the moments of their day. Too often people get swept away with details during weddings; instead of laughing at someone's joke or kissing their partner, they are obsessing over the placement of the flowers, the height of the centerpiece or whether or not their dress is getting dirty. I hope this exhibition shows people the bigger picture when it comes to weddings. I hope it shows the importance of things that are real, that are full of love and absolute happiness.
The Love (Actually) Exhibition runs now until February 26 in the 3rd Floor Gallery @ The Gladstone (1214 Queen St. W). Opening Reception is Thursday February 9, 7-10 p.m.