Caitlin Coull keeps her dance card full: as Communications Manager at the Art Gallery of Ontario and Communications Director at Against the Grain Theatre, she's doing cultural sector double-duty.  The work she does is exciting and engaging—her enthusiasm for it shines through her conversation as we chat under the vaulting arches of the AGO's Galleria Italia.
By nature friendly and full of energy, she regrets being unable to offer me a coffee; today the Galleria is closed to the public. "If we knew how, we could just jump back there and make our own!" she laughs. Neither of us want to risk maiming the AGO's equipment with our unpractised hands, so we launch into a good chat about professional versus personal life, and her blended approach.
"My job is based on relationships. It's so social." says Coull, "It's a lifestyle. Some people might think that's unhealthy [but] I'm happy to have it be my life. I've met some of my best friends, and indeed, my husband, through working in this scene. The lines are really blurred when it comes to professional / personal / social. In the best possible way."
Coull's husband, conductor Christopher Mokrzewski (ATG's Music Director and the Resident Conductor of Calgary Opera) maintains a thriving career in the arts as well. They married last September at Coull's workplace—not quite an office wedding, the couple tied the knot in the beautiful halls of the AGO. We talk about what it's like to have a marriage where both partners professional lives happen in the public eye. Coull offers up the example of her wedding as a metaphor for their style of personal/professional balance.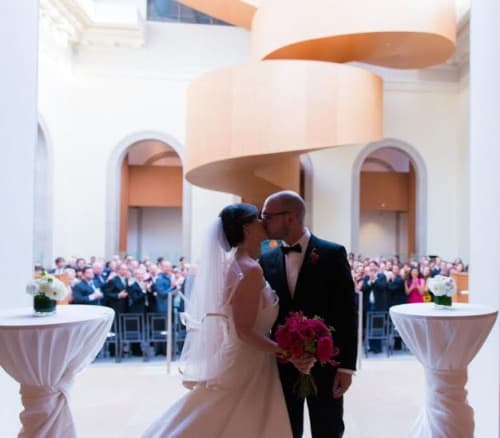 "At our wedding, all worlds collided. Professional, social, it was our whole lives in one room. Doing the conga. It was so fun! We started off thinking that it would be a very small wedding. Then suddenly we realised that the most important thing to us was the people in the room. So then we just completely went bonkers and invited everyone that we wanted, everyone who meant a lot to us. We shifted our priority to being that, having everyone there so we could just rock out. I think we were still dancing when the décor company came to rip things down off the walls."
Coull is undoubtedly a mover, shaker, and woman-about-town. Working in communications, her role often involves putting in a full day at the office and then attending evening events that for others are pure social time. Thinking a lot of people would find a pace like that too much to handle, I ask her what she finds frustrating about her life.  She grins and says:
"There's a new meme I saw online the other day: Fear Of Missing Out is now the Joy Of Missing Out—JOMO! Perfect! JOMO is where I'm at! I've got to develop the JOMO! AGO has to be my first priority. And it is all-consuming. I work long hours, I have a lot of passion for my job, sometimes Toph has to surgically detach the phone from my hand at night, and that's ok, I feel lucky to have the kind of job that I do. And sometimes I feel like I can't give enough time to everything else in my life, whether that's Against The Grain, my relationship with Toph, my relationship with my friends,  there's always something to go to, to see, to do. Sometimes I think 'What would it be like to read the paper?' I voraciously consume the news for my job, but to sit in front of the fireplace and just read the New Yorker and chill out, that sounds kind of like Heaven."
A couple of days after our interview, I'm at my part-time job at the Four Seasons Centre for the Performing Arts. I look down into the City Room from my post on Ring Three.  The Canadian Opera Company is announcing its season today, and the Centre is swarming with opera lovers and opera makers alike. Sure enough, there is Coull, in the thick of the crowd, laughing and chatting, at once a social butterfly and a communications maven.