For the first 18 years of my life, I lived on a beautiful, big farm outside a small town in Saskatchewan. Just to paint you a picture of where I come from, my farm was between two hamlets—one with a population of 10, the other with a population of six (no, I'm not kidding). My farm was also between two bigger towns (populations 1,100 and 4,400). The town of 4,400, Kindersley, is where you could say I grew up. It's where I went to school and worked; we had a house there as well.
Our farm never had horses or cows (no matter how much I begged my parents to get me a horse). We ran your typical agriculture farm: wheat, barley, and all the other grains.
A lot of my fondest memories of being a kid are from the farm. I remember sitting on my father's knee while he drove the tractor or combine. There is a tradition among farmers called "meals in the field," and it's exactly what it sounds like: During harvest everyone works long hours to get the crops off, so you bring the food to the field along with some lawn chairs and a few beers. I think that's what I miss most about being a farm girl.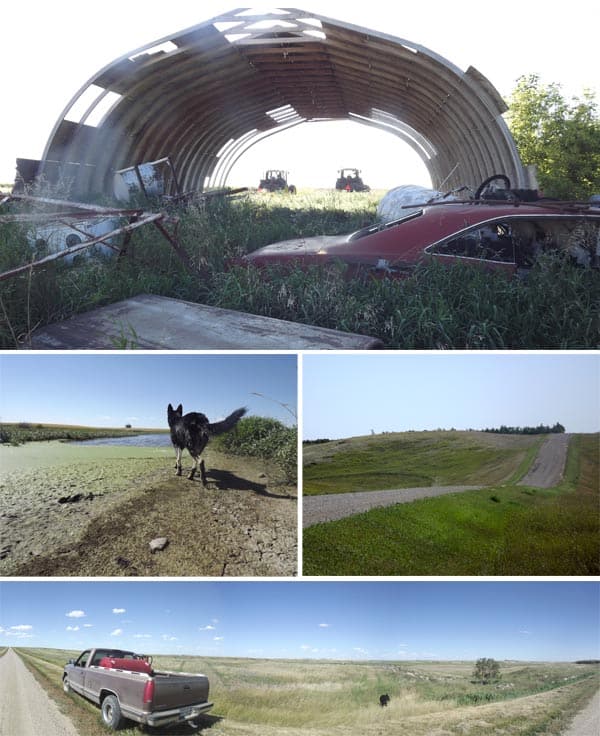 A lot of my other treasured memories took place at football games. If you grew up in Saskatchewan, you're probably a Saskatchewan Roughriders fan. Aside from being small and flat, Saskatchewan is known for being insanely passionate when it comes to the CFL. My whole family are die-hard football fans; we would paint ourselves green and go to football games every summer.
Growing up in a small town has its advantages and its disadvantages. Advantage: Everyone knows everyone. Disadvantage: Everyone knows everyone (and their business). This was one of the things I always disliked about my town, but it's also something that made the transition to Toronto harder. I went from knowing everyone in my city to knowing virtually no one in my city.
When I was faced with the reality of graduating high school, I knew staying in my small town wasn't an option because my gypsy soul always felt trapped there. If I wanted to take my future in journalism seriously, Toronto was the place to go. So when I got accepted to Humber College for print and broadcast journalism, I hopped on a plane and moved to the city.
I am always asked about how hard the transition from Kindersley to Toronto was, and if I was culture shocked by the move. There was a small sense of it, but in the good way. I was (and still am) constantly surprised by how much there is to do in Toronto: festivals, events, dances, concerts, etc. It's almost overwhelming because I want to take them all in!
I would say the most difficult thing about the move was leaving behind everyone I'd spent the first 18 years of my life with. I've met so many amazing and wonderful people since I moved here, but there's nothing like the community of people that raised you.
It brings me a major sense of joy when I go to Kindersley and have people come up to me and tell me they read an article of mine, and that they're proud of me for leaving the town and pursuing my dreams. This sense of community is one thing that makes me miss home: I've just barely started my career and I already have a huge support system behind me.
I have gone through phases of both loving and hating this city, but moving to Toronto was honestly one of the best decisions of my life.
It has made me grow as a person; it's made me challenge myself every day, it's taught me a lot about myself, and it's made me break out of my shell.
I have never felt more free to be who I am.
I still say that I'm a prairie farm girl at heart, but Toronto has stolen me for now.