This past summer, we began our year-long initiative with Womanizer to feature fierce AF womxn in boudoir photo shoots. Even after a few short months, we've realized that getting undressed for the camera is a catalyst for far more than we could have predicted.
After her mother died, Jessica Flaman's sense of self shifted considerably. The process of grief has forever altered her, and it continues to play a major role in how she perceives her wants, her path, and her priorities. She is now practicing how to "let go" and loosen the desire to control all aspects of her life. These ideas and more are explored on her daringly honest Instagram account, @conversationsaboutdeath.
We don't always connect major life events to our body or our sexuality, but Jessica draws interesting correlations. Feelings follow us everywhere; they often become the seeds that birth new ideas and likewise get us looking in the mirror with a fresh perspective.
SDTC: How did it feel to do this photo shoot?
JF: Having people whom I have never met come into my personal space, see me naked and then tell me how to pose was a huge test in vulnerability, and I think I did a pretty good job!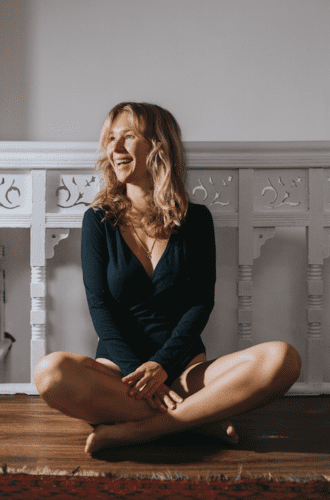 How would you describe your sexuality?
I don't think sexuality is something that can necessarily be described, but if I could sum it up in a couple of words: curious and fun. I tend not to take it too seriously.
When it comes to feeling good in your own skin, what advice would you give to your younger self?
Our bodies are our one and only constant companion, here to support us, carry us and teach us as we navigate our way through life. I would tell her to stop focusing so much on her physical appearance as a way to get validation from others, and instead to focus that energy inward. Chasing love and acceptance is a losing battle because those things can't really be sought after; they have to come from within and be cultivated on a soul level. Ultimately, I'd tell her to let go of the need to have the "perfect body" because it doesn't exist, and to instead learn how to see beauty in her strength.
What turns you on?
Confidence, security, emotional intelligence, honesty and a REALLY good sense of humour! Anyone who can challenge me to do better and be better and who can appreciate the qualities that set me apart from other people.
Can you share with us about @conversationsaboutdeath and what inspired it?
Conversations is a little on-going creative project I started shortly after my mom passed. Initially, I had intended to focus the stories only on death, but while travelling through India, I learned about disenfranchised grief and what a shapeshifter it can be. By accessing and utilizing the community, genuine connections are made and, in turn, a platform is created for those who have experienced loss to share their stories.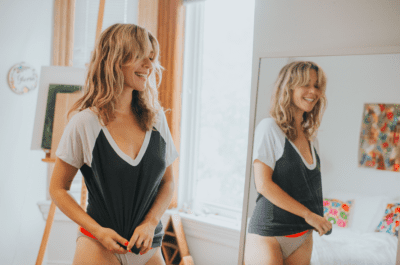 What mantra or philosophy is currently guiding your life?
There is one saying I came across a few months ago that I am constantly repeating to myself: "If it is meant for me, I can never lose it. If it is not meant for me, I don't want it." For me, it's the perfect reminder to let go of what I can't control, which I often struggle with!
What goal are you currently working towards?
I am working diligently at making Conversations more of a staple in the community. I know I am onto something, I just need to really dig in and figure out what that something is, which is more of a challenge these days because I am studying for my Masters in Social Work at U of T, and that takes up a lot of my time and energy. That being said, I feel very fortunate to have a passion project that is so closely aligned with my background in Art Therapy and Social Work.
What are you most looking forward to this fall?
Definitely going for runs down by the lake, in addition to copious amounts of dog park visits with my new dog, Jake!
Jessica will be hosting an event on October 22 and will explore relationships, heartbreak and personal transformation. Follow her on @conversationsaboutdeath.
We're proud to partner with Womanizer. Unlike any other sex toy, the Womanizer offers touchless stimulation through something called Pleasure Air™ Technology. It's THE BEST. You really need to try to understand. Find out more here.