JUNO-nominated artist Alysha Brilla is known for her unique roots-pop fusion musical style. She sings, plays multiple instruments (piano, guitar, djembe, even the trumpet), and single-handedly writes and produces all of her own albums. Her work is influenced by her travels, exploring her Indian/Tanzanian ancestry, and old Bollywood records gifted to her by her family. She writes about human matters and movements about which she is deeply passionate.
We caught up with Alysha this week.
SDTC: What should we be paying more attention to?
AB: Indigenous land issues, Indigenous history, how colonization has shaped our societies and our ways of thinking.
What was the last Netflix series you binged on?
BBC's Planet Earth.
One new thing you learned this year?
Positivity is critical and doesn't equal naivety, but rather, is an intelligent and time-tested tool for progress.
What memory brings a smile to your face?
One of the biggest moments of my music career was at age sixteen; I had auditioned to win a contest that would offer me studio time and industry connections. I sat in the car with my mom on my way to school as they were about to announce the winner. There was another contestant with the same name as mine, so they said "Alysha" and my mom and I had our hearts racing, breath held. Then they said my last name. We screamed, waved our hands around, hugged each other and cried. My mom has always been such a huge supporter of my music career. I smile a lot when I think of the early days.
What lyric is resonating with you right now?
"Most people think,
Great God will come from the skies,
Take away everything
And make everybody feel high.
But if you know what life is worth,
You will look for yours on earth:
And now you see the light,
You stand up for your rights."
– Bob Marley ("Get Up, Stand Up")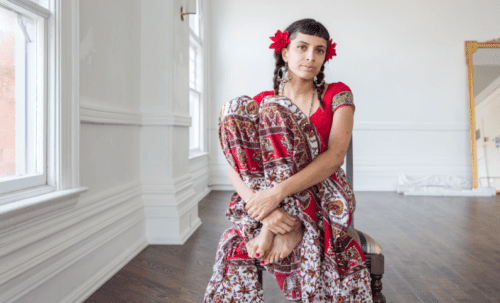 Describe the funniest thing you've experienced in recent memory:
My sisters, friend and father spontaneously rehearsed and performed a New Year's Medley on my Facebook Live Feed for New Year's Eve and we all couldn't stop humming/singing it for hours afterwards. My friend Zabeen made a joke about it that nearly had me peeing my pants. It felt so good to laugh like that. I love friends who I can poke fun at and make fun of me.
Best advice you've been given?
For happiness: "Accept the present. Let go of the past. Be hopeful about the future."
For business: "There is no right or wrong decision. You make a decision and then you make it right."
What is the best part of being your current age?
I've made it past the ominous musician age of 27. I've experienced and lived through four major seven year life cycles. At the beginning/end of one it feels very transformative. I love getting older.
What word or phrase should we use more often?
"You know what I learned today?…."
What's on your night table?
A lamp, a candle, my journal.
What one item would you be lost without (besides your phone)?
My blue guitar.
Weirdest thing in your purse right now?
I don't own a purse. I still carry a backpack around.
What trends are you loving right now?
I love the eclecticism of fashion right now. There's so much mixing and matching. I also love women shaving parts of their head. (Undershave, side shave etc.)
Who was your celebrity crush when you were a kid?
Jonathan Taylor Thomas.
What do you love about Toronto?
It's so diverse and multi-cultural. I love the Queer Village. Kensington Market. The colours. The people.
I grew up staring at the CN tower from our family apartment in Brampton and once I did move to the city, it had me people watching and songwriting in ways I'd never imagined.