Natasa Kajganic, founder of the Toronto Flower Market and Alex Cole of Patchouli Design have one rule this Valentine's Day: no roses. They've got nothing against the traditional bloom really, it's just that roses are all imported at this time of year, making them triple the price with a shorter lifespan than local varieties. To help their cause, Natasa and Alex took a tour around Toronto in search of local flowers to create four special Valentine's Day bouquets: for your best bud, your mum, a new love and your true love.

For downtown dwellers, shops like Jong Young at Avenue & Davenport carry an impressive selection of local flowers. Natasa says to look for the pickOntario sticker when browsing, but having pickOntario queued up for on-the-spot referrals helps too.
While the supermarket's offerings can be fairly narrow, larger chains are often supplied by local greenhouses, so you're likely to find a few choices there, if necessary; just be sure to look for the "grown in Ontario" label.

FLOWER BUYING TIPS:
When choosing blooms for your bouquet, Alex recommends starting with a single flower that you really like. It could be a colour, texture or the shape of the petal that you are drawn to. Use this as the jumping off point to build your arrangement around. Try to incorporate different textures (light and airy statice with a statement blossom like ranunculus), as it's nice to have a few varieties for an arrangement.
Don't forget your greens! When creating your arrangement, the foliage will help with shape and silhouette. Also, remember to go for blossoms that haven't peaked yet. Closed buds will open up throughout the week, meaning your custom arrangement will become even more beautiful over time!

#1 – For your best bud
Natasa and Alex loved the the idea of using yellow blooms – long associated with friendship – to create a bouquet for your BFF. Brightness is key, so be sure to add some orange and green to punch it up. With smaller-sized arrangements you'll likely have some leftover flowers, so why not spread the love and replicate your design in bouquets for a few of your pals?
Local flowers we used: ranunculus, daffodils, tulips, iris, and goldenrod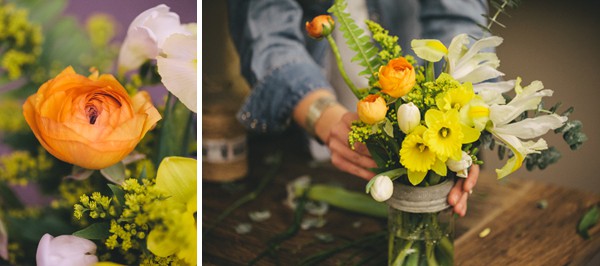 #2 – For your mum
As most mothers have a favourite flower or colour, Alex suggests using one (or both) of those as the starting point for her bouquet to personalize it. From there, it's best not to veer too far from tradition. Pinks and purples are sure to please and can be found in a wide range of local varieties. A helpful trick that Alex uses when creating an arrangement is to make a simple grid out of florist tape on the top of the vase, which helps keep all the flowers standing up in the right place.
Local flowers we used: alstroemeria, snapdragons, daisy, tulips, anemone, and ranunculus.

#3 – For a new love
If you're ready to show that special someone how much you love them, presenting them with an actual armful of flowers is a guaranteed home run. In fact, the best way to deliver the "wow" factor is also one of the easiest! Buy a ton of a single variety en masse (tulips are especially nice for this), remove them from the plastic, wrap in craft paper and tie with a ribbon. Voila! Oh, and ten bunches of local tulips will cost roughly the same as a dozen red roses, especially around V-Day.
Local flowers we used: tulips.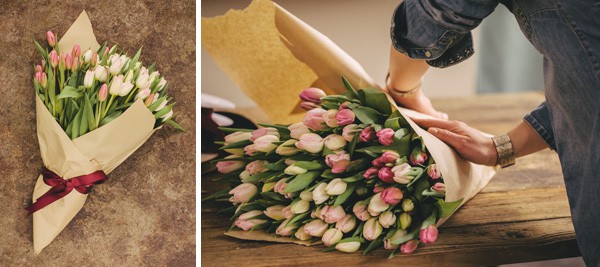 #4 – For your true love
When it comes to soulmates, you don't want to mess around. Your true blue deserves the best of the best: a statement piece that boldly declares your love. And for this, you need the professionals. Most florists are happy to flex their creative muscles and work within your local flowers-only parameters to make a one-of-a-kind arrangement. If attempting this at home, Alex suggests resisting the urge to cram everything together, instead allowing there to be spaces so "a bird could be able to fly through" the bouquet. Or, better yet, just call Alex.
Local flowers we used: freesia, daffodils, anemone, forsythia, iris, ranunculus, alstroemeria, tulips and goldenrod.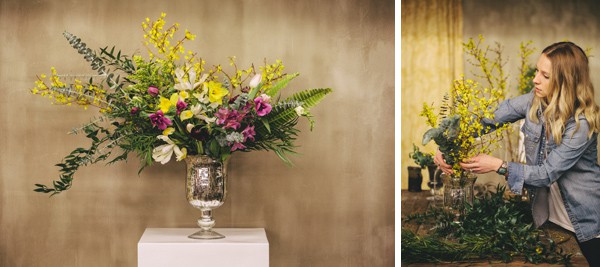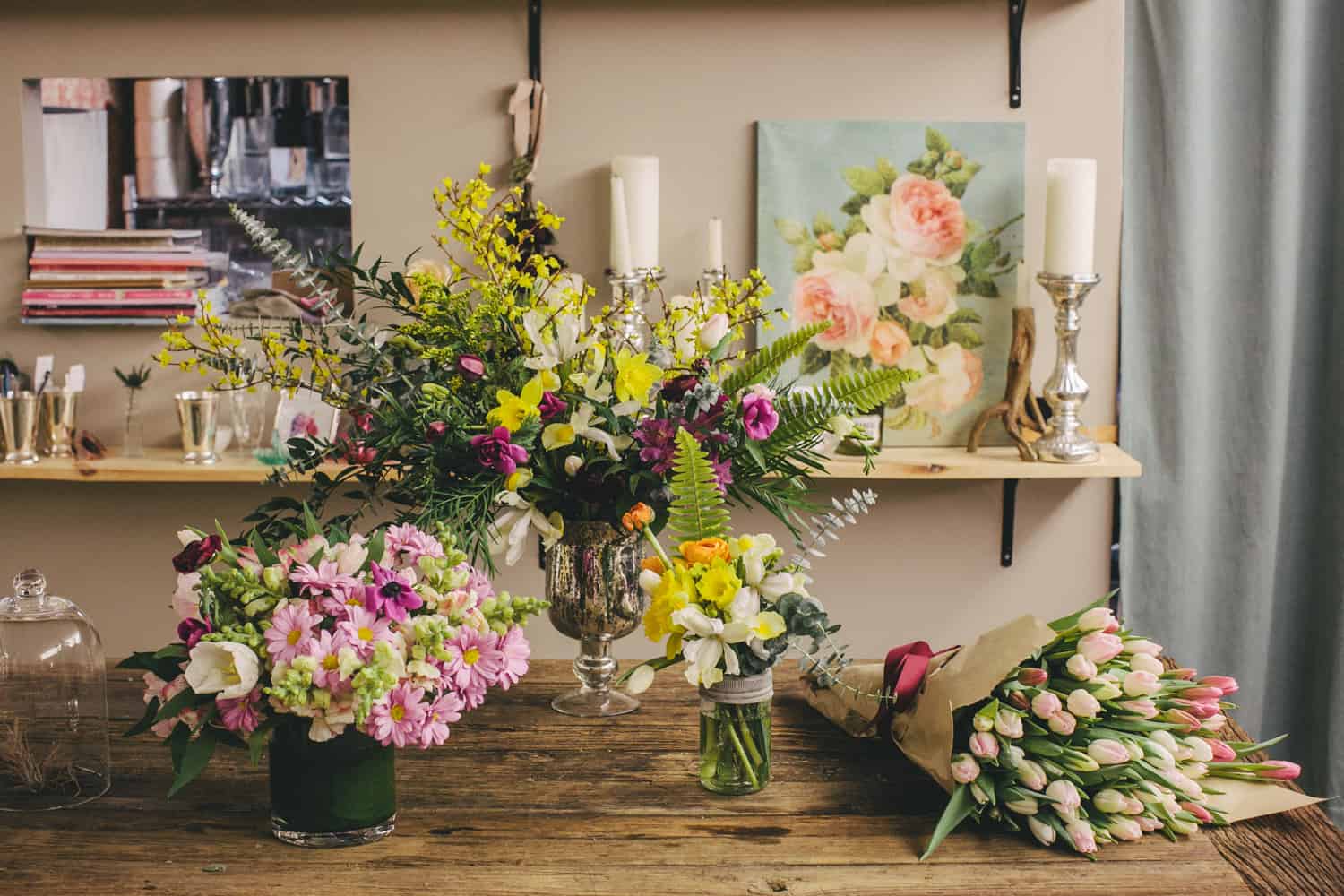 A few flower care tips to help extend the lifespan of your creations:
– When you get home with your flowers, remove the leaves from any part of the stem that will be in water (this will slow down the decomposing process and your arrangement will last longer).
– Cut the stems with sharp scissors on a diagonal and place in a clean vase with fresh water (don't forget flower food – it works!).
– Change the water every few days.
– Tulips grow much faster than other flowers (even when cut). To prevent a lopsided looking bouquet, make a small vertical slit in the stem right below the throat of the flower before placing in water.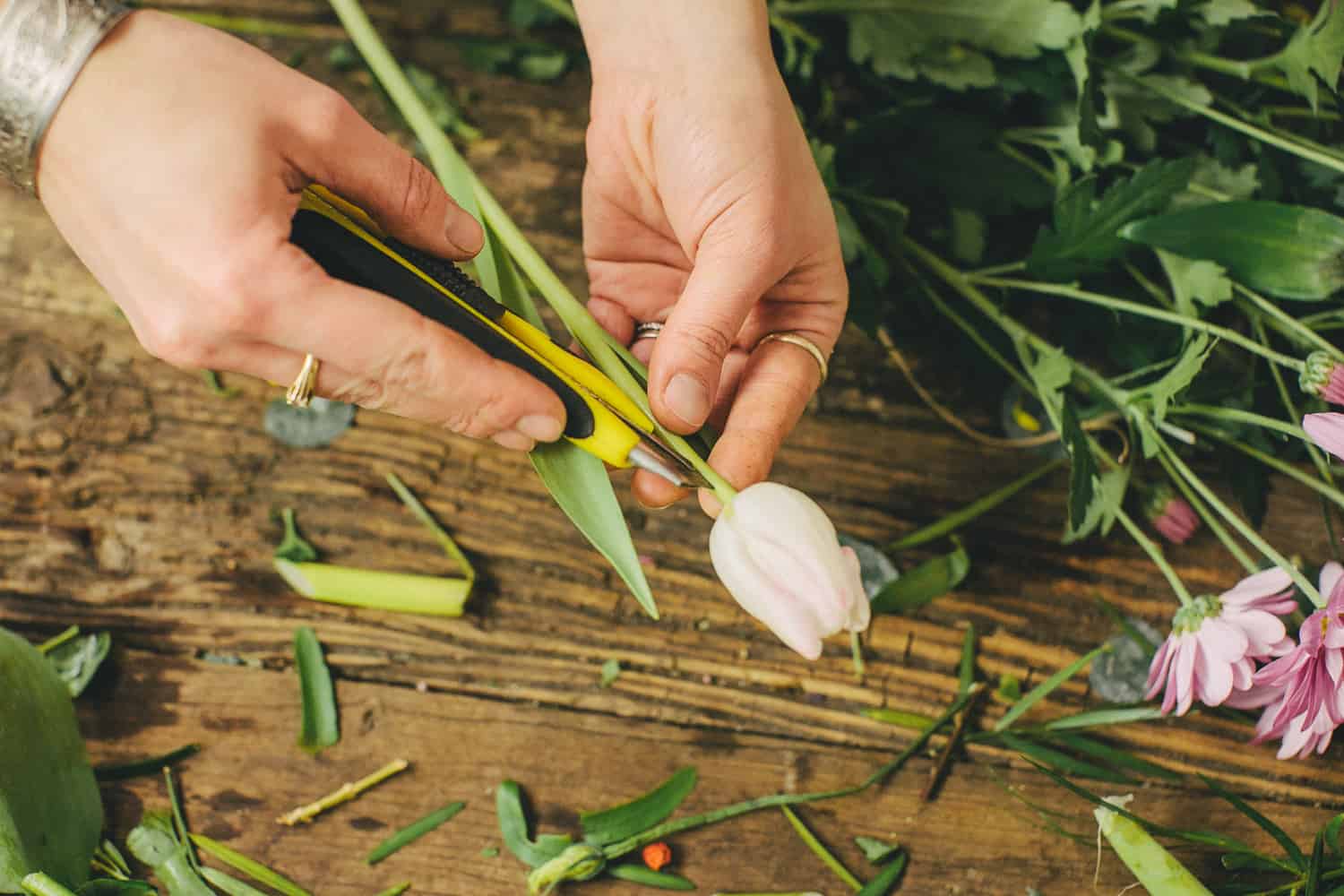 Written by: Natalie Petozzi
Photography: Danijela Weddings
Flowers: Alex Cole, Patchouli Design
Concept: Natasa Kajganic, Toronto Flower Market