Gluten Free Garage, the pop-up farmer's market ft. all things gluten-less, is back on April 28! We love the event, and can't wait for this year's. To get excited, we caught up with founder RonniLyn Pustil.
Gluten-Free Garage started because of the concern you had for your daughter's diagnosis with celiac; how has it grown from there?
The day Lily was diagnosed with celiac, my husband and I each sat at our computers and Googled "celiac" and "gluten." We had no idea what those words meant! We decided it would be easier if we all ate gluten-free at home, so we turned our house into a gluten-free zone. Although it was only four years ago, gluten-free products were much harder to come by, so I went on a mission to discover good gluten-free food. It wasn't all good, and it definitely wasn't all good for you. I became more determined and did a lot of research and driving and tasting and cooking and connecting. And, to my delight, I came upon quite a few local businesses that were doing gluten-free really well. 
One night after attending a gluten-free "shopping spree" hosted by chapter of the Canadian Celiac Association in Oakville, I thought it would be great to gather all of our favourite vendors together under one roof and show off our gluten-free finds, like a farmers' market with a gluten-free twist. And I love a garage sale, so the name just came to me. Our first pop-up marketplace was last November. About 1,500 people came through the doors of the Artscape Wychwood Barns to discover, sample, and buy gluten-free food and lifestyle products from 50 mostly local vendors. For Gluten Free Garage The Sequel, we are excited to welcome a bunch of new vendors as well as guest speakers and food trucks.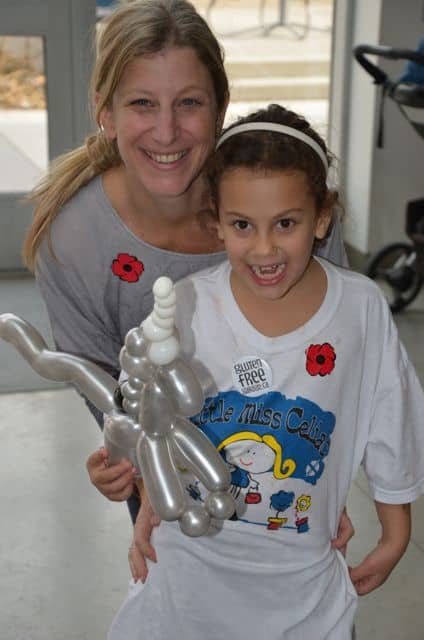 How many vendors will participate on April 28 and how did you find/connect with them? 
We're having 68 vendors at the show, including two food trucks—Hero Burger and Gourmet B1tches—and some mobile sampling from Popchips and O.N.E. Coconut Water. Many of them were vendors at our last event, and about 30 are new to the Gluten Free Garage. I'd say for the most part we reached out to the vendors because we love their gluten-free offerings. Some of the vendors contacted us because they had heard about the event and we tried out their tasty products and wanted to include them.
Why should individuals consider switching to gluten-free? Is gluten bad for everybody?
I can certainly speak to the health benefits of a gluten-free diet for people with celiac, because I witnessed my daughter completely transform within just two months after eliminating gluten. Her skinny limbs filled out, her bloated belly went down, she gained weight, her hair grew, the bags under her eyes disappeared, she had so much more energy. She was born with such a big personality and finally her body was catching up to it! In terms of the health benefits for those without celiac or gluten intolerance, I've heard numerous testimonies from people, everything ranging from increased energy to weight loss to improved mood to generally feeling a better sense of well-being.
Is your background in the food industry? How has your career path changed since beginning this initiative?
My only connection to the food industry is that my husband owns a restaurant (shameless plug: Supermarket—it has a gluten-free menu!). I am an editor by trade and still work as one (I'm the managing editor of KingWest magazine and I work for the nonprofit HIV organization CATIE) on a freelance basis, so I have a lot of flexibility. One thing I am loving since starting the Gluten Free Garage is blogging, because I get to write for a change and be creative, and I get to take pictures, which has always been a passion of mine. I've learned so much since starting the Gluten Free Garage: about marketing, sales, event planning, you name it! 
What else can visitors expect beyond tables of yummy food?
Our newest addition to the Gluten Free Garage is our Guest Speaker Series. Five fantastic speakers will be discussing different aspects of healthy gluten-free living (to see who is speaking and for a schedule, please click on here). The speaker series will kick off with leading health expert Kathy Smart. We'll also be showcasing some great gluten-free skincare products. Plus, local experts—including the Canadian Celiac Association, Gluten-Free Find, and Gluten-Free Ontario—will be on-hand to answer people's questions and provide resources and support.
What do you love most about Gluten-Free Garage? 
I love that I'm able to share my favourite gluten-free finds with others in the GF community. At our last event, people were genuinely so excited and happy to do some one-stop gluten-free shopping, discover new GF products, and connect with other people. It's all about spreading the gluten-free tummy love!
The Gluten Free Garage
Sunday, April 28th, 2013, 10am-4pm
Artscape Wychwood Barns, 601 Christie St. just south of St. Clair
$10 for adults, free for kids age 12 and under. Cash only!