Maayan Ziv is a twenty-five-year-old fashion photographer turned accessibility advocate and app developer. Born with muscular dystrophy, Ziv plans to map the world with her app, Access Now, which uses crowdsourcing to pin-point the accessibility status of locations. At press time, the app had over 10,000 places pinned (and counting).
Ziv's story is featured as part of the upcoming series, We Are Canada, premiering Sunday April 9 at 7 p.m. on CBC. We caught up with Ziv this week.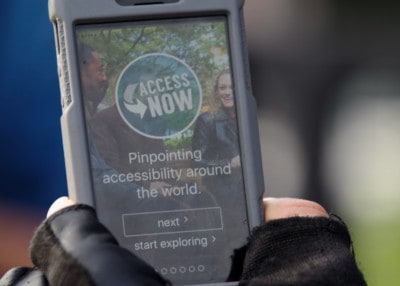 SDTC: How much time (and headache) can your app potentially save for people with disabilities?
MZ: In a world where there are apps for absolutely everything, it was so shocking for me to discover that there were pretty much no resources for people with disabilities to discover accessible places. As a person who uses a wheelchair, I have often spent hours researching accessibility information when planning trips only to discover that often this information is false or unreliable.
Imagine showing up at a hotel or a concert hall, usually after specifically having called ahead to verify accessibility, to find that in fact the place has a major step at the entrance. This has happened to me so many times. I became so frustrated that I had to do something about it.
AccessNow can save hours of time so that you can just get out and do the things you want, instead of spending ridiculous amounts of time researching or navigating barriers.
What was your biggest setback in developing this app?
The biggest setback for me was that initial moment I realized I really needed to step outside my comfort zone and put myself out there if AccessNow was going to succeed. Being a non-technical founder building a technology company meant I needed to ask a lot of questions, network, and reach out to experts in fields that I was not knowledgeable about yet.
Those first couple cold calls were pretty daunting, but I soon learned how wonderfully welcoming and supportive the tech space in Toronto really is. If you can clearly outline your needs and articulate your motivations, there are tons of people who are willing to help.
What has been the most surprising aspect of this project for you?
When AccessNow launched during the Para PanAm games, nothing could have prepared me for the intense demand and overwhelming support from the community. What surprised me even more was the appetite for a new way of doing things. For a long time accessibility was associated with an institutional or medical tone. There was no way that AccessNow was going to be anything like that. I'm tired of that narrative. It's time to shake things up and I am super excited to discover how strong the appetite for a new way of doing things really is. Accessibility doesn't have to be this awkward or daunting topic; accessibility can be fun and desirable and it can be sexy!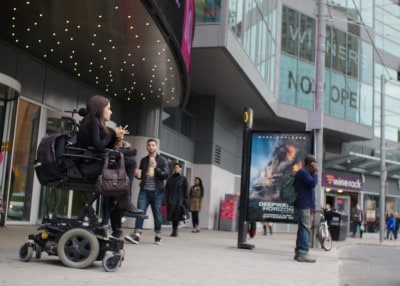 What aspect of this project is the most gratifying for you?
AccessNow is about people working together to solve a really really big problem. Creating an accessible world is a huge mission and it's not the work of one person, or just a few; it is the work of many. We all have a part to play. It has been absolutely amazing to see so many people come together to contribute to one unified vision.
Everyone who contributes to AccessNow believes in a world that is inclusive for all. It's really moving to experience real grassroots impact in the making. Sometimes I will spend time just browsing through the app and looking at different pins that people have added to the AccessNow map and it reminds me what that power of community is all about.
What should we be paying more attention to, in your opinion?
I think there is an assumption that accessibility is only for people with disabilities. I really want to challenge that notion because everyone benefits from an accessible space. Whether you are a parent with a stroller, or are going to lunch with your grandparent, or maybe you need to make a delivery or are lugging heavy luggage, at some point we all need access. It's time to shift the conversation from accessibility being about people with disabilities to accessibility being about everyone.