Born in England, Alexa Chung now resides in New York. She's a television presenter, model, a contributing editor at Vogue, and a fashion icon (she won the British Style award three times) who's received praise from Anna Wintour and Karl Lagerfeld. And until I read this book, I had no idea who she was.
The book opens with reminiscences about her love of horses, and—more importantly—the cute clothes that go along with horseback riding. As a tween she fell in love with the Spice Girls' style, and mixed them freely before she knew how to put together a "look." Her love of Wednesday Addams' style had a more enduring effect, "because that look is DEAD ON."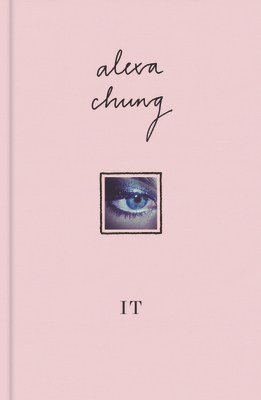 I'm the kind of person who thinks jeans and a t-shirt are suitable clothing for most occasions. I'm a freelancer who works from home—when I shower and put on fresh PJs, I consider that a job well done. Jeans are fancy dress. But reading Chung's fangirl gush for fashion icons like Anna Karina, Twiggy, Jeremy Irons, and George Harrison makes me think I may be missing out. A lot of her inspiration comes from film, and the way the characters are portrayed: Winona Ryder in Heathers, Natalie Portman in Leon the Professional, Liv Tyler in Empire Records, and others I'm now adding to my Netflix queue.
Chung offers advice, and it's funny, and sometimes even useful, whether about social media or karaoke tips. Her style is generally more low key than most of what I've been exposed to in the fashion world, and I appreciate that. Her advice on how to get dressed in the morning is pretty straightforward, and what you'd expect if you asked anyone who's ever worn clothes. Though my favourite point is number five: "Do the clothes fit properly? Is there a VPL problem? Will you be able to scale stairs without flashing someone? Is walking going to be a problem in those shoes? Do you look like a wizard or crazy person or someone who has done too many mushrooms?" (I kinda want to know what the wizard outfit looks like. This is why I will never be fashionable.)
Interspersed throughout the vignettes about style, inspiration, friends, and her personal life, are doodles and photographs. Sometimes the photos seem to serve some kind of illustrative purpose, but more often than not they're just dropped in without captions or context.
It is a light scrapbook of icons, inspirations, and style references with running commentary on a tour through Chung's public life. I was charmed.
Alexa Chung-Inspired Film Queue:


Trailer Bande à part de J.L Godard (1964) by Tushratta
IT was published with Penguin. You can find Alexa Chung on Twitter  @alexa_chung.
Nico Mara-McKay is Toronto-based freelance writer. Nico can be found online at nicomaramckay.com and on Twitter @plutopsyche.