Director and filmmaker Sherren Lee is taking her award-winning short film, The Things You Think I'm Thinking, to film festivals around the world, including the seventh annual Breakthrough Film Festival, which returns to Toronto next week (June 15-16).
The Things You Think I'm Thinking follows the story of a gay, Black burn survivor and amputee who goes on a date with a regularly abled man. After the bar, they go back to his apartment, where he faces his demons as he attempts to experience intimacy for the first time since his accident, which occurred ten years ago.
The film has screened in festivals around the world and has received multiple accolades and awards, including the Best Canadian Short at the 2018 Inside Out Film Festival and the AWFJ EDA Award for Best Female Directed Short at the 2017 Whistler Film Festival. It has also been in competition at over twenty festivals, including Slamdance 2018 and SXSW 2018.
We caught up with Lee this week.
SDTC: What was the inspiration behind The Things You Think I'm Thinking?
SL: The piece was inspired by Prince Amponsah, who plays Sean, our protagonist. I wanted to tell a story that showed how he thrives. I wasn't interested in a story that would reduce Sean to a character we pity nor chalk him up to a source of inspiration. I wanted to encourage empathy by showing the audience that Sean is just like us: we all have scars and demons whether or not they are as visible as Sean's.
What did you learn after making this film?
Before making the film, I had not met anyone like Prince or worked with anyone who is differently abled. Prince's courage, generosity and open heart really put a spotlight on the discomfort I felt when first interacting with him, making me examine why I had those feelings and how those feelings reflected more about me than about him.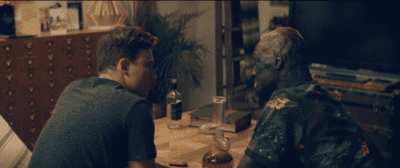 In your opinion, how has the film industry shifted most in the past five years, specifically regarding representation of marginalized groups?
I think decision-makers are warming up to stories of under-represented people on screen and in the media because audiences are hungry for it. It's great that a window is opening up, these voices are finally being heard, and the opportunities of telling authentic and truthful stories are presenting themselves. This shift is very exciting, but the change is gradual. This is only the beginning and I'm proud to be a part of it.
What's your best advice for aspiring female filmmakers in Toronto looking to get their foot in the door?
Go out there and make that thing you really want to make! People might not always get you, but trust yourself and keep at it. There is room for you. There is room for all of us.
What do you hope audiences take away from the film?
If this film can help audiences have more empathy and be less uncomfortable interacting with people with disability, or simply, people who are different than them, then that would be enough. But if we can look inward, examine the assumptions we make about other people, and reflect on how much of that is merely a projection of our own demons, I think we could probably change the world that way.
The Things You Think I'm Thinking is screening at Breakthroughs Film Festival on Saturday, June 16. Breakthroughs takes place June 15-16, 2018. To check out the full list of programming or to buy tickets, click here.