It was during a research effort for Murdoch Mysteries that Carol Hay and Michelle Ricci came across a historical book entitled Toronto Girl Problems, which was published after World War I. The book chronicles "the problem" of women not wanting to return to the home post-war once they got a taste for both a career and single life. This female rebellion was the inspiration for Frankie Drake: a free-spirited, take-no-shit detective who blazes her own trail to solve crime.
In tonight's premiere episode of season 2, Frankie (played by the supremely talented Lauren Lee Smith) begins to unravel a mystery that unfolds in the Royal Ontario Museum and stretches from Forest Hill neighbourhood to the back allies of Cairo. It's like watching my nana as Indiana Jones, back in her youth, sleuthing around Toronto.
Speaking of which, this past May, I was able to do my own kind of sleuthing in a studio lot out in Etobicoke. I received an email that asked if I was interested in being an extra for a 1920s dance scene on the set of Frankie Drake. OF COURSE. I sent in my measurements and looked forward to the day that I'd join the set and get dolled up like a 1920s flapper.
The day finally came, and I was excited. Upon arrival, I was sized up and—rather than sporting a sleek bob—I was sent to the wig room. While I loved the peachy dress I was garbed in, the wig had me looking like a bit of a middle-aged Aunt Agnes. It's not what I had imagined, and I definitely was made up to look a bit more dowdy than most of the younger cast, but it was also kind of hilarious, and someone remarked that the entire look was a bit Miranda July, which I quite liked.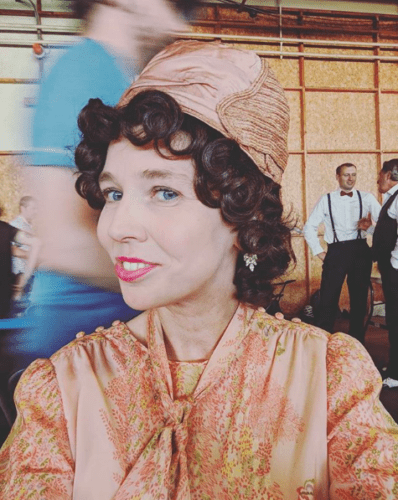 That was the first surprise of the day. The second was that I was placed in the middle of a dance scene and basically did some heavy improv every time they said, "3, 2, 1…ACTION!" (If you see the Palais Royale dance sequence later this season and notice a slightly awkward tall lady in the back attempting some kind of Lindy Hop, that is me. Sorry.)
Another thing I hadn't expected was a brand-new realization of how goddamn hard actors work! I was there until 11 p.m., doing the same scene over and over again, sweating like hell in my wig and silk gown. My legs were so tired, I was desperate to lie down. They asked if I wanted to stay to do one more scene, but I deferred and left it to the pros, grabbed a handful of Jujubes, and gunned home to my bed. I will never look at a dance sequence on screen the same way.
Frankie Drake is a delightful feminist whodunnit with extraordinary costumes and impeccably designed sets. Beyond the fun of solving a mystery, with true-to-history facts blended with compelling fiction, the show also presents an satisfying and ongoing game of "Where in Toronto is this?"
I so wish I could take the bus to my nana's for tea and a Frankie Drake viewing, but that's not a possibility, so instead I'll enjoy on my own, eat double the biscuits, and think of her fondly.
Frankie Drake season 2 premieres on CBC Monday, September 24.