The epicness that is the Toronto Fringe Festival is kicking off next Wednesday, July 1st and there are a whole wack of amazing shows featuring the work of truly inspiring ladies. Therefore, you should definitely attend ALL OF THEM. We're talking female writers, directors, producers, actors, choreographers, singers, stage managers, you name it! Stories about women, by women and for women (but like, also enjoyable for man-bro-dudes, obviously).
If you're on the hunt for a fun night out in the next few weeks, why not buy a ticket or two or ten to the old Fringe fest? Support live performance, meet local artists, and elevate the voices of women doing incredible work in theatre. I guarantee any of the below shows will be a fantastic time. I present to you, in no particular order, my recommendations for excellent Toronto Fringe Festival plays that have powerful, marvelous gals leading the creative charge.
This solo show stars the exceptional storyteller, stellar comedian, whip-smart writer, and general Wonder Woman of performance, Rhiannon Archer, who is majorly talented at making audiences laugh AND cry AND laugh-cry-then-laugh-again-and-repeat. Under the direction of the awesome Lara Johnson, Archer will be telling true stories about the songs that "become the soundtrack to our memories." Will the Fleetwood Mac tune "Rhiannon" be mentioned? Fingers crossed! I saw a preview of it a few months back and it was wonderful then, so I can only imagine it's gotten more wonderful!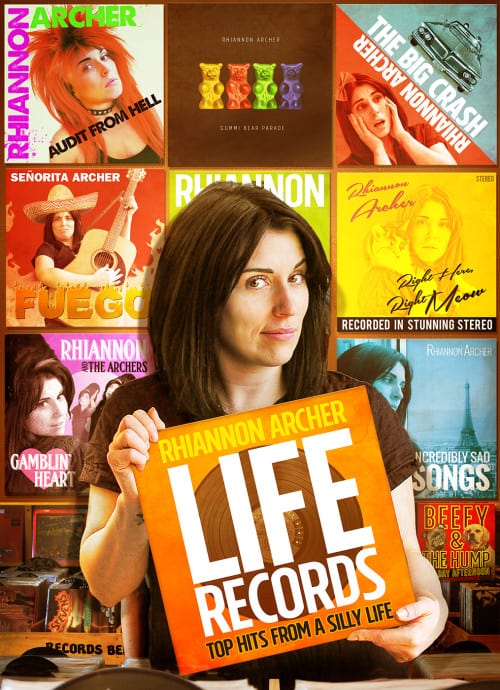 Rising theatre star Sophia Fabilli has swapped gender roles in this adaptation of G.B. Shaw's classic The Philanderer. Charlotte, the main character, played by the very brilliant Fabilli, has a PhD in feminist philosophy (hello!), is asked her lawyer boyfriend to be her life partner (come on!) and authors a blog about sleeping with men (like, SERIOUSLY?) When I read that description, I came in my feminist underpants 'cause this fast-paced, sexy farce sounds like perfection. It's also directed by Nightwood Theatre's Michelle Alexander. I am officially dead and in thespian heaven.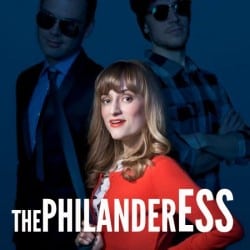 Adventures of a Redheaded Coffeeshop Girl
The absolutely extraordinary singer, actor, and writer Rebecca Perry had a previous sold-out Fringe hit with her solo musical Confessions of a Redheaded Coffeeshop Girl and she's back this year with another soon-to-be hit. This time the Redhead has left the coffeeshop and is headed into the JUNGLE to follow her anthropologist dreams at the Jane Goodall Institute. Perry got rave reviews the first time around and now there will be CHIMPS involved, which definitely equals like, way more quality fun. Will she be playing twenty different characters again? My currently caffeinated self hopes YESSSSSSSSSSSS.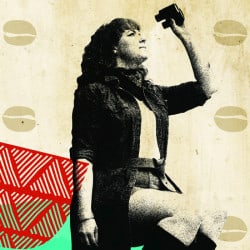 This production has a powerhouse of extremely talented, effervescent ladies behind it; women who are tearing up the theatre scene and creating awe-inspiring work. pool (no water), a physical theatre piece, asks "what you'd be willing to do to be a great artist," and is produced by Cue6, an indie Toronto theatre company consisting of the outstanding trio of Christine Groom, Jill Harper (who is also directing the show) and Sarah Illiatovitch Goldman (who is acting in it). The ensemble also includes the marvelous comedian and actor Allison Price, alumni of Second City. Plus, it's choreographed by the tremendous dancer Patricia Allison. I mean, TALK ABOUT TALENT OVERFLOW, AM I RIGHT? But seriously, I am right.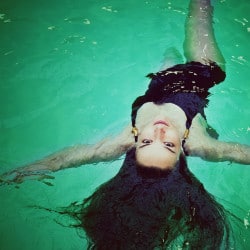 Zabrina Chevannes is one of the most unique, honest, and intensely hilarious stand-up comedians in Toronto and the number one comedian in my giant HEART. She lights stages on fire with her perfect timing, unbelievable tales and exhilarating presence. Her stories about nursing, being a mother, and growing up in a Jamaican family will definitely make you laugh so hard that you will question if you knew what laughter was before you watched this solo show. A must-see for any lover of gut-busting, heart-wrenching comedy and lovers of like… anything real good. Spoiler: This is going to be REAL GOOD.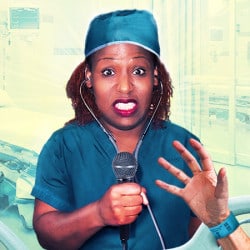 The phenomenal, award winning clown duo Heather Marie Annis and Amy Lee are the sweethearts of the Toronto Fringe Festival and rightly so. They have written, produced, and starred in multiple uproarious productions featuring the red-nosed sisters Morro and Jasp. Every single rendition has been adored by critics and audiences alike. We've watched as this comical pair have baked up a storm, gotten Spring Break wild, and penny pinched to the extreme. They're back at the Fringe this year with my personal favourite of their shows, Morro and Jasp Do Puberty. Is it my favourite because it involves periods? You better believe it.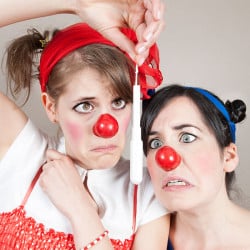 I am pumped to see the sensational, mesmerizing Coko Galore, an actor, writer, and improviser, in her first solo show where she'll be telling stories about her experiences as a bi-racial woman born to an African father and a Chinese mother. She says it will be thought-provoking, emotional, and adventurous. Her heartfelt, song-filled tales about finding her "unique identity" and her struggles with "hair trauma" will certainly be memorable, moving, and giggle inducing. Also, it's directed by the fabulous Leslie Seiler, an actor, improviser, and alumni of Second City. What a magical combination of excellence.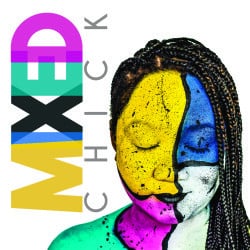 Two Juliets is a dynamite comedy duo consisting of the terrific Meghan Chalmers and the equally terrific Franny McCabe-Bennett who met in theatre performance at Humber College and have been bad ass collaborators ever since! Fresh off their sold out run at the Hamilton Fringe Festival, these babes will take you on a "high energy roller coaster ride of songs, sketches, and stories guaranteed to tickle your funny bone and make you want to drunk dial your ex," which are my main weekend hobbies so this works out well.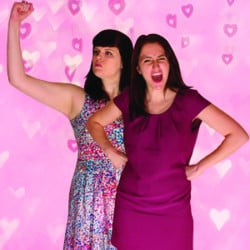 Everyone Loves Marineland: A Disco Musical Comedy
This musical comedy is so jam-packed with funny geniuses that it seems too good to be true. Like, pinch me 'cause I am DREAMING, GIRL. Everybody Loves Marineland features some of the top sketch comedians and actors in the city, such as the mind-blowing Allana Reoch, the stupendous Gillian Bartolucci, the remarkable Chelsea Larkin, and the wicked Laura Tremblay. The show's story goes: "Fired from Seaworld, fame hungry Nathaniel sets his sights on a fledgling marine park looking to rebrand and gets more than he bargained for." It's also directed by the excellent Shari Hollett. I am WET WITH ANTICIPATION. Pun intended.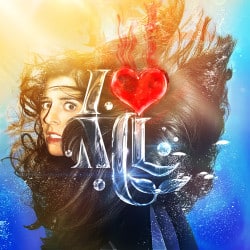 The enchanting, clever, incomparable Vanessa Smythe blends "comedy, poetry, and music to tell tales of accidental booty calls and begrudged family hugs" in this critically acclaimed solo show. She calls this masterpiece a "theatrical love letter to us all" and I gotta admit, there is nothing I love more than love letters, except maybe love itself. I LOVE LOVE, OKAY? She compares her style to Flight of the Conchords and there is nothing I love more than Flight of the Conchords, except maybe love itself. (Sidenote: I am available to be loved. DM ME.)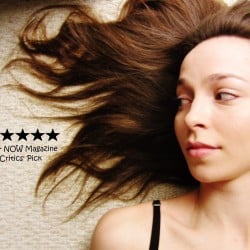 If you're wanting to spice up your Fringe fest schedule with something a bit DIFFERENT, why not drop by the Victory Cafe, grab a pint, and watch Shakespeare BASH'd get kooky and canny and classical with their romp of catastrophic proportions? If you're not familiar with the Bard's writing, here's a synopsis: "In a world of drunks and cuckolds, two witty women set out to teach a lesson of love and jealousy." Did you say… LOVE? DING DING DING! This ensemble features a cornucopia of wildly skilled, magnificent ladies including: Suzette McCanny, Julia Nish-Lapidus, Jade Douris and Lynne Griffin and is co-directed by the glorious Catherine Rainville. To quote the dude who penned it: "I hope we shall drink down all unkindness."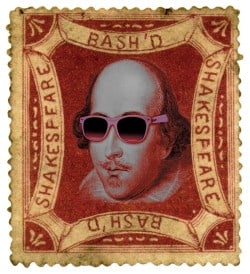 Another solo show by another sensational performer. I cannot HANDLE the excitement building inside of me. Written by and starring the magnetic goddess Moniquea Marion and directed by the out-of-this world mind of Kat Letwin, Mumsical is a "one woman song 'n' dance comedy" featuring the self-struggles of "self-exploration, self-aggrandizement, self-doubt, selfishness, selflessness, and moms!" I relate hard to all of those subjects, especially the mom one. Mom, if you're reading this I will text you back later, I promise! Moniquea Marion is a cherished Toronto improviser and I'm stoked to see her get a full hour to really delve into her awesomeness.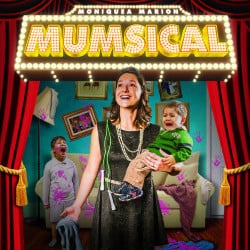 The Crazy Space Adventures of Princess Sparkly Butt & The Hot Dog Kid
Looking for a wondrous kids play to bring your little one to that features a mega strong, big time funny, hugely layered singing Princess who uses her butt to control time? Then, buddy, this is the show for you! Starring the effervescent, multi-faceted actor, singer, and producer Kimberly Persona, Princess Sparkly Butt will take you and your youngins on an action-packed hysterical ride through space. Persona has a presence like no other and you'll be quickly swept away by her gorgeous pipes and whimsical charm. There will be witty songs and talking hot dogs and shimmering butts. Will this be the best afternoon of your existence? 100% yes.
The ultra charismatic, remarkable actor Jillian Welsh stars in this comedy about the serving industry. She plays Sandra, who is "convinced that she should be a rockstar" but lacks musical talent and is stuck waiting tables until what I'm sure feels like the end of time. I feel you, Sandra. Welsh is a hot up-and-comer in the theatre scene and is one to watch out for. I'm happy that she's gotten a juicy leading role that she can totally dig her refined claws into. Go see her shine and glimmer and sparkle in this production that honours the heroes who bring you food.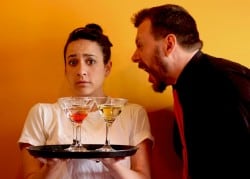 The spectacular actor and heart-string-pulling writer Caitlin McCarthy is the force behind Deepest Darkest, her solo show that follows the character of Erica, a teen girl trying to "figure out how to matter in her small suburban town." It's a dark, sexy coming-of-age tale which is a genre that I take great delight in. Teen dramas are an obsession of mine. I could listen to the overly emotional complaints of a 16-year-old girl for years and never get bored of it. The description of the show includes the statement, "anonymous written confessions are optional but very encouraged." I do not know what this means but it sounds right up my alley and yours?