Have you ever eaten something and, just before taking your first bite, paused and thought, "Wait a minute, this is just too pretty to eat"? You felt almost guilty biting into it then, like you were an intruder in someone else's perfectly arranged mecca of colours and textures and ingredients. This is what it feels like to bite into a Lindsey Bakes cookie. Whether it's a cookie of Larry David, Drake, or Justin Trudeau, or just a simple pillbox, pop tart, or roast turkey, Lindsey Bakes cookies, with their deliberate, cartoonish lines and bright colours, often slip somewhere in between the separate worlds of food and art.
Pastry chef Lindsey Gazel founded Lindsey Bakes six and a half years ago after graduating from culinary school at George Brown and working at different bakeries. Lindsey Bakes doesn't only make cookies; the company also does cakes, pop tarts, and other sweet confections. As the company's founder and sole employee, Lindsey Gazel is painfully modest: "I make cookies of things that interest me," she says with a shrug, explaining that a lot of the cookies she makes are per the instructions of corporate orders. I ask her if she feels like she's changing what it means to be a traditional pastry chef. "No," she says firmly. "A lot of pastry chefs decorate really beautiful, intricate things, so saying that is giving me way too much credit."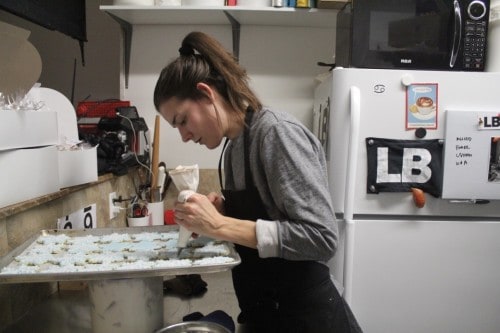 Gazel credits social media for helping her build an online audience, and increasing her awareness of others doing similarly great work in the cookie field: "Social media kind of brought attention to everyone more so," she says. "I didn't even know what other people were doing until recently, but there are so many people doing cool stuff."
And it's true: social media has played an enormous role in forging a community for bakers. As NPR reported last year, thousands of bakers around the world are posting images of their intricate cookie designs online. Platforms like Instagram have allowed people to easily document and share their cookies before they fulfill their lifelong destiny of being destroyed by chomping teeth. In a way, social media has given some permanence to an otherwise impermanent art form, alleviating some of the guilt that comes with feeling as though something is too pretty to eat. Once a cookie has been uploaded for the world to see, you can't feel too bad about eating it.
Despite her thousands of followers and the increasing trend of cookies as art, Gazel is levelheaded with a ruthless work ethic. She started Lindsey Bakes years before the rise of Instagram starlets and will likely continue baking years after we've all moved on from them. "I really do love it," she explains. "I just think, 'fuck there's so much left to do.' There are not enough hours in the day, but you just get through it. I'm always working. This is all I do. I don't take days off, and I probably work twelve hours a day."
"More like fourteen hours a day," Brayden Jones of Blood Brothers Brewing, who Gazel shares a kitchen and workspace with, corrects.
"I'm a workaholic," she shrugs. "I'll take an order for like six cookies sometimes. I wouldn't be like 'I only take a thousand snowflakes.'"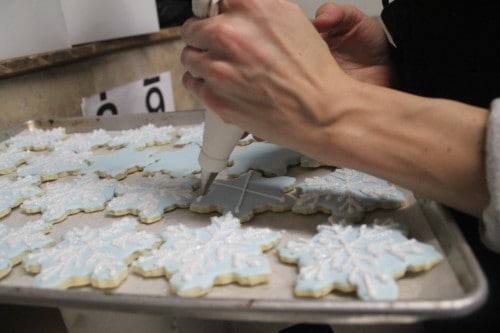 To me there is more going on in Gazel's cookies than just colourful icing piped in pretty ways. Pulling from the most relevant cultural happenings like the recent federal election, girl gangs, and the release of Yeezy Boost 350s, Lindsey Bakes cookies have morphed into their own type of social commentary. Gazel explains that a lot of these culturally relevant cookies are a result of custom orders, and she often has little to do with the requests. Still, she continues to blend culture and pastry into one like no one else I have seen. "I always wanted to work in magazines," she explains. "That was always my dream. I was obsessed with that kind of stuff when I was a kid, so I really enjoy trying to bring all of those components into my cookies—fashion, art, culture. I love that kind of stuff, and I felt like there was no way to get into it other than cookies."
While most of her cookies are only available through custom orders, they're also available at Sam James Coffee Bar in Toronto. What started as a few dirty valentines cookies for the coffee shop with phrases like "Let's celebrate doggie style" and "I want you inside me, Valentine" has turned into a regular partnership. "It's good because he [Sam James] lets me just do whatever I want pretty much," Gazel explains. "He'll place an order of pop tarts and cookies and stuff, but I can do whatever I want with them so that's so fun for me."
But Gazel doesn't always get that much creative freedom. When it comes to custom requests, she's gotten everything from dicks to dead bodies. "One of the strangest requests I've gotten might be," she lowers her voice and scans the room, "a dead body."
Yet there are few things she'll say no to: "I get a lot of dick requests for bachelorette parties. I cut them out by hand. Each one is custom made so they're always different—just like real life!"