Ghost Caravan's orchestral soultronica mixes electronic elements with live instruments, creating a sound that'll move you. Fronted by Shaina Silver-Baird, the all-female band's live shows are LEGENDARY. For their latest album, Shaina collaborated with members of The Weeknd, Grand Analog, Hill Kourkoutis of the Launch, Martha and the Muffins, the Four On The Floor String Quartet and many others.
We quizzed Shaina about her Toronto faves. See her live at the Ghost Caravan show this Saturday.
Coffee: Good Neighbour on Annette
Comfort food: Sweet potato fries and chipotle mayo from Fresh
Green space: High Park
Street art: The faces under the bridge at King and Sumach
Place for quiet reflection: Breathe Yoga
Favourite neighbourhood to wander: The Annex
Fashion boutique: Olive and Ila Vintage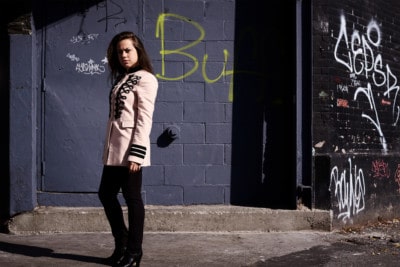 Place that holds secret special meaning: The gymnasium at UTS. My parents taught International Folk Dance in that room every Friday night through my childhood (and my mom still does). I grew up dancing there from the time I was four until I went to university.
Best spot for smooching: EVERYWHERE.
People watching: Queen West/Parkdale
Local place I love: Pacha Store at 614 Bloor St. W. PACHA meaning Earth in Kichwa is an Indigenous Art Collective bringing Indigenous arts from Turtle Island (North) and Abyayala (South) American continent. I love this place. It's a great place to get unique gifts and every item has a story.
For treasure hunting: Kensington Market
For dancing: The Piston around 9 or 10 p.m. on a weekend BEFORE everyone shows up. I love going with a couple friends and having the whole dance floor to ourselves for a while.
Brunch: Free Times Café's Yiddish Sunday Brunch
Birthday dinner: Nodo (Dundas West)
Late-night hangs: My back porch
New music: The Commoners
I don't know why I like it, I just do: Pretending I'm a tourist in my own city.
Place I am deeply curious about and want to know more: Scarborough Bluffs. I've actually never been.
For sheer beauty: Princess of Wales Theatre.
On October 6, Ghost Caravan will be celebrating the release of their new album, T.O. Confidential (out October 12), with one huge party at The Supermarket (268 Augusta Ave.) Grab tix here.