Roseanne Supernault is an award-winning actress originally from East Prairie Metis Settlement, Alberta. This year marks one of her biggest yet with a long list of highly anticipated projects, including the feature film The Northlander, set to make its Ontario premiere at ImagineNATIVE Film + Media Arts Festival on October 23, 2016 in Toronto.
Roseanne is also features in Neither Wolf Nor Dog, a movie adaptation of author Kent Nerburn's Native American novel. The film is set to make its North American debut at the 2016 San Diego Film Festival in October. Further, Roseanne performs in the hit television series Blackstone airing on CBC, APTN and Showcase and available now on Netflix. Her other upcoming productions also include River of Silence, an important piece that promises to shed light on Canada's missing and murdered indigenous women.
Between her hella busy schedule, we spoke to Roseanne about how she got to where she is today and the inspiring lessons she's learned about herself along the way.
SDTC: Can you describe your career trajectory to get to where you're at now?
RS: Although I grew up thinking I would get into science or law, life threw me this curveball at thirteen when I got talked into going to an open casting call for a movie. I secured an acting agent after making an excellent impression on the casting director. In retrospect, I was always performing as a child – whether it was singing, dancing, martial arts, or even athletics – and I loved it.
I went to Victoria School of the Arts and spent all of high school training and developing my resume. I was very astute and dedicated when it came to acting training. I soaked up as much as I could in arts school, and I'll never forget the depth it gave me as an actress. Afterwards, I got an acting coach, moved to Vancouver, found a new agent, took on a mentor and have experienced much joy and success since then.
It sounds easy when written into a few paragraphs, but it was truly a fourteen-year labour of love to get to where I am now. As a side note, I've had a very supportive family. Please listen to your children! They know what they want to do. I think our world would be much more harmonious if children live out their passions that they were born with.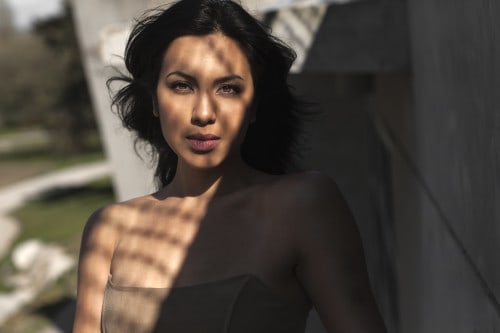 Can you walk us through a typical day in your life?
My days are anything but typical now. A year ago, I was a fully-fledged workaholic. My life revolved around my computer, and I knew I had to change. I thought that being addicted to work was acceptable, but I realized that addictions in any form are not healthy.
My entire life changed when I packed up all of my belongings, gave most of it away and went on a yearlong journey of transience (not really a sabbatical, because it did involve a certain amount of work). I've slept in hotels, airports, hostels, Airbnbs and on friends' couches. I've gotten really good at travelling (I got to Cannes Film Festival for $800 CDN – RETURN!) and it's given me business savvy that I could never learn in a classroom.
Twelve months of travelling and seeing my life outside the often condoned "workaholic" bubble we live in in North America was one of the most exciting and beautiful things I've experienced. I broke all my work habits, my acting habits, my personal habits, and have completely re-calibrated my approach to not only my career, but my life.
I never knew that saying "no" to work could turn into such a huge "yes" from work – and from life!
What is the best advice you've gotten? 
"Half the game is confidence." In my discipline, this is very true. But learning how to gain said confidence is a whole other thing. I would say that confidence is directly connected to self-love. It's being able to walk into a room full of critics or nay-sayers and not worry about what they think of you.
It's almost impossible as an actor to be studying a character you're going to play without looking at yourself, your life, and asking necessary questions about who YOU are. I must say, the self-awareness that acting has given me has changed my life for the better and made me more confident.
Now I practice living in soul and not ego. I love myself too much to worry about which director or producer likes me or doesn't like me, or what anyone else thinks about me. I have to be able to sleep at night knowing I'm a fabulous person and that I genuinely try to make the world a better place. I have to be able to look in the mirror and like the human being staring back, otherwise it just ain't gonna jive.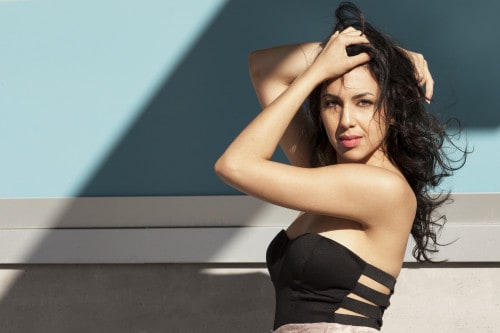 What projects are you currently working on? 
I've got a lot on the go these days! Up first is The Northlander, a dystopian sci-fi that screened at Cannes Film Festival. Then it's Neither Wolf Nor Dog where I challenged myself by playing twins, Wenonah and Danelle. The film is based on a novel of the same namesake. It opened to great reviews for its world premiere at Edinburgh International Film Festival.
The show that opened a lot of doors for me earlier in my career was Blackstone, where I played girl-turned-ghost, Natalie Stoney, and all five seasons are now on Netflix! I have a new TV show coming up called Jamestown. It was filmed in Budapest and it's by the creators of Downton Abbey! This is a very exciting time for me.
What is the best part of being your current age?
I can't remember the last time I felt this much joy. Beauty truly does come from within and true laughter and joy come from living in the moment. I had to learn that other people want to make you into their own version of you, and I fought to experience my own self-discovery and become the best version of myself, through my eyes and not the eyes of others.
I am happy that I even had that revelation.
I'm very independent right now. I can fly around in international airports on my own. I can negotiate. I know now the importance of asking for help and also saying no. My instincts have become stronger and have helped me forge healthier business relationships. And most importantly, my self-esteem is no longer in the hands of other people.