What does it take to record an album of original songs in just ten days? Veteran musician Erin Costelo tackles this idea in a new documentary created by Juno winner Amelia Curran: Sweet Marie: In Studio With Erin Costelo, an inside look at the recording process and the creative collaboration that occurs when it's on a tight timeline.
We caught up with Erin and Amelia this week.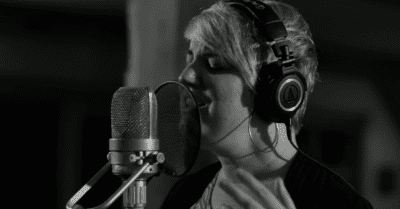 SDTC: Is it typical of you to make a record in ten days?
EC: Normally I take a very long time to make a record. I've been known to take years! Ten days was a real challenge. I wanted to push myself artistically and try things in a new way. It was terrifying but also really rewarding musically.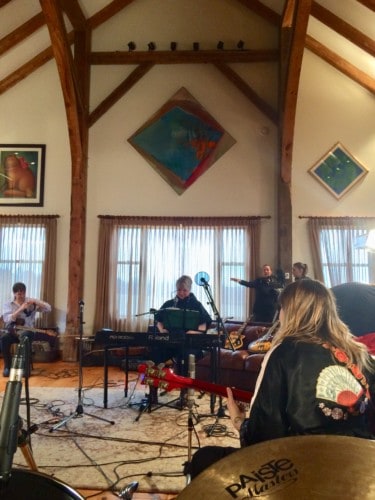 Watching the film afterwards, was it strange to see your creative process on the big screen?
EC: In general, it is strange to see and hear yourself. But it is really rewarding to have a document of a project I am really proud of, and I know I'll look back on it fondly.
Have you always been in control of your career in this way?
EC: I think I've always been a very curious person. Artistically, I've always wanted to know more, learn new things and grow as an artist on each project. This evolution feels pretty natural. I like to challenge myself and realize a vision. I've always been like that, I think.
What female musicians/songwriters have been inspiring to you?
EC: I am always inspired by great art. I've been a huge fan of all the women involved in this project—Amelia being one of them. It was so rewarding to work with a friend and artist that I admire so much.
Fave song from the album, and why?
EC: Lately I've been loving "Shadow." It feels the strongest lyrically for me, and it's really fun to perform live.
What was the biggest challenge you faced in translating the songwriting creative process to film?
AC: I was particularly worried about getting in the way. Setting up a dozen lights and two cameras isn't exactly non-invasive. As a recording artist as well, I really didn't want to hinder any of the studio vibe between these bandmates, especially in the first stages when the band was trying things on for size before committing to the final arrangements. Everyone was fabulous and very giving with us. I'm lucky we were able to be flies on the walls after all.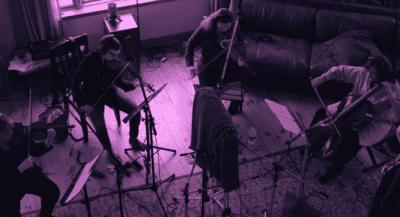 Did your end product resemble what you had initially envisioned when you started the project?
AC: My original vision changed so many times! Every note I heard while we were there struck up different imagery for me, and I would sit in the corner making really bizarre notes, trying to capture the mood. But the whole experience ran on vibe.
The only thing I thought for sure would be in there was some sunrise/sunset moments, but of course over ten days in January, there wasn't actually any good sunrise/sunset action, so…reality.
What do you love most about Erin's work?
AC: I'm using the word "vibe" way too much already. But that's what always draws me back to Erin's music—that vibe is irresistible. What she is pulled to communicate really speaks to me. Simple love songs are not so simple. There are always some worldly themes going on, and I love that. But at the very root it is damn cool and groovy.
What do you hope viewers take away from this film?
AC: I hope people can recline in it, really sit back and let those moods and subtle imageries carry them along. I'd hoped the final product wouldn't be bossy, so the music can dictate where we take you and how you feel along the way.
Sweet Marie: In Studio with Erin Costelo, directed by Amelia Curran, airs nationally on CBC January 5 at 1 p.m. EST.