On Friday, October 21, prepare to have your mind blown – and your perspective totally altered.
This year's imagineNATIVE Film + Media Arts Festival Art Crawl will include the Canadian exhibition premiere of Wairua, featuring three works relating to the Māori concept of the soul by artists Rona Ngahuia Osborne and Dan Mace. They will also present Indigenous Movie Monsters by multimedia artist Jay Soule, aka CHIPPEWAR, with four pieces from the ten-part series that indigenizes the classic horror movie poster.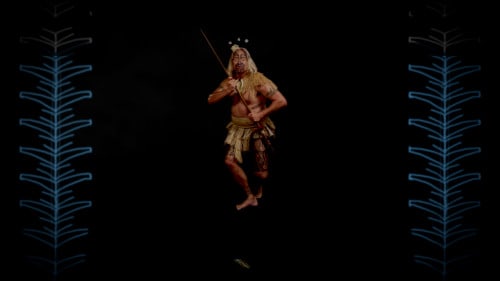 The crawl follows seven stops at five galleries. In addition to Wairua and Indigenous Movie Monsters, the Art Crawl will also feature Folding Forced Utopias For You, about Indigenous architecture and the forced resettlement of arctic communities; Ore Body, investigating how value of land and resources is created and assessed through Western measures of wealth; wnoondwaamin | we hear them, which uses sound waves created by three artists to access knowledge and memory; and Goldilocks tahnon Ohkwari, a video installation that addresses issues surrounding colonization and language preservation.
The Art Crawl will make a final stop at Artscape Sandbox for Records and Reconstructions: Lindsay McIntyre's Portraits in Process, which features a live performance followed by a screening of works.
Curious? Find out more right here.