Niio Perkins is an award-winning designer whose spectacular Iroquois-raised beadwork has been exhibited at galleries throughout North America. She incorporates natural material, cultural symbology and traditional motifs, and each unique piece is inspired by the vibrant beauty of her Haudenosaunee people.
Niio will be exhibiting at the Trade & Consumer Marketplace in Harbourfront Centre in addition to her runway show at Indigenous Fashion Week Toronto. IFWTO is a four-day, multi-platform festival of the most distinct and progressive Indigenous-made fashion, craft and textiles running from May 31 to June 3, 2018.
SDTC: What was your path prior to starting Niio Perkins designs?
NP: When I reflect on how long I've been working on this career path, this is really all I've ever done. I started beading when I was in grade 2 because of my mom and her sewing. No matter what my interests were growing up, and even now as an adult, I've always come back to beadwork and designing. I really began building my company, doing art markets throughout the United States, entering juried shows and winning. Then I began doing local fashion shows, and that has become an aspect I focus on throughout the year. I want to make a complete look. It's challenging, but that's really what I try to focus on and designing allows me to do that.
What has been your favourite piece to work on, and why?
My favourite piece is an ash splint pack basket that I've put my signature on. I love it because my community is known for producing the most amazing and well-made black ash baskets. It's to honour that legacy, and it's also inspired by children in our community who are carrying pack baskets to school instead of backpacks, and women who are using them more and more to carry their tools and medicines. I see this piece as a reflection of what is happening right now in my community and other Indigenous communities all over. So I'm very proud of it and excited to include it as part of my IWFTO show.

What can we expect to see of your work at the Indigenous Fashion Week Runway and Marketplace?
My collection for the IFWTO show is a modern reflection of our culture. I'm exploring the question, "How can we take something that's spiritual and special to us and be able to utilize it in a way that makes sense in our world today?" This collection includes brand new textiles and traditional items that you might not expect to see in a fashion show. I want to show them in ways that Indigenous women today "get" and will want to wear right now and not save for a special occasion. It's the woman who makes it special.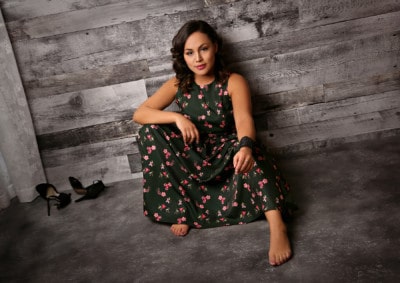 What do you love most about being a designer for a living?
The fun parts–the photo shoots and fashion shows. It's very glamourous. Working for myself and being my own boss is great, too!
There's so much I didn't know about how our Haudenosaunee history and culture before I started focusing in it for inspiration in my designs. Doing this work has kind of forced me to research those aspects, to know more and dig deeper. It's so much more than learning about why things were done in a certain way or why certain materials were used. It's a spiritual connection. Learning those deeper meanings behind why we did things is an emotional journey. It's about all these connections–with nature, with our ancestors. I'm figuring out what those lessons are about; they're to help us get through something, but we have to do the work. Being a designer, I've had the opportunity to do that work. That's helped my personal and spiritual growth and even my identity as a Haudenosaunee woman.