Katerina Taxia is a Second City alumna who recently landed two back-to-back roles in The Handmaid's Tale and The Expanse. She is the voice of Otonia in the Assassin's Creed Odyssey video game. She most recently starred in The Women of Alpine Road, which will be having its world premiere in Louisiana at the Cinema on the Bayou film festival on January 26th.
We chatted with her this week.
SDTC: When and where do you feel most content?
I love being at home in my own cozy environment reading, watching Netflix…I can be a bit of a homebody; however, I love being in front of the camera, telling a story and connecting with others.
What food/dish always satisfies you?
One of my favourite things to do is cook and try new dishes from all different cultures, but give me sweet potatoes and I am a happy camper!
What film/show has recently wowed you?
I recently finished watching Wentworth and it blew me away. I binge-watched this show! It is a strong female-driven drama based in a prison. All the characters are so layered and flawed; they have made some bad choices but are trying to do their best with what they have, know and learned.
What's on your current reading list?
I'm in between reading The Curious Incident of the Dog in the Night-Time by Mark Haddon and The Blacklist television scripts.
What Toronto spaces do you truly love?
I love coffee and nature, so I'm either hanging out in a coffeehouse like The Rooster or Jimmy's Coffee and enjoy walking and discovering all the beautiful trails Toronto has to offer.
What exhibit/museum/site are you dying to see?
I really wanted to see Anthropocene at the AGO but unfortunately didn't make it. It's about how we as humans are leaving our irreversible marks on our world. An upcoming one is the Brian Jungen exhibit, which features striking sculptures made of repurposed objects and materials.
Your go-to coping mechanism/self-care?
I'm a huge advocate for meditation and journaling. The stillness helps me to re-connect to my breath and journaling allows me to clear my mind and prioritize when I feel overwhelmed.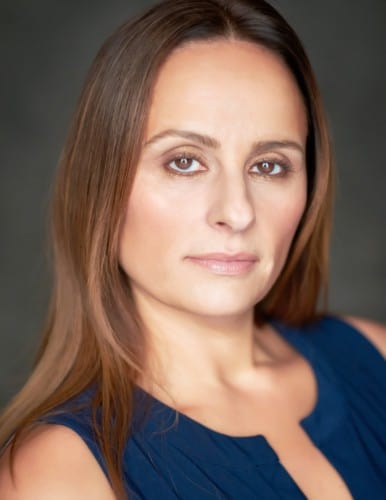 What five things would you want if you were deserted on an island?
My family, my dog, a book, a journal and a pen.
What's a childhood memory that always brings a smile to your face?
Family is the most important thing to me, and we would have these weekly Sunday outings at various parks. We would BBQ, have cake, dance and play soccer. Just hang out.
What life philosophy is currently helping to guide your journey?
If it comes, let it. If it goes, let it. Be grateful. It's my mantra.
One skill you'd love to learn/nurture/improve this year?
Baking! It always tastes great but never quite looks like the picture. Nailed It! does not apply!
What's a piece of career advice that has served you well?
Not to take it personally. You're either the vibe they want or you're not. Control what you can and leave the rest up to the universe.
What outfit makes you feel the most you?
Leggings and long tops/sweaters—so comfy!
What toy/book have you held onto since you were small?
I don't have a toy or book, but I did hold onto my Strawberry Shortcake bedsheets.
What's a subject that is currently holding your attention? An issue that you're focused on?
Mental health is so important and yet so underfunded. We don't have the necessary resources to help people with mental illness, and more needs to be done to be able to guarantee better access to some of the most basic mental-health services and supports. If it's a broken arm, we see the cast…we get it. We need to educate and increase funding because there are a lot of people suffering and afraid to ask for help. People should not feel ashamed or less than.
When you compare yourself now to where you were at ten years ago, what's a major change you can identify?
I'm kinder to myself and my outer self reflects my inner self. Not that I don't have days that I struggle with that, but I try not to take myself too seriously and be grateful.
Goal(s) for 2019?
To keep evolving, keep growing and upgrading my mindset.