In this pop culture climate where Frozen became one of the biggest movies of the past year, it should come as no surprise that the next Disney-esque princess might come from a cold weather climate.
And that's exactly what happened when Karen David was landed the role of Isabella on musical-dramedy series Galavant.
Although she's got a British accent and a mixed background ("Chinese-Indian-Jewish"), David is also part Canadian, having spent a fair share of her early years learning the song and dance craft in and around the GTA.
"I went to school in North York," David told SDTC at the 2015 Television Critics Association Winter Press Tour in Pasadena, Calif. earlier this month. "I went to Cardinal Carter and [they had] amazing teachers who were so encouraging."
The actress, who has also had minor parts in Jack Ryan: Shadow Recruit and a few episodes of Castle, split her early years between Toronto and London, England. She considers herself "a Canglish girl at heart. I always kind of say I grew up a bit in Canada and I developed in England."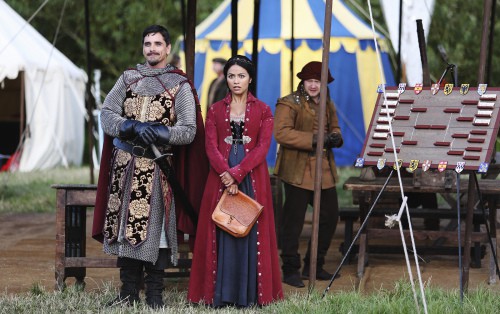 David travels between visiting her family in Etobicoke (when she can to get her maple syrup and ice wine fix) and the States. Her parents have been huge supporters of her career ever since they made the difficult choice to start a new life in the British Commonwealth.
"My parents were only allowed to leave the country with $20—they had to leave everything behind—and they have been my source of inspiration every day," David says. "They came to Canada and to England in hopes of creating a better life for my sister and I and they just want us to be the best that we can be."
"Trust me, my parents were never the type of parents that gushed," she said. "When I did recitals in high school, they'd be the type of parents with a notepad. They'd say, 'Karen, you have to work on this. This bit was alright, but you've got to tighten up on that!'"
While David certainly watched Disney films as a child, dreaming of playing both the princesses she related to (Pocahontas, Aladdin's Jasmine and The Hunchback of Notre Dame's Esmeralda) and "exotic" ones like Belle (Beauty and the Beast) and Ariel (The Little Mermaid), she was raised on more grown-up heroines like the women seen in the works of Jane Austen and the Bronte Sisters.
"In my heart of all hearts, I was dreaming of one day miraculously being cast as Elizabeth Bennett," she says. "Then when [Galavant] came along, it was a bit emotional …. As a teenager, I was this awkward, pimply-faced, very shy, quiet girl. If anyone had told that teenager that I was, being so full of acne and everything, that I was going to play a Disney princess one day, I never would have believed it in a million years."
David didn't think she was going to get to play Isabella when she was testing for the part, especially after reading the script's initial notes. She explains, "I looked at the description for Isabelle, which said, in [producer] Dan Fogelman's own words, 'Oh we'd love to get someone like Jennifer Lawrence to do this role.' And then my heart sank. I call my agent and say, 'Are you sure they want me for this? I'm sure that the last time I checked in the mirror, I look nothing like Jennifer Lawrence.'"
After some encouraging from her agent, David decided to audition anyway. Fogelman immediately took to her. After some more talk and bonding over curried brisket, Fogelman was ready to continue David's lucky streak. As she tells it, just a little while later she got the news that she was "his brown Jennifer Lawrence."
Since receiving that title from Fogelman and the seal of approval from well-known Disney composer Menken, David has received a lot more praise, from both her family (her 8-year-old nephew talks her up at school) and critics. But she's got a special place in heart for the notes she's received from the people who believed in her when she was but a North York arts student.
I feel so lucky to have had these wonderful teachers," she says. "They come on social media and say, 'Oh, Karen! Do you remember back in Grade 9 you were singing in choir school? And now you're singing Alan Menken!'"
Emily is one of the founders of Cinefilles.ca, a site about women in film by women who love film. She's always game to talk girl power, horror movies and snacks at @emilygagne.