On Nov. 19th, Toronto's Shakespeare BASH'd are bringing their brand of stripped-down Shakespeare to the Junction with a production of Romeo and Juliet. Hallie Seline will take the stage as one of theatre's most legendary ingenues. We spoke with her about making the role her own.
SDTC: As an actor, how do you prepare to bring your own take to such a storied role?
Hallie Seline: Well, first off, you have to recognize and accept that everyone will have an opinion on what they think Juliet should be like. You also have to realize within yourself the patterns of these iconic speeches that have stuck with you and may influence your initial approach to the text. Then all you can really do is break down the play and the text, focus on your understanding of what you're saying, why you're saying it and who you're saying it to and try to make choices as honest to yourself and to the play as a whole that you're a part of as best you can. Also, maybe even have a little fun with it!
SDTC: What's unique about Shakespeare BASH'd's production of Romeo + Juliet?
HS: I saw the last two productions that Shakespeare BASH'd put on in the Toronto Fringe Festival (Taming of the Shrew and Much Ado About Nothing, both of which were sold out runs which I think is a nod to how they do their shows), and it was their approach to theatre and Shakespeare that made me want to work with them so badly in the first place. To quote their mission statement, since it more eloquently synthesizes my thoughts, they seek to "present Shakespeare's plays as they were written: with simple staging, clear and specific language with an emphasis on the words and characters telling the story. [They seek] to synthesize the traditional with the modern, to look at the plays from a place of curiosity, fun, excitement, truth, professionalism, and love." Working with them, this perfectly explains how our rehearsal process was focused. Having been previously a spectator to their work, this is what is so enjoyable and special about Shakespeare BASH'd. Oh yeah, and while all of this is going on, you can enjoy a drink or two from the bar in which they are performing. I'd say that's the cherry on top. It takes an air off of the theatre, which I think needs to be done sometimes, and not at an expense of the quality of work you are watching. If anything, I would say it reconnects the audience with the enjoyment of going to a theatre event that is sometimes lost in a traditional space. The work is accessible and thought provoking and passionate and fun. We talk to the audience and walk through the audience. It's an experience.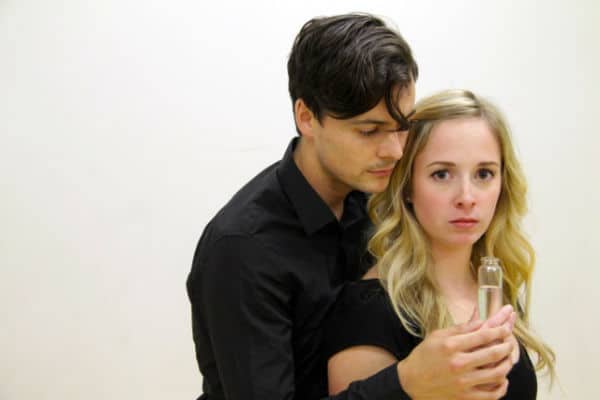 SDTC: What are some of your favourite roles to play? Why?
HS: That's tough. I'd say whatever grabs me when I read them or see other actors play them on stage or screen. I think people in general are fascinating so any character that has a bit of meat to them I think are fun to play. And that could fall along quite the wide spectrum for me. I would say anyone who has an interesting story to tell…. again, quite a general answer. I mean, I've played characters ranging from vivacious, manic and wild Zelda Fitzgerald, a 40-something divorced mother allowing herself to love again (you can thank theatre school for that stretch in casting, but wow, what an interesting character to explore), to the Artful Dodger in "Oliver!" the musical (yes, that is a young boy character, which I've played twice actually and would play again in a heart beat). With all that said, however, playing Juliet has been an exciting experience for me. I see myself in a lot of Juliet. She's very logical, which you can find even just in how her speeches are structured, but she's also excitable, loving, curious, an interesting sense of humour and willing to throw herself into the world in a big way. At least that's what I've found in the character so she's been an interesting role to explore.
SDTC: What advice would you give to young women getting started in Toronto's theatre industry?
HS: It's a tough industry. But with that said, I believe there are a lot of exciting shifts happening in terms of opportunity in Toronto. More independent companies doing great work and who are open to auditioning young talent, more playwrights writing parts for young women, more female artists looking to set up mentorships and collaboration opportunities. I would say put as much of yourself into your work as you can. Be confident in yourself and your abilities as an artist but be curious and eager to learn from your peers. Go see theatre. Reach out to artists you admire. I love the Toronto Fringe Tents so much for this because it makes everyone so accessible and in the mood to chat and meet. That should happen more often. But also look to women in the industry you admire and try to connect with them as well. Everyone is busy but from my experience, simply asking for advice or to connect with someone is half the battle. Most people don't and many are more receptive to it than you think.
SDTC: SPOILERS! Can you tell us some of your favourite moments from this production?
HS: First kisses, last kisses, sexy sword-fights, hilarious physical innuendoes, an incredible selection of food, drinks and craft beers at the 3030 Dundas West, and an incredible cast of boisterous, fascinating, exciting young local talent that I am truly honoured to work with. That has been my biggest joy, working with and learning from this group. I'd do it again in a heartbeat.
SDTC: What are you most looking forward to about opening night?
HS: An audience! We walk through the audience, I talk to them A LOT. I have many moments where I'm alone with the audience and I've put our cast on the spot a lot throughout rehearsal. I'm so excited to find new faces, some of which I may know, and work with them throughout the play. Also just the energy of having an audience, in that space, and for people to see the work of this cast. I'm definitely looking forward to that.
Romeo + Juliet opens on November 19th at 3030 in the Junction. More info here.