Rania El Mugammar is a Sudanese Canadian powerhouse who is making Toronto, and the world, a better place. She is an artist, arts educator, equity and anti-oppression educator, performer, speaker, and published writer.
This Sunday (December 11th), Rania will be sharing her expertise with a PWYC workshop called "Shut it, Uncle Bob! A Workshop On Addressing Racism From Family, Friends & Loved Ones" at The Centre for Social Innovation in Regent Park.
We got a chance to speak to Rania about art, allyship, and her wonderful workshop.
SDTC: What inspires you to do the facilitation work that you do?
RM: My facilitation work is inspired both by a desire to build the kind of world I want my son to grow up in (with a great sense of urgency), as well as a moral responsibility to document my struggles and oppressions, and leverage my privileges to create meaningful inclusion by those who are marginalized by these privileges. In a way, I owe it to my future (my son and his children) and my past (my ancestors and everyone who sacrificed for me to get here). I am trying to heal all of us.
How does your art inspire your facilitation work and vice versa?
For me, there is no distinction between the role of an inclusion/anti-oppression educator and the role of an artist. Both are responsible for documenting our lives, leaving evidence if you will, resisting the powers that seek to exclude and marginalize us and finally to imagine and actualize the futures that we want for our communities. As an artist, my goal is to make you feel something, rather than always making something that beautiful per se. I want to make the kind of art that shakes and moves people, that makes you ask questions, that challenges you, which is the same thing I do as an educator – I tap into your empathy and make you feel something, which may not always be comfortable, but it is necessary as growing hurts sometimes.
As an artist, my goal is to write the counter-narrative and make room for our stories, which is also the goal of inclusion work. It's not only to tell stories that challenge the "mainstream" but also to ask who gets to tell what stories, who curates them and who defines them as truth.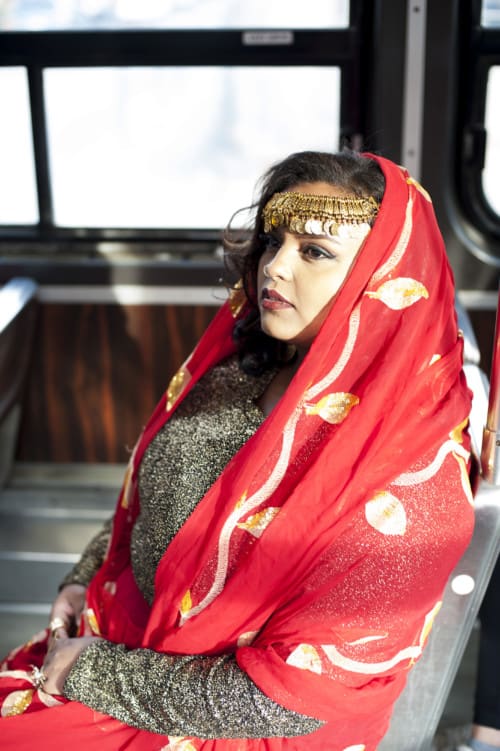 Why did you decide to do this workshop with CSI – Regent Park?
I work out of CSI in Regent Park and reside in Regent Park/St. Jamestown. As a Black, immigrant, queer spectrum, Muslim woman, it's imperative for me to program, create art and make space inside the communities I belong to in the interest of accessibility but also as a means of resistance and taking up space.
What can attendees expect from this workshop?
The workshop taps into that feeling of frustration or helplessness when we have these difficult conversations, often with people we love or care about, people we can't just discard. The workshop will give you tools so you can take that feeling of frustration, and sometimes defeat, and use it to arm yourself with knowledge, resources, strategies and most importantly questions, so you can challenge people effectively. The learning goals of the workshop are as follows:
Is it my job? Figuring out if we're the best person to address a particular individual
Learning to challenge the behaviour (not the person)
Techniques and strategies for dealing with defensiveness
Getting to the root of the prejudice
Finding resources/tools to support that person on their learning journey
Examining power dynamics we're experiencing in order to best serve
Addressing internalized racism and healing
Crafting meaningful apologies and changed behaviour
Tapping into folks' capacity for empathy
Balancing personal relationships with commitment to social justice – it's hella frustrating when we love people who are doing/saying problematic and hurtful things (a.k.a holding people accountable without throwing them away)
Dealing with racist people in work spaces
Taking care of yourself

Learning why people misunderstand things like freedom of speech

Identifying the problematic behaviour and how accountability is being dismissed
What do you think is the most important thing that an ally can do when someone says something awful?
Take responsibility for collecting the people in your life so that they don't go out there and hurt people. Invest in your own learning and well-being so you can have these conversations in a non-toxic way. Most importantly, centre the people who are being marginalized by the awful comments and behaviour without speaking for people.
Is it possible to correct someone without sounding preachy?
It's absolutely possible, especially if we start from a place where we acknowledge that we are not perfect, that we are all on our learning journeys, that we have also made mistakes and learned from them. It's also important to think about whether our approach is accessible to people. For example, are we using really academic language that makes folks feel alienated and like they're less than? Or are we tapping into someone's lived experiences, capacities, and skills to have an effective outcome rather than flexing our intellectual muscle.
What are you most excited about with this workshop?
I am excited to see people have that lightbulb moment when something resonates with them and to share their experiences. It gives me so much joy as an educator to connect with people in those ways and to share those intimate and life-changing moments.