"If four letter words embarrass you, you'll have to put your fingers in your ears now and then," said Lewis DeSoto.
Love is a Four Letter Word was put on as part of the International Festival of Authors, and featured four writers, Tamara Faith Berger (Little Cat), Jean-Marie Blas de Roblès (Where Tigers Are at Home), Lewis DeSoto (The Restoration Artist), and Grażyna Plebanek (Illegal Liasons). Hailing from four different countries, (Canada, France, South Africa, and Poland, respectively), they discussed how and where love, sex and art intersect in their writing. Each read an excerpt from their latest novels to give a flavour of their texts.
Attendants were cozily arranged at tables in twos or threes around small candles, which seemed rather romantic, given the subject of the talk.
DeSoto opened by considering other four letter words that overlap the experience of love: body, pain, lust. Paraphrasing Lawrence Durrell, he suggested that it is easy to confuse love with an emotion when it is a disease. Blas de Roblès countered that writing is a disease, which got a laugh from the crowd. Plebanek noted that love kills; first there are symptoms, then a sickness "from the very core."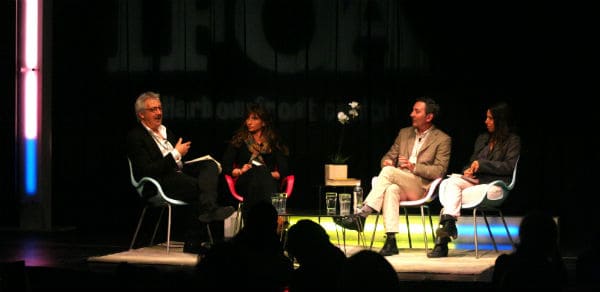 Photo courtesy of ifoa.org.
The Bad Sex in Fiction Award, doled out annually by Britain's Literary Review, inevitably came up, though I don't know that any authors present were in danger of winning it. DeSoto noted that it's difficult to induce a sense of reality for the reader when writing about sex or love, especially in trying to keep the language fresh, rather than reduced to clichés. Blas de Roblès said, "It's our job to describe everything." The writer must be objective, and he saw no difference between describing violence or sex.
DeSoto raised the topic of writing sex scenes, and feeling more precious or embarrassed about editing them. He found they made him blush when he had to discuss them with editors, but others found it to be a good experience.
In a beautiful turn of phrase, Plebanek described trying to find a language that could describe the emotions of the body. In Polish, she explained, the language has narrowed, reducing the words for describing lovemaking, so she found she had to invent something new – a language that went between the medical and vulgar in trying to give dignity to the subject.
Berger contrasted degraded and more literary language, and noted that "there's a power in taking those words and using them freely," especially in overcoming the shame surrounding them.