The heart of the Republic of Trinidad and Tobago is its diverse population, made up mostly of people of Indian, African, Chinese and European descent. The intermixing of cultures fuels a rich cultural and culinary landscape.
Though united as a republic, the country is made up of two vastly different islands. Trinidad is the economic centre of the region and houses the Caribbean's largest port, whereas Tobago's pastoral pace and powder beaches feel almost undiscovered. Despite the differences between the two islands, residents and visitors are separated only by an 18-minute flight ($50 return) or a two-hour ferry ($10 return).
Must do's in the Republic of Trinidad and Tobago
1. Put on your brightest, skimpiest outfit and dance for 48 hours straight in the biggest Carnival celebration in the Caribbean, coming up  in February 2014.
2. Drink coconut water straight from the source. After a morning run around the Queen's Park Savanah in Port of Spain, buy a refreshing, electrolyte-rich coconut from one of the vendors posted along the road. Or mix it with a little Scotch and pre-game like the locals.
3. Practice yoga in a Hindu temple, next to the 85-foot hindu god statue Karya Siddhi Hanuman, the tallest of its kind outside of India. Visitors welcome.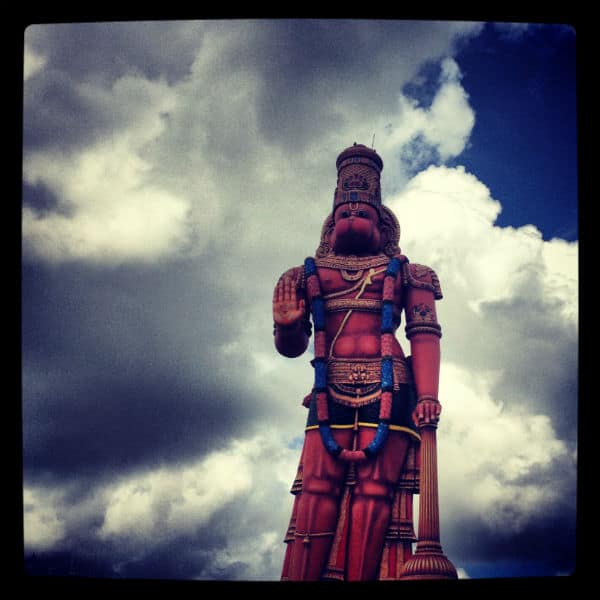 4. Glide through lush forest with Trinidad's first zip line and canopy tour, Chaguaramas Zipline. If you fear heights, take a deep breath and go tandem for the first few runs. Once the adrenaline kicks in you'll be eager to try it alone.
5. Swallow your doubt and bite into the popular Trinidad street food Shark and Bake. Or should I say, beach food. Beach-goers line up around Richard's Shark and Bake open-air restaurant for the chance to bite into the crispy bun and fresh breaded shark.
6. Forgo expensive and cumbersome scuba gear and explore the shallow reefs in Tobago's vibrant underwater world with a snorkle and fins.
7. Discover Tobago's interior in an off-road Jeep safari, driving past abandoned plantations and over meandering rivers. When you've driven as far as you can, a 20-minute hike leads you to one of the islands cascading waterfalls.