This evening, as part of their Books On Film series, TIFF will be hosting a screening of the critically praised Queen of Katwe with award-winning filmmaker Mira Nair in attendance for a special Q&A following the screening hosted by CBC Radio's Eleanor Wachtel.
Based on a true story written by Tim Crothers, Queen of Katwe is a classic underdog tale. It follows Phiona Mutesi (who is seamlessly played by first-time actress Madina Nalwanga) as she ascends from trading corn in the markets of Kampala to becoming a master of chess. Phiona's ascension is not only a testament to her own genius and studious determination, but it's also the result of the keen commitment from her village: her coach, Robert Katende, played by David Oyelowo (Selma); her elder sister, Night, played by newcomer Taryn Kyaze; and her mother Nakku Harriet, played by Kenya's Lupita Nyong'o (12 Years A Slave).
Like the threading together of elements in any good story, the community and circumstances all coalesce into creating a national (s)hero. And by Hollywood standards, Phiona is an unlikely one.
Last week, I caught up with Mira to talk about how the puzzle of QOK was came together. Unlike just about every other Disney film, born out of folklore, imagination, or marketing mavens around in a boardroom, Queen of Katwe is a story that began with a hand-delivered newspaper cut-out between two neighbours.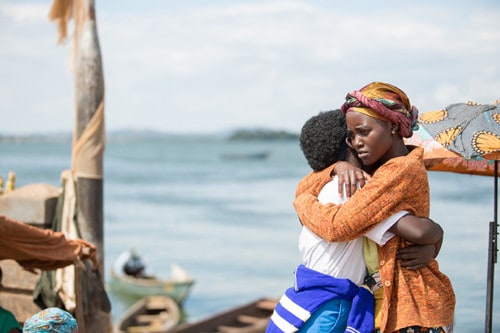 SGT: The story behind how Queen of Katwe got made is almost as interesting as the film itself. Can you tell me a little about how you came to learn about this chess champion Phiona Mutesi?
MN: I was brought the story of Phiona Mutesi, who ironically lived fifteen minutes away from where I live in Kampala, by Tendo Nagenda. He came to my garden and showed me this little article about Phiona, this eleven-year-old girl who had gone to the Russian Olympics to play chess. Tendo asked me to make a film on her story and I was immediately intrigued and asked to meet Phiona.
We meet two months later in Lincoln centre where she was playing Kasparaov and we immediately bonded. Then I started living Phiona's life with her. She would show me the house she made for her mother. I met her mother and even planted the garden at her new house. Until today, she sends me a photograph of every blooming flower on her smart phone. It's very sweet.
Gradually, as I got to know Phiona's life, I was more invested and I wanted to tell this story. It's a story beyond this girl's courage. It's a story about how we live there [in Kampala] and how ordinary life is: the dignity of it, the struggle of it, and the fact that you're not alone. It's not just a story about an individual but also of a family, a community and a mother. It's about the many parts that make us who we are. It's an experiential film very close to the ground. It speaks to my years there as an insider.
How did you score your lead actress Madina Malwanga who played Phiona Mutesi. How did you find her? And what made her stand out?
My two casting directors found her rehearsing at a dance company in Kibuli. I had already seen, like, seven hundred girls over six months and I was worn out! But I have to say, I took one look at this magnetic, sweating, fabulous, a complete life force with a megawatt smile and I said we must meet.
It was a rigorous process of about two or threeweeks before Madina got the part. She had to master the language for the screen. Chess is a tough game to film and thinking isn't always cinematic. So she had to be a face that an audience would want to watch. But she's such an artist: she's a dancer and so she had the discipline of a professional and that was so helpful because acting is a lot about focus.
That focus was seemed so effortless on screen, especially for a first-time actress. I wanted to ask you about casting Lupita. Was there anything that Lupita brought to the role of Harriet that surprised you?
This role was actually written for Lupita because I had known her since she was a child and I always saw Harriet as Lupita is – like a young Mother Courage from that great play of Brecht, Harriet is someone who has her feet on the ground, who has the goal of keeping her family together and who has set her goal to do it morally, in an easy-to-be immoral context.
She has a compass and Lupita has that solidity about her in addition to that magnetism, charisma and beauty. That down to earth, Kenyan mama is something that Lupita imbues from within. She lived with that and around it and Kenya is in the same region [as Uganda]. I know actors can do anything, but to be African and play an African is a beautiful thing. I had a real gift with David and Lupita, both sons and daughters of the continent.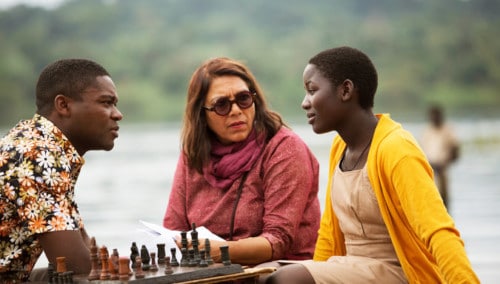 What about David – what did he bring to his role as Robert Katende?
David, of course, brings all his consummate skill and great humanity. He's a father of four – the type of father that one wishes for. In addition to all of that, he brings humility.
A Nigerian is very different to a Ugandan. In Nigeria, you are encouraged to push your chest out and holler. To say, "I want this." It's an assertive place. In Uganda, it's the politest, most courteous country in the world. It's gentle and it's about sweetness and manners. So it's a different self-effacing quality.
It was lovely for David to make that transition and absorb that. He is really one of our finest actors and he doesn't let you see the seamlessness of it. He really is a beautiful human being and that's what transpires on screen.
How did living in Kampala affect how you told this story?
Every cell of Queen of Katwe is imbued with my being at home. I've been there for twenty-seven years and beyond. I've created schools there, planted gardens there, given birth there, so what you see is all that I admire about my home.
I've admired the fashion style of my fish vendor and the emphasis on being "smart" – looking your best. And then the courtesy, the way one lives one's life with another human being is filled with dignity. There's a sense of knowledge from within.
All of the locations from QOK are my favourite places in Kampala. When we go to Harriet selling by the lake, that is my fishing village, just five minutes from my house. So it was a way in every frame to enjoy what I know and love and the opportunity to bring it to the world in an inspiring story.
Right now in Toronto, cultural appropriation is a hot button topic. Is it possible to make a film about someone else's culture and it be viewed as authentic?
I think it is possible if one has the humility and devotion and then works with people from within the community who will hopefully guide one. I think it's possible, but it's all about the point of the view.
Why was Disney ready to make a film like this, an underdog film about an African girl in Uganda?
I think they just had the good sense to wake up to the power of the world and this was a small ticket. You know, $15 million is not a big risk to take, but it still needs the vision, dedication and ability to strategize like the way Tendo and his counterparts at Disney did – to be able to even bring it to anyone's attention who does blockbusters.
And I must say that in production, they gave it the same care. I really had an excellent experience. What I love about QOK is it's the kind of film I would make independently. It's not a compromised film, which is very difficult to say in a studio system and it was fortunately received so beautifully. I am very proud of this film.
I read somewhere that before you decide to take on a new project you ask yourself, "Am I the only one who can do this project?" If the answer is no, then you pass; if yes, then you do it. Did that sense of clarity come after thirty plus years of filmmaking or have you always had that clear sense of purpose?
I have a pretty high bullshit barometer (laughter). I have to be able to see through it to do it. But this question doesn't really occur to me because I usually originate my own work. This question is mostly when stories come to me from outside – studios and companies – that's when I ask myself that question.
I must because everything you see on screen or now on stage – I've just directed my first musical, Monsoon Wedding, which is now a play – takes everything. So it's a question of choosing carefully because your time and energy will be needed for one year, sometimes it's eleven or twelve years on a project that has to be sustained.
Books on Film brings book and cinema lovers together at TIFF Bell Lightbox to celebrate great films that began as outstanding literature. 
Eleanor Wachtel, host of CBC Radio's Writers & Company, leads discussions with acclaimed filmmakers, authors and screenwriters on the art of adaptation and the journey from page to screen. Guests for 2017 have included Zadie Smith for A Room With a View and Sarah Polley for Away From Her. Find out more here. Tickets for tonight's event with Mira Nair are sold out, but there will be a rush line.