Not sure what to send your friend who's about to have a baby? We discovered a Toronto company that delivers exactly what a new mom wants and needs. It's not sexy, but neither are those first six weeks after birth. Trust us: the care packages by Tenth Moon are really thoughtful, helpful and sweet gifts that will be used. We caught up with owner Lindsay Forsey to ask about her homegrown business that is getting rave reviews from local moms.
SDTC: What did you do before you launched Tenth Moon Mothercare?
LF: I've worked mostly as a writer and editor, but also as a yoga teacher and a doula.
What and when made you decide to launch this business?
The idea of a postnatal care package delivery service came to me a few years ago, after my first child was born. I struggled with the recovery from an emergency caesarean, suffered from migraines for the first time ever and had thrush (a yeast infection on the nipple), which made breastfeeding acutely painful. Luckily, I had loads of support from my husband, family and friends. Being taken care of felt good and inspired me to start making mini care packages for friends. I'd bring them an herbal sitz bath and some granola, for example, and they were so appreciative. I loved doing it. Early last year I started developing the concept and connecting with business partners and launched Tenth Moon Mothercare in July 2014.
How did you decide what went into the Kit & Caboodle & Mama + Baby package?

There's a lot going on in a woman's body after she gives birth — exhaustion, lactation, surging hormones, hunger, dehydration. These packages have been prepared with these needs in mind – everything serves a purpose. There's a balance of personal care items, like the herbal sitz bath, lavender mineral soak and lip balm; nutritious snacks, like granola with oats and pecans to promote healthy breast milk supply; and stuff you just need, like maternity pads and nipple butter. The Mama + Baby includes a few extra tidbits that Mom will feel good about using on her delicate little one, like organic diaper butter that you could eat. (Though, I don't suggest it!) Using organic and natural ingredients and respecting the environment are big priorities for me.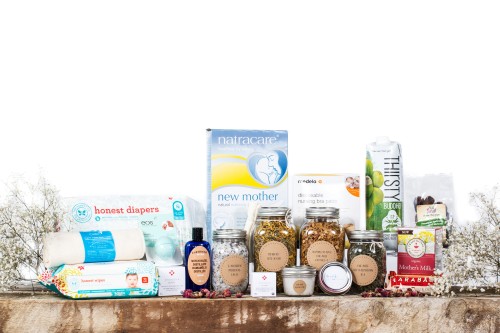 What were the most challenging aspects of those first six weeks?
With my first, the emotional trauma of the c-section was pretty overwhelming and breastfeeding was way more difficult than I ever imagined. I didn't have the confidence to go out with my baby. (What if she started screaming? What if I fumbled?) The biggest challenge the second time around was making sure to rest and finding time for basic self-care, like showering. (Truth: even eight months later it still doesn't happen every day.)
What three things do you want to say to new moms?
Ask for help: Motherhood was never intended to be a solo mission. It doesn't take a village only to raise children, but also to care for the mothers who give birth to them. In some cultures, mums aren't expected to do anything but care for their babies in the first month after giving birth, so don't hesitate to ask for help with the laundry or whatever it is that you need.
Make (and break) your own rules: There is so much – maybe too much – information about how to parent. I'm not saying don't pick up a book or ask friends for advice, but ultimately, whether it's co-sleeping, cloth diapers, soothers or swaddling, do what works. Go with your gut. Life with a newborn is always in flux.
"The days are long, but the years are short": I heard this recently and feel like it perfectly captures young family life. Some days seem never-ending. Sometimes you'll feel exhausted, confused or frustrated beyond anything you thought possible before motherhood. You won't cherish every moment. But as a mama of a girl who starts JK in September, I can say that it really does go by in a flash. Snuggle your baby. Rock her to sleep. Breathe in the sweet smell of her soft, fluffy head. One thing is for sure: babies don't keep.
What is the turnaround time for your deliveries and which Toronto neighbourhoods do you service?
Most packages are ordered in advance and I like for women to have them by around thirty-eight weeks, so everything is ready when the time comes. But we can deliver on short-notice, within a day or two. Our delivery service is focused in Toronto and the GTA, but we've made special arrangements to get packages to places like Guelph and Napanee. I plan to be shipping across Canada by the end of this year.
Check out more about this amazing company here and follow them on Facebook.