The 2016 TIFF Next Wave Jump Cuts Young Filmmakers Showcase winners were announced last week. Now in its fourteenth year, the high-profile competition screens the top short films made by Ontario students from grades nine to twelve. This year's showcase featured twenty-three short films from forty young filmmakers. This annual competition engages and supports young emerging filmmakers by helping them present their vision on the big screen.
We spoke to filmmakers Morgana McKenzie and Carol Nguyen.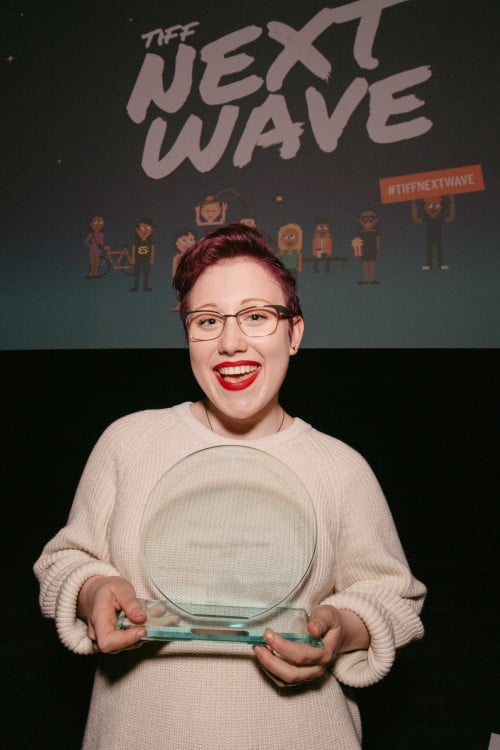 Morgana McKenzie
Winner of The Gertrude Löwengren Award for Best Fiction Film – Ellie: After years of captivity, Stephen takes drastic measures to escape his violent world and his terrifying captor.
What sparked your interest in becoming a filmmaker?
When I was just coming out of grade six, I was on summer vacation with my family in Florida. On one of the more lazy days, we watched a movie called Super 8 by J.J. Abrams. Depicted in the film were the teenage characters, who, alongside figuring out the mystery of the main plot, were making their own short film with a Super 8 camera. The idea of someone my age actually making a film was crazy. I wanted to be a part of that. So what followed was me later shooting a small ten-minute zombie flick with my closest friends on a small camcorder in my basement. Nothing sensational, but it was the start of a hobby that would later turn into what I wanted to do with my life.
What surprised you about yourself during this process?
Probably my ability to grow. As I mentioned above, I found my interest in film in at the end of grade six, but I've done film seriously for only about three years now. Looking at the projects I've done then versus what I've done with Ellie now, it surprises me to see how I've grown. I still have so much to learn and so much to do, but it can be rewarding to see your self-growth.
What was the most challenging aspect of your project? Most gratifying?
The biggest challenge and most gratifying aspect were casting.
All my projects prior to Ellie cast actors that were non-union. I'd reach out to friends in the drama program at my high school and post casting calls to local Facebook actor groups, and I never had any issue finding actors for my films.
This time I went union because no adult male actors responded to my casting calls. It was two months from production and I had no idea how I was going to find actors. This was a huge problem.
In the end, Ottawa casting director Ilona Smyth offered to work with me and find ACTRA union actors. Working with Ilona was a fantastic experience, and working with ACTRA was a big step in my growth as a filmmaker. Learning the ACTRA rules and working within a fixed schedule wasn't as challenging as I expected and helped me become even more disciplined as a director.
Can you walk us through your process of making the film?
I wrote it in 2014 expecting to shoot it as a part of my scholarship at Prodigy Camp, a filmmaker camp based in Seattle. That plan sadly fell through, as I was unable to finish shooting Ellie (a six-page script with almost four locations) in the three hours available for filming at camp.
So I sat on it for six months as I made other projects. In April of 2015 I picked it up again and launched myself into pre-production. What followed was around an eleven-month process of planning, casting, shooting, editing, revising, and colour-grading. It was insane. It was my first attempt at a "bigger" production, working with better gear and union actors. Although daunting at the beginning, I came through in the end with a project that I feel very proud of.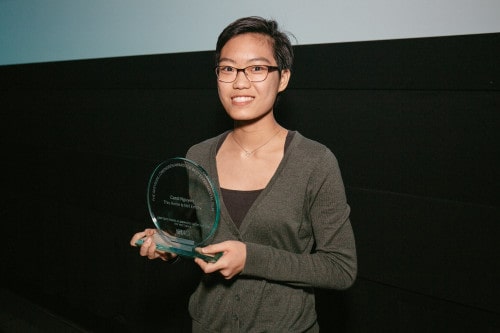 Carol Nguyen
Winner of The Gertrude Löwengren Award for Best Experimental Film – This Home is Not Empty: A personal exploration of the lies we tell ourselves.
What sparked your interest in becoming a filmmaker?
I didn't mean to become a filmmaker. This was completely accidental. I first started creating films in grade nine for my school. I go to a specialized arts school called Etobicoke School of the Arts where I major in film. My main objective was only to attend the school and the film audition was my best chance at getting in. I sucked at all the other art forms and unlike the other arts programs, you didn't need prior experience to audition. As you can guess, I got in.
The film program is special. The teachers push the students to create personal work that is important and meaningful to them. I was quite overwhelmed at first. I had never touched editing software before and I didn't know how to use the camera, but we were always assured that gear and fancy visuals shouldn't override the concept. So the first film I made was extremely pixelated; half the shots were out of focus and shaky. But it was extremely personal to me and helped me come to terms with something I had been struggling with for long time. It allowed me to tell my story in a way I could not do otherwise. And so I fell in love with the medium.
What surprised you about yourself during the process?
What I learned throughout the process of making This Home is Not Empty was my ambition and tenacity. I never made miniatures before and I didn't know how. I just came up with the idea and knew that I had to do it. You'd be surprised how hard it is to bend the paper in the right position or make them stick together since they are so tiny. "How the hell do you make a 3D paper couch?" "How the hell do you make a 3D paper horse? A FREAKING HORSE?!"
I went back to the drawing board more times than I can count, remaking nets and diagrams until things finally worked out. The whole creation took about one month. And what surprised me was how determined I was to make it good and make it right. That film is extremely personal to me. I believe that if you care for something enough, you will do everything in your power to make it happen. This is only a small example I guess, but it showed me how true the statement was.
What was the most challenging aspect of you project? Most gratifying?
The most challenging aspect was surprisingly not the creation of the miniatures, but coming up with the idea. I always start my films with a concept before the story and this concept was so close to my heart and again, personal. I wanted to come up with the right idea, the right tone and the right look, which took a lot of digging inside of myself. You don't always discover nice things when you look internally.
The most gratifying aspect was finishing the film and being content with it. I think this answer is obvious. It always feels good when you accomplish what you want.
Can you walk us through your process of making the film?
This film was made for one of my projects at school. I think it's pretty fantastic that I get to do things like this and call it homework. As I said, I always start with a concept. I search for something that I want to say, express or get off my chest then go through the thing personally before I even think of the film. This is usually the most emotional part because self-exploration uncovers things that your subconscious hides from you. The film unravels from this. For This Home is Not Empty, this meant one month of folding papers and a whole lot of Dr.Phil marathons during the creation. For some reason Dr.Phil episodes were very gratifying to watch during miniature building (but I dislike them now). After that, editing took a couple of days and voila! The film was born.