Tumaini Lyaruu & Chason Yeboah are the big hearts behind Acts of Kindness (AoK!), a movement dedicated to acknowledging and recognizing the kind deeds of others. These crochet teachers (and yarn bomb enthusiasts) have been spreading love across the city by sharing their incredible crochet skills through workshops for children, youth, adults and seniors.
We caught up with them this week.
SDTC: How did you discover crochet?
Chason: At the age of three, sitting in a rickety rocking chair on the front porch of my grandmother's home in Morne Diable, Trinidad, I used to watch my gran vigorously fusing fibers together with what looked like a little crooked stick. Sixteen years later I finally discovered what that was all about. For a while I was enamoured by the beautiful scarves and winter accessories that adorned the body of my crochet partner-in-crime, Tumaini, but was never interested in learning the craft. Instead I asked for a commissioned scarf, but was (happily) rejected and told instead that I should learn to crochet a scarf for myself.
I sought help from T and took a lesson on the basics, but I didn't comfortably catch on. I tried to go home that night and teach myself, but the frustration was real and I very quickly gave up. As the cold months approached, and my funds depleted, it became obvious to me that the only way to stay warm and fashionable was to learn to create these pieces for myself, and so crochet came back to me with a vengeance in a real way. I turned on my computer one day and sought help from our free education system, U of YouTube, and I never looked back!
Tumaini: I think crochet is more of an ancestral birth right, colonial "inheritance," and a craft proliferated by non-governmental organizations (NGO) during geopolitical instability. Where my family is from a lot of people crochet. Children, adults, and seniors, it's a thing most people know how to do, by virtue of colonialism and the education and religious institutions set up by the British. Crochet also has a history of being part of low cost income-generating programs run by NGOs in refugee camps.
I think the incremental ways crochet came into my life are totally by people taking and using what is available to them and giving meaning and artistry to the craft in new ways. I recently learned that my grandmother was also a crochet teacher living and working in a colonial context that limited the positions of power that black African women could hold. When I was eight years old my grandmother's sister (rest in power) was visiting from East Africa and more or less forced me to sit down and learn.
Now in my mid-twenties, being able to contextualize how she and other people in my family used crochet makes me happy that it has become so integral to my life. I really reconnected with crochet when I was about fifteen and my mother reintroduced it to me, and she learned to crochet from her mother. So I don't know that I discovered crochet, rather I think the art of crochet threads itself throughout my family and the history of the land we hail from.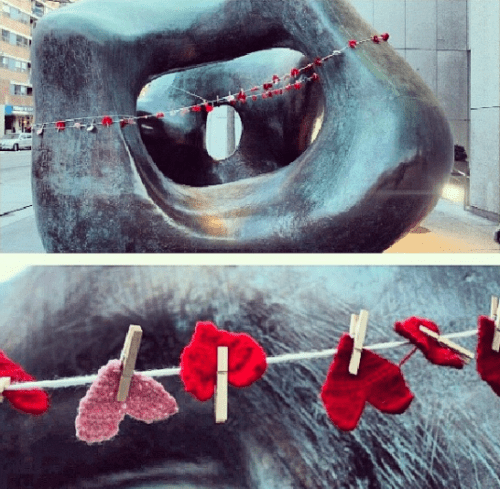 What is it about this medium that you love?
Chason: Crochet showed its true purpose at one of the most difficult times in my life. I was dealing with the sudden death of a partner, and there was no one and nothing that could console, or heal me. The dark places were filled with partial light the moment I decided to heal through craft. I love how meditative and restoring crochet can be.
When we facilitate workshops, I always say crochet is a great way to lose yourself; to think about everything that's going on, or to think about nothing at all and just focus on the craft. The repetitive motions in crochet release serotonin in your brain, leaving you with a satiated feeling (once you get the hang of it of course).
Apart from that, I love the fact that I can look as fly as I want, on a budget. To create something from your mind and watch it quickly unfold in front of you and become a tangible object; to me there's no better feeling. With crochet you get to be crafty, induce mental stimulation, and stay within your means while staying fashionable.
Tumaini: I love the endless possibilities presented by crochet and making something tangible out of the ideas in my mind. It's really cool to be able to externalize that very internal process, and engage with it physically or connect it to the activities of my everyday life. I crochet genitalia as a way of bridging art and health, to be able to engage people in conversations about bodies and health in ways that aren't fear mongering, and to create art work that keeps learning fun and interactive. I also love the process; crocheting a project holds a lot of the feels and keeps me in tune with myself. When my stitches are really tight, I know I am tense or stressed and can check in with myself to find out what's good.
What's surprising about crochet?
Chason: One thing that I think people will find surprising about crochet is how simplistic it truly is. Crochet is just creating different variations of the same knot over and over until it becomes what you want it to be. I am not saying that it's not hard at first. Like I said, in the beginning of my crochet journey, I gave up because of how complicated I found it to be. But once you get through that learning curve, you can pretty much create anything you want through trial and error, create forms that you would have found impossible to do at the beginning, and learn patterns that you never thought you could.
Tumaini: I think that it looks really hard, but is a really simple art form in the practical sense. I don't at all discredit how stressful it can sometimes be in the learning process; however, getting fancy is really about playing around with the very basic stitches. Once you get a hang of the basics [your foundation] your projects ultimately become whatever you choose to make of them. It's a kind of metaphor for life – use what you've got. It also does not require expensive materials. You can make your own crochet hook using the lid of a pen, de-knit old sweaters to reuse yarn, crochet with other materials. I think the only limitation of crochet is that it requires a certain amount of dexterity and range of motion of the hands, or feet.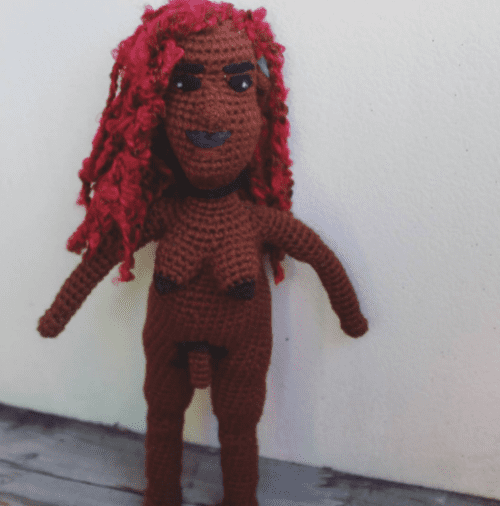 What role does crochet play in your life?
Chason: Crochet plays the ultimate role in my life. It is my primary source of income, it is my favourite pastime, my creative outlet, my stress release, my muse, my inspiration, my fashion outlet. Crochet helps me to spread love, light and positivity. It allows me to create things for people, and it allows them to understand their importance in this world. I create anatomically correct, nude crocheted dolls that represent my perception of humanity. Crochet has also taught me so much about patience. It's helped me to become a more patient teacher and in the process a more patient person. Because of our awesome job I have learned so much about how people think, learn and process ideas.
Tumaini: For me, crochet is learning, living, loving. I have gained a lot of love (of self and others) through the constant collective learning that happens when sharing the skill of crochet. Either a YouTuber or fellow crocheter shares this mind-blowing tip, or when teaching the conversation that comes up while we are all in the crochet zone hits me hard and I reflect on it and incorporate the knowledge gained into my life. I have become increasingly more patient and kind through crochet.
Any tips for beginners?
Chason: Please keep going! Don't give up! Stay mindful during your process and respect the feelings you encounter along the journey. Crochet can be so frustrating at the beginning. Don't let this deter you from continuing; instead, embrace these feelings. Take a break if you need to, but come back to it when you're ready and respect the fact that frustration is all a part of the progression. Something to remember is to be mindful of how your body feels physically. If you're hurting, do some stretches, how do your back, neck, arms and fingers/feet feel? If the answer is not great, then change positions, take a break, do some exercises and come back to your project. Be mindful. Check out my personal work at on Facebook & Instagram.
Tumaini: Honour your process. In the years of sharing the skill of crochet, that has steadily become my teaching mantra. I think, like learning anything new, it's about going through the motions in whatever way is most genuine to you and how you are feeling. Be patient with your process, whatever it looks like; get mad, be frustrated, stop, laugh, try, do what you need to do. I think if you can locate all the feels as part of the process, crochet offers a way to make meaning of things like you've never imaged. Check out my personal work here.
Eager to learn? Acts of Kindness are hosting a Mindful Crochet workshop at The 519 (519 Church St) on December 8th from 5 to 7 p.m. Quell your winter blues while creating something cozy! If you can't swing that, they're offering a Crochet for the Whole Family Workshop at LucSculpture School & Studios (663 Greenwood Ave.) on December 18th. Find all of their upcoming workshops here.