I won't lie: I went to summer camp once, and I hated it. I was young, I was shy, and I was hot off the heels of the best musical theatre camp ever (HAHAHA YES I KNOW), so I wasn't in the mood to make new friends. However, that very camp can be credited with my life. Seriously. My dad met my mom's sister at that camp, and she's the reason my parents got together. So, yay camp!
And while my own childhood camp experience left much to be desired, that doesn't mean I wouldn't totally love it as an adult. Especially if there was booze and tasty food involved. OH WAIT THAT'S A REAL THING?! It is now, folks!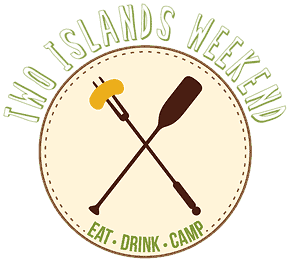 Two Islands Weekend is summer camp for grown-ups. It takes place at Camp Timberlane on Lake of Two Islands, surrounded by 600 acres of hardwood forest in the Haliburton Highlands(!!!). From Sept. 6 to 8, you can enjoy shared cabins, arts and crafts, canoeing, capture the flag, trivia, s'mores, yoga, and field sports—all of the fun from your (I'm hoping) wonderful camp times as a kid! The difference? You'll also get booze from Rosewood Estate Winery, McAuslin Brewery, and Black Fly Spirit Beverages, plus delicious food (none of that mystery mush!) from Toronto chefs like Amanda Ford, Jason Cox, Rossy Earle, Tom Brodi, and more! HULLO, CAMPERS! Now THIS is a camp experience I can get behind.
Tickets for this insanely fun weekend are $350, and are all-inclusive. Mommy, can I go?!