We like to think of ourselves as foodies, but it recently donned on us that we're pretty unfamiliar with Aboriginal cuisine. Sure, we've all had game meat dishes like buffalo burgers and elk roasts, and we've heard of bannock, but that about sums up our experience.
Luckily, we'll soon have the chance to get to know Aboriginal eats a little more intimately! Designated to raise awareness for the Mississaugas of the New Credit First Nation (MNCFN), the #YouAreWelcome Food Truck will begin making its rounds in Toronto as of July 10th. Featuring four delish dishes developed by Chef David Wolfman, the truck also seeks to celebrate the MNCFN's role as the Official Host First Nation of The Toronto 2015 Pan Am/Parapan Games!
What can we expect? A truly unique experience that's bursting with unexpected flavours! Each of the four fusion dishes combine traditional Aboriginal cuisine with a modern twist. Elk Pastry has been reimagined with a curry base, Nish Kabobs come drizzled in a balsamic glaze, Smoked Turkey Chili combines local ingredients like pinto beans and Bannock comes loaded with wild blueberries, so it can be enjoyed as a dessert and a breakfast food. Count us in!
Aaaand, it get's even better! The MNCFN will be distributing 25,000 $5 gift cards (designed by First Nation Artist Tracey Anthony) around the GTA during the games for a little added incentive!
For daily location updates, check out @YouAreWelcome and #YourAreWelcomeTO on Twitter and Instagram. Once you've found it, be sure to share your pics and experience with the interwebs by tagging #YouAreWelcome2015 and #TO2015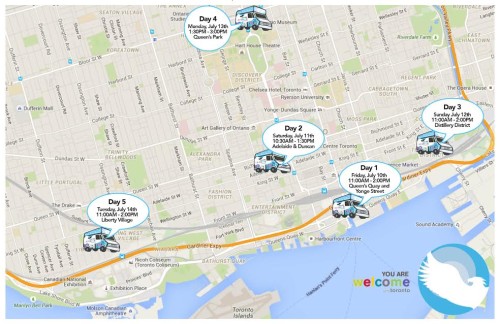 For more info on the New Credit, you can visit YouAreWelcome2015.com.