There is an Eric Carle book that I read to my two-year-old son called 10 Little Rubber Ducks. It tells the story of plastic ducks made in a faraway country that are being shipped across the big wide sea. They fall overboard and begin to float in different directions, meeting various wildlife animals along the way who befriend them. ("A dolphin jumps over it; an octopus blinks at it.")
Every time I read it, it pangs my heart. Using simple language, it is able to accurately describe how wasteful, damaging, and illogical our consumer-driven society is. For now, my boy likes counting the ducks and saying the names of animals out loud ("Polar Bear! Turtle!"), but one day he will probably ask me why we make plastic ducks on one side of the world and ship them all the way across the ocean. I'm not sure how I'll respond. I already ask myself why we make them at all, yet in our bathroom, four rubber ducks sit neatly in a row.
There is a running joke in our household that when issues of environmental or economical concern arise, I turn to my partner and say, "The future is Bunz." Sometimes I deepen my voice so that it sounds foreboding, as if we're in a science-fiction film about the end of the world. We chuckle, but really, it isn't funny.
Ten years ago, I didn't give much thought to drinking water from a plastic bottle or splurging on fast fashion. But nowadays, most of us know we're in the wrong when we race out of Starbucks with a paper cup or leave the grocery store carrying food in plastic bags. No one should be buying guilt-free.
When we combine the imminent threat of environmental damage with a generation of millennials who are struggling to pay off debt by working multiple jobs, we are faced with fertile ground for a new way of living; enter Bunz Trading Zone.
Bartering is the oldest form of economy, so the idea of a trading zone, even an online one, isn't that novel. But Bunz isn't just about trading tokens for tall cans, or old clothes for a bag full of veggies – it's a tightknit online community that has been carefully woven with love and care. Sure, roll your eyes, any savvy tech person could have created an app that helped make trading easy, but it takes a particular type of individual to create a community that is able to retain its warmth and authenticity, even with over 50,000 users. (How else do baby Squirrels get found and fed with tiny syringes of milk? Where can people go to trade childhood treasures for a bushel of peaches, but also find a lost brother who is wandering the streets due to mental illness?) Such a community could not have been created by just anyone, so who is Emily Frances?
Emily grew up in Ottawa with four siblings. "My dad was always making sure we made use of the things we had. We all wore each others' clothes, used hand-me-downs, and recycled everything we had. It was comfortable and happy, but we definitely had to watch the money situation." She says, looking a bit uncomfortable that I'm digging into her childhood. "My parents split up when I was eleven. My dad moved to the country and my mom, my sisters and my brother and I moved into a smaller house; that's when it was a little bit harder, as my mom was a single mom and she had a hard time paying the bills." Being thrifty was something Emily was taught from an early age and something her family placed great value on.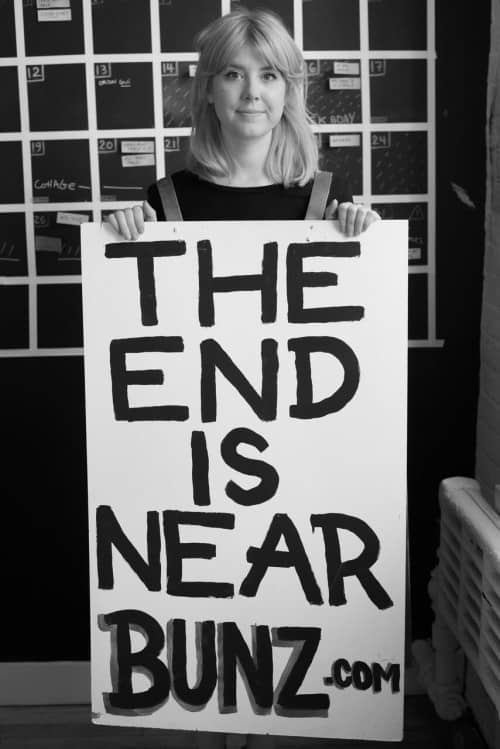 She grew up sewing her own clothes, which she'd then pass on to her younger siblings, and as a teenager, nothing pleased her more than trolling the streets on garbage night: "Thursday night was garbage night. I used to take a walk around the neighbourhood and see what people were throwing out. There was sweet stuff! Records, old books, drum machines, a couch. I loved scavenging – it was a treasure hunt, and there was always something."
Beyond scoring a great find, Emily also loved imagining the stories behind the items, which is why she has accumulated a collection of found toys and why she prefers vintage clothing. For Emily, each stuffed animal or pre-loved dress comes with its own rich history.
Her love for vintage fashion combined with the sewing skills her mom had bestowed upon her eventually guided Emily to Montreal's LaSalle College. "I thought I wanted to be a fashion designer, but I finished the program and realized I didn't want to have anything to do with the fashion industry. I respect and love the art and design of fashion but the actual industry itself is pretty scary to me; I was intimidated and my heart wasn't in it. "
After college, she remained in Montreal. "When I finished school I was lost; I didn't know what I could offer. I didn't know what I wanted." She drifted for a few years, getting by on odd jobs, working on her music and playing in a band.
When she moved to Toronto in 2012, Emily was hit by how much harder and more expensive life was here than in La Belle Province. To make ends meet, she juggled working at Chosen Vintage (owned by her close friend Melissa Ball) and as a bar-back at Get Well on Dundas West. "Everyone called me the janitor. I did have to clean the toilets and stuff, but I loved working there."
For Emily, life in Toronto was a struggle. "I was just really broke and frustrated all the time. I had a place to live and was able to pay my rent and eat, but not comfortably. My friends would ask if I wanted to go out for dinner and I'd say, 'I can't.'"
It was this frustration that led Emily to think about alternative ways of getting things. On one evening, when she was feeling particularly hungry, she launched a Facebook group. "The first thing I asked for was pasta sauce, because I wanted to make some pasta. It's the greatest bang for your buck! You're full, and it's cheap. I was literally scouring the apartment for change, and didn't have enough to go the corner store and buy sauce." Within a couple hours, Emily was eating her pasta, and very satisfied.
Bunz wasn't built for profit or celebrity status, it was built out of need; a simple desire for a home-cooked meal. In contrast to Facebook and Instagram – where the modus operandi is often about showing off one's life with carefully filtered pictures and calculated status updates that hint at about success or the acquiring of shiny new objects – Bunz is built on being forthcoming about what one doesn't have, and what one wishes they could have. Most of the time it's everyday things: tokens, beer, groceries, shoes. In a way, Emily has made being humble and revealing what you don't have, not only okay, but also cool.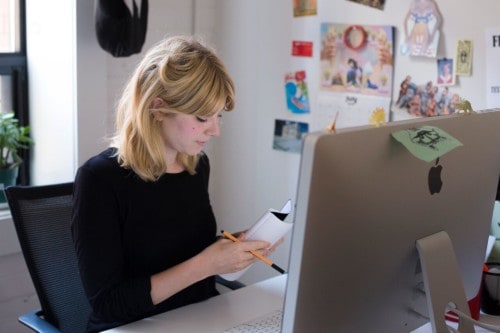 Up until a few weeks ago, Emily was still juggling Bunz full-time along with weekend shifts, washing glasses and cleaning toilets at Get Well. She was determined to pay off her student debt, and she did.
With the recent launch of Bunz in Montreal (and Brooklyn on the horizon), Bunz is growing at a fascinating rate. "Everything is happening so fast. Sometimes it feels like I'm just treading water." In the time that we take to chat and have our coffee, a few strangers walk by and spot Emily. "Hey Bunz Mom!" they cry out. Emily smiles back and says hey, with her soft smoky voice. "I'm pretty shy and insecure…it's scary to be in this position."
I relay to Emily that I think Bunz has the potential to change the world, I tell her that she is the topic of many conversations, wherein people are so curious to find out about the woman who started Bunz: who is she? How did it begin? "I started a Facebook group to ask for what I need. I'm just an ordinary person." Ordinary can be so beautiful.
I think back to that Eric Carle book and my toddler son and wonder about the future. I hope that one day, we live in a world where rubber ducks aren't being shipped across the ocean to faraway places. The world has enough rubber ducks, and if we share what we already have, then maybe they won't end up bobbing and floating across the great wide sea.