Christina Ienna is a Toronto-based filmmaker and cinematographer with experience in documentary, narrative and commercial production. She holds Associate Member status within the Canadian Society of Cinematographers (CSC) and clinched the Best of Showcase Award at the WIFT-T (Women in Film & Television–Toronto) Showcase last weekend. Her winning short, Handmade Film, features the work of experimental film artist Lindsay McIntyre.
We chatted with Christina this week.
SDTC: How were you introduced to Lindsay McIntyre and her work?
CI: Lindsay and I were part of FAVA, a film co-op in Edmonton, Alberta. She was one of the few female filmmakers in the city. I was fascinated by her process and dedication to her films. Creating your own film emulsion is a pretty solitary and delicate process, making it a rarely practiced art form. Lindsay is not just a filmmaker; she's an alchemist. Her films begin in chemical form. She is truly an auteur, leaving her fingerprint both physically and creatively in every piece of her work.
Why did you want to make a film about the filmmaking process itself?
The average moviegoer is unaware of how much work and devotion goes into making a film, while younger filmmakers may not be aware of what is involved in shooting on film. It is quite expensive to shoot on film and using this medium has been lost on many of us.
What compelled you about Lindsay's process?
Watching Lindsay work has made me re-evaluate my own process. Shooting digitally without the constraints of film has incredible advantages, but I still try to be mindful of the images I am choosing to capture. Limitation generates innovation. Handmade Film is reminder that we should appreciate the process as it is a major part of a film's evolution and our creative growth as filmmakers.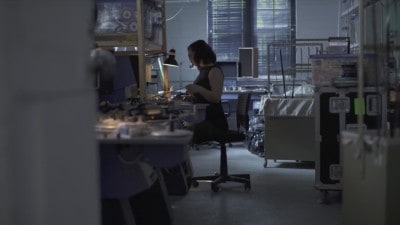 Did you try your hand at some of Lindsay's homemade emulsion techniques after observing them?
Lindsay is always happy to share her knowledge with others and has put on many workshops over the years. She recently moved to Vancouver and is now teaching at Emily Carr. I never had the opportunity to dabble in the entirety of Linsday's particular process myself, but I have developed my own photography and have cut on a steenbeck several times. We also spent hours upon hours scanning 16mm negatives for a project the whole co-op collaborated on. When you put that kind of time into a project, you truly appreciate everyone's involvement and dedication in your relentlessness to create something together.
What do you want audiences to take away from this film?
I hope the piece gives audiences a peek behind the screen and potentially intrigues a few to pursue filmmaking themselves. As for those already filming, this is a little salute to you and your passion to create in this medium.