With Fashion Revolution Week and Earth Day coming up later this month, designers and consumers alike are encouraged to ask questions about where there clothes have come from and the impact the fashion industry has on the environment. The crusaders behind Fashion Revolution maintain that the more people who ask #WhoMadeMyClothes, the more brands will listen.
One of the brands that is listening intently is TAMGA Designs, a Toronto-based sustainable women's label co-founded by Yana Barankin. Devastated by the effects of the fashion industry on Indonesia's Sumatran rainforest, which has lost over half its forest in the last twenty years largely due to the fashion industry, Yana and her partner created what they refer to as "forest-friendly fashion," which is as sustainable as it is stylish.
We caught up with Yana to learn more about her company and what changes she wants to see in the clothing industry.
SDTC: What inspired you to start TAMGA Designs?
YB: I started TAMGA while living in Dhaka, Bangladesh, where I was working in international development for 2.5 years. Living and working in Dhaka, you can't help but see the impact fast-fashion is having on people and the environment. As I was beginning my journey towards sustainable fashion, I was inspired to start making my own clothes by working closely with a small team of tailors and sourcing my own fabric from local markets.
TAMGA began as a small Etsy store with a selection of colourful, ethically made kimonos. After seeing early success (and a positive impact on our makers), my husband Eric, our good friend Anna and I decided to scale TAMGA into a fully transparent and sustainable fashion label. We bought a one-way ticket to Indonesia, where we spent eight months jetting from one island to another and setting up our supply-chain in person. Today, TAMGA is an entirely eco-friendly company making bold and colourful resort fashion.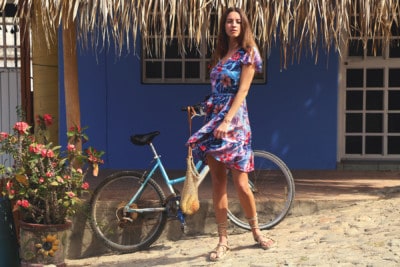 What do you want people to understand about today's mass-produced fashion industry and its effects on the environment?

There is a lot of information out there about fashion's impact on the planet: the pollution of waterways, use of toxic chemicals and creation of mountains of waste. A little-known fact is that fashion is also contributing to the rapid deforestation of ancient and endangered forests. Many consumers don't know that rayon and viscose fabrics actually come from wood pulp, and as a result of the rising demand for these fabrics, rainforests are being clear-cut to produce it. Not only is this unsustainable for our planet's future, but it also has an irreversible effect on the critically endangered species that live in these rainforests. The Sumatran rainforest in Indonesia is the only remaining place on Earth where tigers, rhinos, orangutans, and elephants live together. The relentless destruction of Sumatra's rainforests has pushed the Sumatran orangutan to the edge of extinction.
One thing we can all do to combat this deforestation is to purchase from brands who have made a commitment to keep rainforests out of their supply chain (CanopySyle is a great resource) and from brands who source their fabrics from FSC-certified sources. It's totally possible to make all fashion forest-friendly, but it's incredibly important to raise our voices and make sure that consumers are aware of this issue.
At TAMGA, it's been part of our mission from day one to create forest-friendly fashion, and we're lucky to work with great organizations like CanopyStye and the Sumatran Orangutan Society (S.O.S.) who help us make an impact.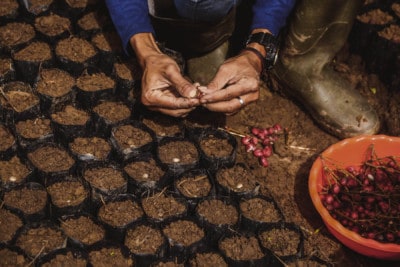 What does it mean to have a responsible fashion company?
Having a responsible fashion company means so many things to me, but perhaps the most important one is transparency. Being completely transparent with our supply chain, materials and labour means that we have nothing to hide. There are too many question marks in the fashion industry, so understanding where everything comes from and sharing this with the public is the most important characteristic of responsibility. Once these things are clear, brands and consumers alike can make informed decisions on labour, materials, packaging and other important issues.
For TAMGA, being a responsible company also extends beyond the product. We want to leave the planet better than we found it. TAMGA donates a percentage of sales to a reforestation project being run by S.O.S. in Sumatra, and it also collaborates with S.O.S. on several campaigns throughout the year to raise further funds. We visited this project last year and met workers who are risking their own safety and well-being to re-plant and protect the rainforest. Supporting them is very important to us as a responsible company.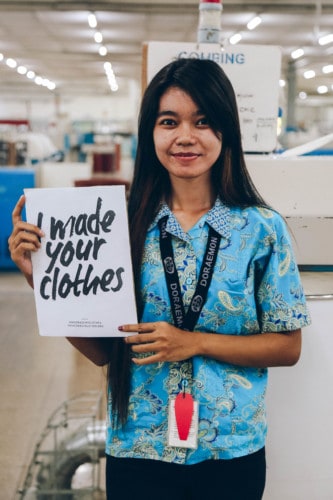 Can you walk us through your process of creating a TAMGA piece?
I work closely with our head designer, Anna, to create each piece. We draw inspiration from our travels, vintage finds, and overall styles that we both want to wear. We also work with our print designer, Susi, to create our signature TAMGA prints. Susi draws every print by hand to perfection. Our prints are bold, colourful and designed to make a statement.
The sampling process for the cuts and prints is lengthy; it can take up to six months to have everything ready for production. Once production begins, our specialized micro-TENCEL fabric is woven and printed on with low-impact dyes and our family-owned sewing factory in Bali creates each piece by hand, often with our designer Anna working in the factory with them.
What is your mantra these days?
"More trees, please."
What are you excited for at this year's Fashion Revolution Week?

The momentum! Fashion Revolution has really grown over the years as a response to the Rana Plaza collapse in Dhaka in 2013. I am so excited to be part of a global movement for change, to have conversations about the importance of who made your clothes, and to keep the fashion revolution going!