Yves Veggie Cuisine sent me an insulated bag filled with veggie swag, so I decided to put my limited cooking skills to work. I'm currently pregnant and the list of things I care to eat has shrunken – meat was one of the first casualties – so this delivery was timely.
I intended to follow the recipe, but because of my disdain for rules, could not. This was my interpretation of the Vegetarian Shepherd's Pie with Sweet Potato Topping recipe they sent. Find both recipes below.
Maverick Shepherd's Pie  with Yves Veggie Cuisine
2 tbsp butter
2 onions
2 garlic cloves
Pinch of dried lemon thyme
Pinch of cayenne
Pinch of poultry seasoning
1 tsp. paprika
1 tomato
1 tbsp Worcestershire sauce
1 cup frozen peas
Knorr® Homestyle Chicken Stock
1 cup of water
1 pkg  (320 g) Yves Veggie Cuisine® Garden Veggie Crumble
Instructions
1) Dice onions until you can't cry anymore.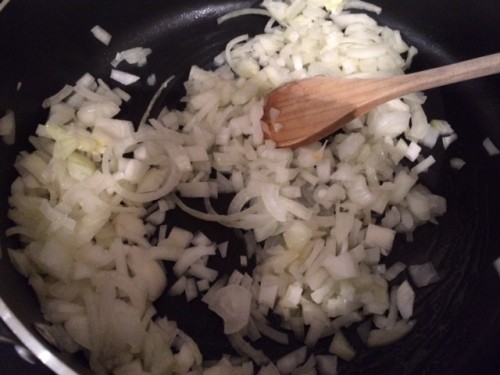 2) Sautee onions in butter in non-stick pan until they are soft.
3) In another pot, heat Knorr® Homestyle Chicken Stock gel cube (sounds weird but they're delicious) in water so it becomes a broth
4) Add broth to onions, stirring constantly over medium heat.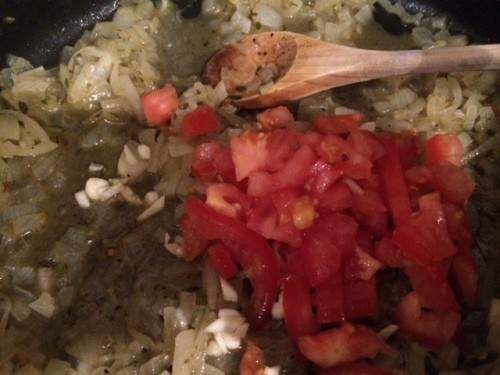 5) Add poultry seasoning, lemon thyme, cayenne, diced tomato and diced garlic cloves (and whatever else you want). Keep stirring over heat.
6) Stir in Yves Veggie Cuisine® Garden Veggie Crumble and use a wooden spoon to break it up.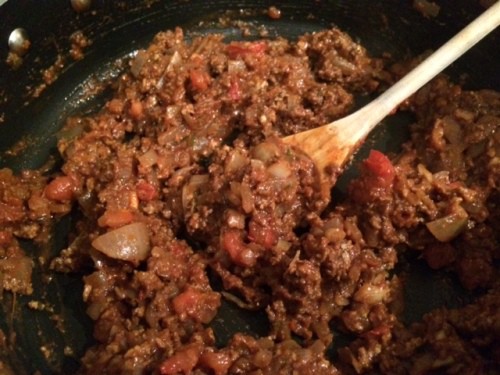 7) Add Worcestershire sauce & peas. Stir and heat on low for a few more minutes. Reserve for later.
8) In another pot, boil a bunch of white potatoes (I didn't bother peeling them, because I am lazy). Then drain and mash, adding butter and half-and-half cream to taste.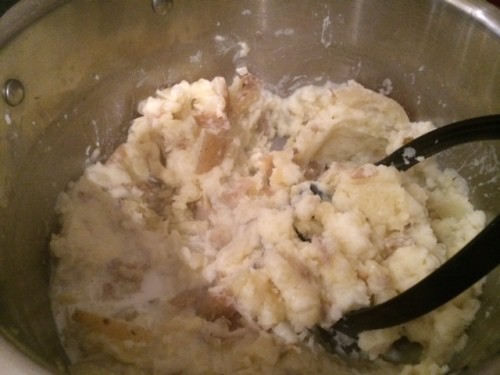 9) Spray a glass cooking pan or dutch oven with non-stick spray. Spoon in 'meat' layer and smooth it over nicey-nice.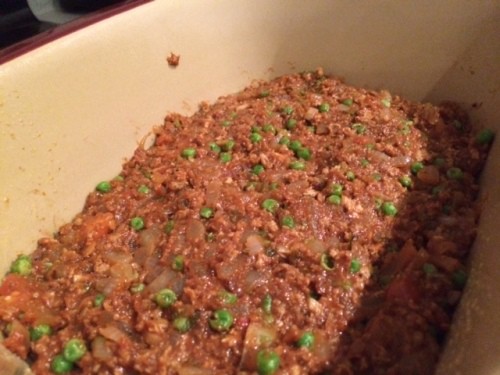 10) Add your layer of mashed potatoes. If you are living on the edge like me, add generous pats of butter on top.
11) Bake for 40 min. at 350 degrees fahrenheit (180 degrees celsius). I made the mistake of covering mine so it wasn't as brown and resplendent as it could have been. Leave yours uncovered while you bake it. Serve.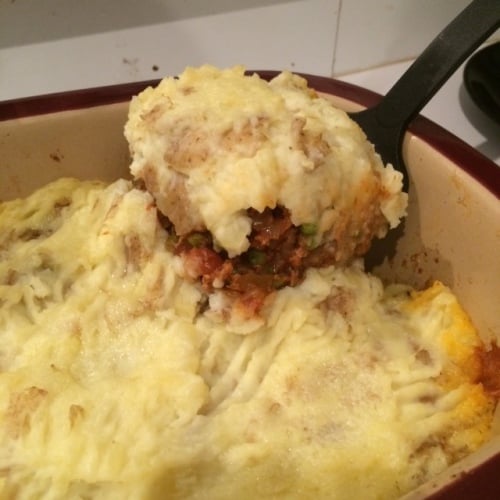 My husband deemed it "a worthy substitute for the real thing." It was pretty tasty.
Oh, and here's the real recipe:
Vegetarian Shepherd's Pie with Sweet Potato Topping
Total time: 50 to 60 minutes
Prep Time: 20 minutes
Cook Time: 30 to 40 minutes
Makes: 5 servings
Ingredients
1 tbsp (15 mL) Spectrum Naturals® Canola Oil
1 cup (250 mL) diced onion
1-1/2 cups (375 mL) finely chopped mushrooms
2 cloves garlic, minced
1-1/2 tsp (7 mL) each: dried thyme and savory
3 tbsp (45 mL) all-purpose flour
1 pkg (312 g) Yves Veggie Cuisine® Original Veggie Ground Round, or (320 g)
Garden Veggie Crumble
1-1/2 cups (375 mL) Imagine® Organic Vegetable Broth
2 tbsp (30 mL) tomato paste
1/2 cup (125 mL) each: frozen peas and diced sweet yellow peppers
Toppings
3 cups (750 mL) mashed cooked sweet potato
1 tbsp (15 mL) butter or margarine
1/3 cup (75 mL) grated Parmesan cheese (or Parmesan flavour grated soy topping)
2 tbsp (30 mL) chopped fresh parsley (optional)
Preparation
1. Heat oil in a large non-stick skillet over medium heat. Add onion; cook, stirring, for 5 minutes, until soft. Stir in mushrooms, garlic and herbs, cook for 3 minutes.
2. Stir in flour and ground round, breaking up with a spoon. Cook, stirring, for about 1 minute.
3. Stir in broth, tomato paste, peas and peppers. Cover and simmer for about5 minutes, until thickened.
4. Topping: In a large bowl, stir together hot sweet potatoes and butter. Stir in cheese. Set aside.
5. Transfer ground mixture to a lightly greased 8-inch (20 cm) square baking pan or 8 cup/2 L casserole). Spoon sweet potato mixture over top.
6 Bake in a 350°F (180°C) oven for 30 to 40 minutes, or until heated through. Sprinkle with parsley if desired.
Tip: Cook whole sweet potatoes in the microwave until very tender. Cut in half lengthwise and scoop out flesh with a spoon.
For more recipes, visit Yves Veggie Cuisine