Zoe Whittall's latest book, The Best Kind of People, was nominated for the Scotiabank Giller Prize last fall. While the award ultimately went to Madeleine Then for Do Not Say We Have Nothing, the nomination of Whittall's book's (which was one of just six shortlisted novels) was a major coup and surely heralds a new era in the Toronto-based writer's career.
The author grew up on a farm in the Eastern Townships of Québec and has been working as a writer for almost fifteen years. To date, she has published four novels (one of which, The Middle Ground, was aimed at adults with low literacy skills) and three books of poetry. But it was not until the release of The Best Kind of People in August last year that her work broke through to a mainstream readership.
Novels can take a long time to gestate. All in all, Whittall spent seven years working on The Best Kind of People. And fiction writing, particularly literary fiction, is notoriously low paying. There were many times Whittall wondered if she would be able to continue to write and have any kind of financial security.
"I certainly reached that financial crisis moment many times over the last fifteen years," she says. "I was looking for something I could do forty hours a week and then write while I was on vacation. I never wanted to do that but that was the reality of getting older with no savings or safety net."
While she was working on The Best Kind of People, Whittall started taking improv classes at The Comedy Bar and a class on sitcom-writing. She wrote a sitcom pilot, sold it to CTV and from there, she started working in TV writing.
"[Writing for television] is a very different job, but it's one that I really enjoy almost as much as fiction writing," she says. "Not only has TV helped creatively, but it's also been a godsend financially." Whittall spent one season in the writer's room of Degrassi: The Next Generation before moving onto Schitt's Creek and The Baroness Von Sketch Show.
A book that author and NOW Magazine culture writer Susan G. Cole describes as "a genuine leap in craft," The Best Kind of People is a major departure from Whittall's previous work.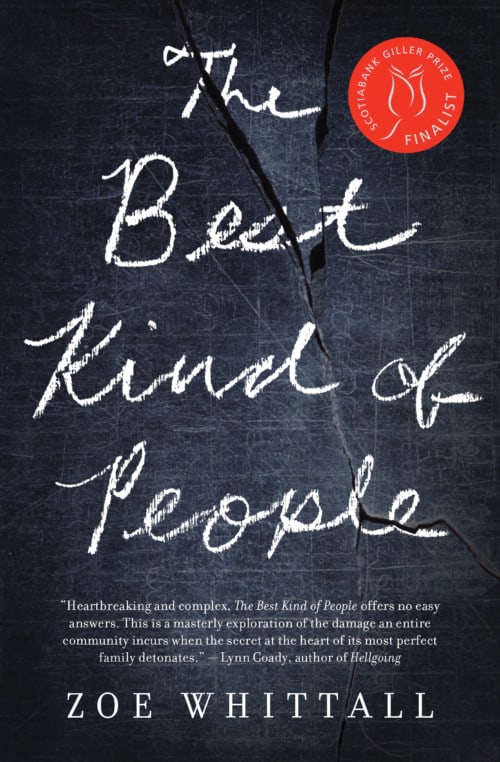 "I started working in television right around the same time and became more interested in how to write suspense, how to keep things moving," she says. "TV is all about pacing and plot and those are things I hadn't really considered. I'd been so character-driven and so poetry-driven for most of my writing life."
The subject matter of the book is also something of a departure for Whittall. Her last two novels were set in downtown Toronto amidst a queer-positive, trans-inclusive community of urbanites, but The Best Kind of People is set within an über-privileged family of old money WASPs. The patriarch, George Woodbury, beloved high school teacher, loving family man and town hero, is accused of sexual impropriety with a number of underage girls. The story follows his family as they come undone amid the allegations.
Although Whittall started the book seven years ago (prompted by a piece on CBC Radio's The Current about a support group for the wives of sex offenders), its release could not have been timed better. The book deals heavily with rape culture—the landscape we live in in which victims of sexual assault are blamed for their attack and male sexual violence is normalized. Its publication coincided with the controversies around the Jian Ghomeshi and Brock Turner cases—at a time when rape culture and the politics of sexual assault had become an increasingly hot topic.
Whittall of course could not have known that the release would be so timely. What's interesting, and perhaps extremely disheartening, is that one of her first-ever published poems (over a decade and a half ago) was a politicized rant against rape culture. "It was during the spoken word era, so it's quite embarrassing!" she laughs, but it speaks volumes that there is still such a critical need for voices to call out the barbarism of a society that seeks to discredit victims and sweep under the carpet the misdeeds of sexual predators.
Whittall has started work on a new TV show and was just recently named the new writer-in-residence at U of T Scarborough where she divides her time between mentoring students and working on her next novel.
The Best Kind of People is published by House of Anansi and available in all major bookstores.