From facial treatments to bags of organic produce, we've gathered our favourite gifts and stocking stuffers for your beauty-ful loved ones!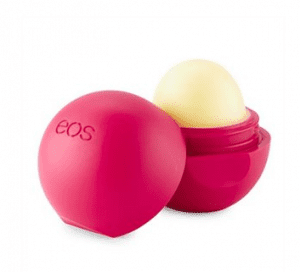 1. EOS Lip Balm, $6.00
"I came in like a wrecking baaaaall…." Good news! You can bust out these lyrics anytime you hydrate your lips, as Miley used the product in her music video. Hannah Montana's stamp of approval aside, we love that this balm is packed with vitamin E and is 95% organic. Fun to apply, it comes in lots of different flavours (Sweet Mint and Pomegranate Raspberry are da bomb!) and makes for the perfect stocking stuffer!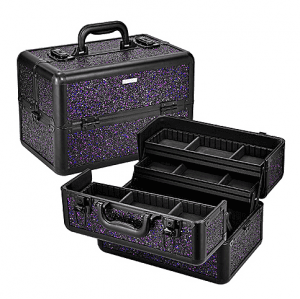 2. Sephora Collection, Spark a Celebration Traincase, $132.00
A perfect gift for the gal with too much makeup and too little counter space! There are a million little compartments for organizing everything from nail polish to brow pencils, and we love the glittery black and purple outer shell, obviously. Also great for travel!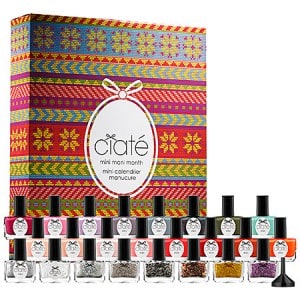 3. Ciate, Mini Mani Month Advent Calendar, $69.00
Do you LOOOOVEEE teeny, tiny things as much as we do? With 24 nail art minis including pots of polish, glitter, sequins and caviar pearls, you can change your nail colour EVERY DAY!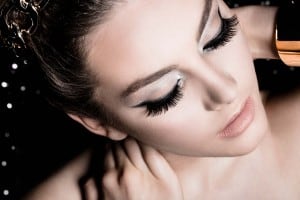 4. Minked Lashes, $16.00 – 26.00
A favourite of make-up artists, Minked Lashes have finally been made available to the masses, YIPEEEEE! They look dramatic and natural at the same time and, with proper care, have a longer life than synthetic lashes. We just got off the phone with the brand's creative director and make-up artist extraordinaire Arabella, who assured us that they're 100% cruelty free! In fact, lashes are collected along the shores of South Asia from mink after they shed!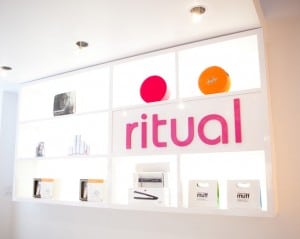 5. Ritual, Intraceuticals Rejuvenate Treatment, $175.00
We're still glowing (literally) after our treatment and can't recommend it enough. Uber relaxing with visible, long lasting results – we can't think of a more perfect gift for a special lady in your life.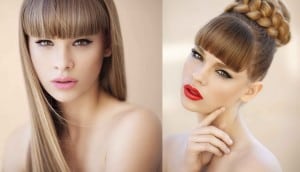 6. MYNC Lash Lounge & Brow Bar, Holiday Makeup Application, $35.00
Get your make-up did for the holidays! The Holiday Makeup Lounge has four looks to choose from with a fifth option to bring in your own inspiration photo. We think this is a great gift and bonding experience for a group of gal pals before a night out!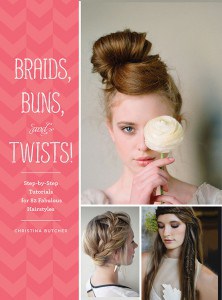 7. Braids, Buns and Twists, $17.29
Cute pics. 80+ hairstyles. Easy-to-follow, step-by-step instructions: YES, please!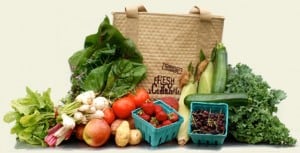 8. Fresh City Farms Bag, $30.00+
There are SOOO many different approaches to beauty, and many of them include nutrition, and with good reason. Ever notice how peeps who enjoy a plant-rich diet have the BEST skin? This holiday season, surprise a loved one with a basket full of organic fruits and veggies delivered to their door!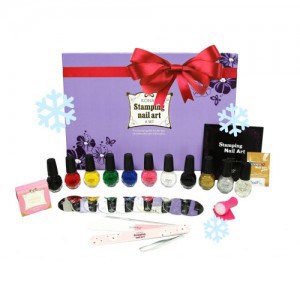 9. WOW WOW Nails Set, $29.99 and up!
We've long been huge fans of Wow Wow Nails – they offer a Shellac manicure with nail art for $15!!!! But, there's more… for the DIY nail art buff on your list, they have an extensive online store with the coolest nail kits, polishes, stamps, beads, crystals, plates and everything in between. We think they nailed it!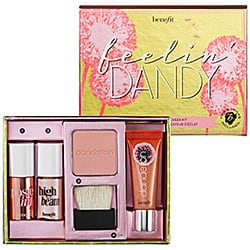 10. Benefit Cosmetics, Feelin' Dandy Lip & Cheek Kit, $34.00
We were so stoked to discover this kit in time of the holidays! These products are already in our arsenal, but we love the idea of gifting our favourite ladies with our must-haves! Kit comes with Posetint (delicate pink stain for cheeks and lips), Dandelion blush and lip gloss, and our favourite thing in the whole wide world – Highbeam, a highlighter that stays fresh and dewy morning to night without rubbing off, cracking or looking streaky.
Happy giving!