Earlier this fall, Tafelmusik Baroque Orchestra and Chamber Choir (Canada's internationally acclaimed period instrument orchestra based in Toronto) launched its 39th season with A Joyous Welcome, performed at Koerner Hall. The classical performance marked Italian violinist Elisa Citterio's season debut as Tafelmusik's new Music Director.
Originally from Milan, Citterio made a name for herself touring Europe with some of the finest period instrument groups, and as a member of the prestigious Orchestra del Teatro della Scala.
We caught up with Citterio this week.
SDTC: What exactly do you do in your position as Music Director of Tafelmusik?
EC: My work as Tafelmusik's Music Director consists of two different roles. First and foremost, I play the violin, leading the orchestra, almost as a conductor would, but without a baton. I also lead artistic planning for upcoming concert seasons, our many tours, teaching at our Winter and Summer Institutes, and act as the connection between Tafelmusik's artists and staff members. I am also one of the public faces of the orchestra for media interviews and at events and receptions.
What does a day in your life look like? Walk us through, from getting up until going to bed.

I've learned that musicians don't ever have two days with the same schedule! My hours can extend from early morning to late evening, and my day typically consists of rehearsals, meetings, interviews, concerts, violin practice, travel, and lots of emails.
I have a fourteen-month-old daughter, so she fills the rest of my time. I am currently preparing for our next concert (Elisa's Italian Adventure, October 11-15), which features music from my home country, as well as my first tour with Tafelmusik (to Eastern Canada), which is a multimedia concert of Bach's music that we perform completely memorized (J.S. Bach: The Circle of Creation).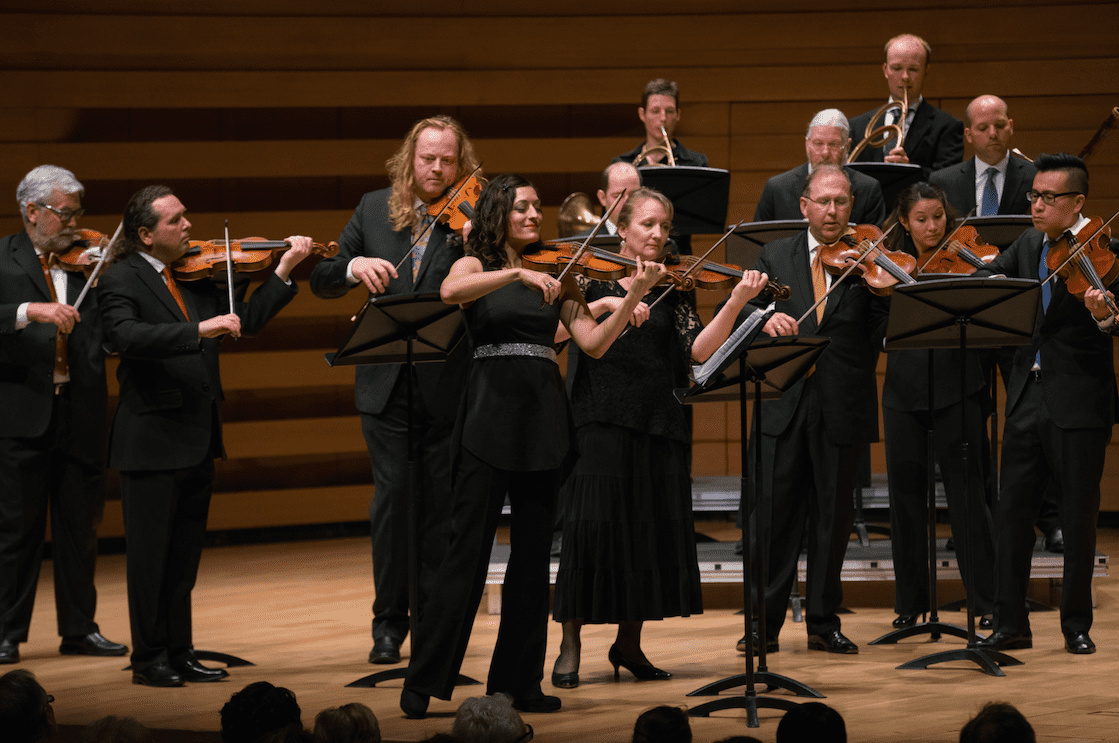 What is your favourite piece of music to play, and why?
It's impossible for me to pick just one piece, but I could play Bach's violin solo sonatas and partitas all day without getting bored by them.
What is your favourite piece of music to listen to, and why?
J.S. Bach's "The Goldberg Variations." This is a piece of timeless music that evokes different emotions in people every time they hear it. It also reminds me my youth.
What is your musical (non-classical) guilty pleasure?
I love to listen and dance to Argentinian tango music from the 1940s and 1950s. I was introduced to it by a friend of mine, and it led to five years of lessons and even a trip to Argentina to study. If you ever take a taxi in Buenos Aires, you'll be addicted.
When did you know you wanted to be a musician for a living?
I've known since I was born. Maybe it was my mother's doing, by listening to classical music all day while she was pregnant with me. Anyone who spent time with my mother, who was a talented pianist and composer, fell in love with classical music. I am the youngest of four children, and all of us have pursued music as a career.
Advice to other young women who are looking to a career in classical music?
I think my advice might be different depending on the country. In Italy, for example, it can be very difficult for a woman in music to have access to the most prestigious positions, so I would say it is necessary to be flexible about where in the world you might end up. Europe has a longer history of music making and concert going than North America, so it's especially important here to communicate how very special this music is, in different ways, and for different audiences. Some other advice that has helped me a lot: patience, and lots of practice!
Check out Tafelmusik's upcoming shows here.