Before I left for this trip an awful lot of people took special interest in my hair: "Aren't you going to dye it before you leave? You're blonde!!!"  Yes, friend, and I'm not sure if you've noticed how dark my roots are, but this shit is already dyed! People were worried about the young blonde girl travelling on her own in foreign lands. We've all seen Locked Up Abroad. I was, to my concerned pals, a drug mule/kidnapping scandal waiting to happen.
I understood the collective concern to a point–a few of the places on my itinerary don't exactly have the greatest reputations as far as safety is concerned, but I also like to think that despite being a generally trusting person, I have good instincts and enough common sense that I'll be able to avoid stupid, shitty situations where I might get killed. So far, so good.
With that in mind, for the third leg of the trip I made a spontaneous decision that despite Colombia's reputation as a cocaine-flowing danger zone (locals have nicknamed the country "LoColombia" cause it's so cray), I would make the trip to hang out in coffee country and learn how to make a decent cup o' joe. A month later and my barista skills remain highly debatable–ironically, the coffee was nothing to write home about since Colombia exports its best stuff and keeps the crappy beans for itself–but I've no regrets about my visit except, perhaps, that it wasn't long enough.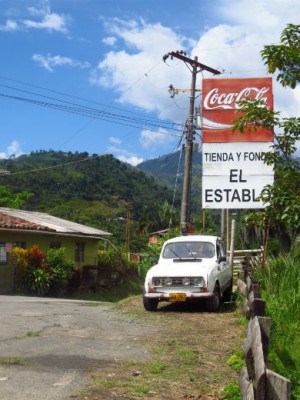 Colombia has really tried to clean up its image in the last few years which was part of the reason I decided to go check it out. I met a roadblock to my open mindedness almost immediately, when I struck up a conversation with the man beside me on the flight to Bogota. Concerned that I was travelling alone, he shared a few safety tips with me, including: "Always ask the taxi driver to open the trunk and front passenger seat door for you so you can make sure there's no one hiding there to attack and/or steal from you!" Breezy. As the plane landed he gave me his card so I could contact him "in case anything should happen." We parted ways and, my stomach in knots, I was left on my own to explore the country.
My stomach turned out to be a bad judge of character–virtually every encounter I had with the locals was incredibly positive, but nothing sticks out in mind quite like the driver I had on the bus from Medellin to Manizales. I handed off my ticket and he led me to the front seat of the van/bus right by him. As the rest of the van was almost empty, this seemed like a bit of a red flag.  When I asked him if I could move to the back, I couldn't understand his reply but the look he gave me was clear: "Trust me, you don't want to be back there." Half an hour later when the back of the van was full of loud, rowdy men and I had gained another female companion in the front seat, I understood that this guy had my back.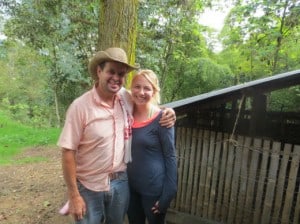 The rest of the ride was spent with him pointing out local landmarks, sharing the snacks that he'd buy from people selling food on the road between towns, and making me practice my Spanish. When I told him that I was heading to the coffee farm Hacienda Venecia, he told me he'd drop me off at the top of their exceptionally long road rather than in the city center of Manizales, saving me from having to double back and spend another 40 minutes in transit. He even called down to the farm to get them to send someone up to get me and my bags and refused my money when I tried to tip him for his help, instead sending me off with a friendly, non-pervy hug and best wishes.
The tourism board has it right–the only risk you take coming to Colombia is wanting to stay forever.