Summer brings with it the smell of sunscreen and sweat; the sounds of ice cream trucks and music playing into the night; the feeling of the sun beaming down on your face; and if you're lucky, the sweet relief of dipping your toes in some cool water…especially in heat like we've been experiencing this season.
As we all try to do what we can to beat the heat, if you're lucky, you've got somewhere to go lounge by a body of water, soak up some rays, and dive into an unputdownable read… and that's where we come in, with a list of great titles to take with you onto the dock, the beach, or the poolside.
From fantasies, both cozy and bold, to inspiring and immersive romance, to horror, thrillers, and true crime so chilling it's sure to keep you cool on your next beach day, there's a little something by Indigenous and Canadian writers for all kinds of book lovers on this list… just don't forget your SPF!
Be prepared to get some sunscreen, sweat, and water on these pages, because you'll want to quench your thirst with a copy of one (or several) of these books, along with your favourite chilled beverage.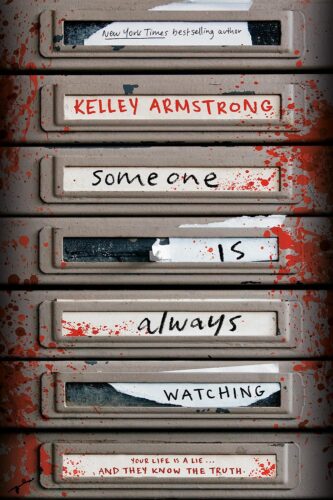 Someone is Always Watching – Kelley Armstrong
Kelley Armstrong's Someone is Always Watching is a twisty and turny YA thriller that's fast-paced and entertaining. This book follows Blythe, and her friends Gabrielle, Tucker, and Tanya. They've always been a tight-knit friend group, attending high school together, and falling in and out of love with each other. However, an act of violence has caused a rift between Blythe and Tucker, and the group has been experiencing disturbing nightmares and unexpected bursts of aggression. The strange events culminate in a shocking event, Gabrielle is found at school, covered in blood, in front of their principal's dead body, with no memory of what happened. As cracks in their memories begin, and cracks in their friendship start to appear, they threaten to expose long-held secrets that could threaten everything they think they know, and change their lives together. This is the perfect fast-paced page-turner to get your heart racing before you jump into the lake.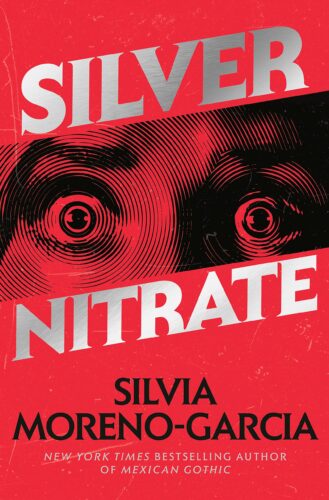 Silver Nitrate – Silvia Moreno-Garcia
Silvia Moreno-Garcia's Silver Nitrate is a dark and suspenseful horror thriller, and an unputdownable story perfect for your next beach day. Montserrat has always been overlooked. She's a talented sound editor, but the film industry in 1990s Mexico is a boys' club, so she's always left out of the conversation. On top of this, she's all but invisible to her best friend Tristán, a charming (if fading) soap opera star, who she's been in love with since childhood. Then, Tristán discovers that his neighbour is Abel Urueta, the cult horror director, and Urueta claims that he can change their lives. He's cursed, and he wants Monserrat and Tristán to help him shoot the final scene of his film, to complete the movie and lift the curse. As they work together, they start to discover shadowy figures following them, and ghosts appearing from their past. Perhaps magic and sorcerers aren't only the stuff of films?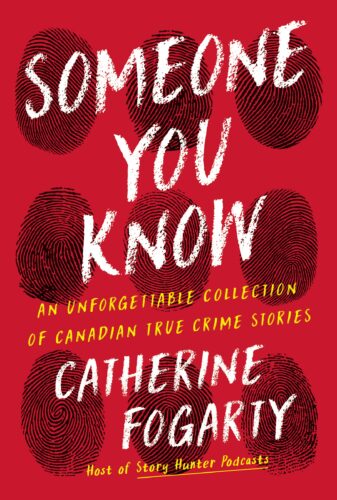 Someone You Know – Catherine Fogarty
If you love true crime, Catherine Fogarty's Someone You Know is the book you're going to want to take along on your next beach day. Fogarty is the writer, producer, & host of the Story Hunters podcast, and this is a collection of 16 unforgettable Canadian true crime stories. It's a fast-paced read, full of the stuff of nightmares, that all take place right in our own (figurative) backyard. The collection is split into four sections: Fatal Friendships (when your best friend turns out to be your worst enemy); Family Ties that Bind (when family dysfunction turns deadly); In the Name of Love (when obsession and jealousy lead to murder); And Till Death do Us Part (when matrimonial bliss turns into the kiss of death). While it can be easy to apply a voyeuristic approach to true crime stories, the author makes a point to approach these stories (and her podcast) with empathy and compassion.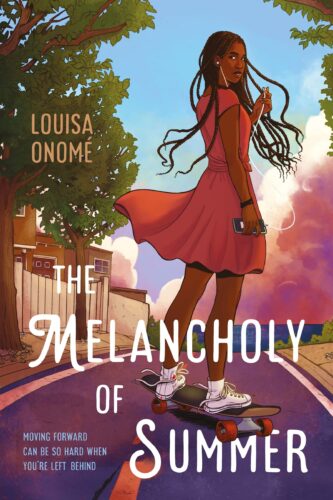 The Melancholy of Summer – Louisa Onomé
Louisa Onomé's The Melancholy of Summer is a lyrical and beautiful contemporary coming-of-age YA story. It follows Summer, a teenage girl whose parents leave her behind when they go on the run after being accused of a crime. She's been doing just fine staying with friends, with her bus pass and skateboard, counting down the days until she turns 18. However, her plans are wrenched when a nosy social worker starts to interfere, and Summer is soon left in the care of a cousin she barely knows. Set in Toronto, this is a beautiful story about healing, and moving on, even when you've been left behind. It's a story about rebuilding trust, and learning to let people in again. Sweet and sorrowful, with a tender heart, read this by the water, so if you get tears on the page, you can blame it on the splashing of waves!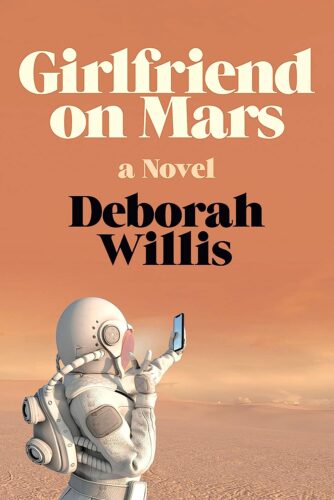 Girlfriend on Mars – Deborah Willis
Deborah Willis' Girlfriend on Mars is a strange and satirical debut that you won't be able to stop talking about. Amber is one of 23 reality TV contestants from around the world vying for one of two seats on the first human-led mission to Mars (sponsored by billionaire Geoff Task). These contestants include influencers and science nerds, and a variety of compelling personalities, including a hunky Israeli soldier, and an endearing fellow Canadian. Meanwhile, Amber's boyfriend Kevin was content going nowhere, until Amber left him and their hydroponic weed business behind. Left behind with their plants and their overpriced apartment after fourteen years of dating, Kevin tunes in to see why the love of his life is so determined to leave the planet with someone else. Equal parts funny and thoughtful, this book deals with some of the most human themes there are, longing and love, while also turning a satirical eye to humanity's pursuit of fame and wealth in the midst of an environmental crisis.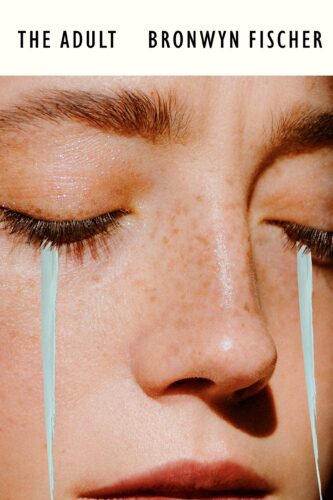 The Adult – Bronwyn Fischer
Bronwyn Fischer's The Adult is a gorgeous, literary lesbian coming-of-age story. It's fast-paced and character driven, so it's the perfect book to take with you on a beach vacation, one that you can pick up and put down over and over again, and immerse yourself in quickly. It follows 18-year-old Natalie, who moves from her remote Northern town to start at the University of Toronto. Lost and directionless, it feels like everyone around her knows exactly who they are and what they want. Just as she feels she's starting to find her footing, she meets Nora, a compelling older woman who takes an unexpected interest in her. Natalie is drawn to her like a magnet, and becomes spending more and more time with her, and in her home, surprised by the intensity of her feelings. She worries about how her friends will react to news of the relationship, so she decides to make up an older, secret boyfriend (Paul). However, it soon becomes clear that Nora is lying about something too, and her secrets start to take over Natalie's life. What is Nora hiding? This was an impressive debut, mesmerizing with its prose, and impressive in its storytelling.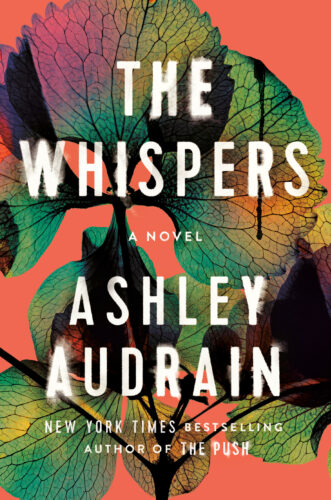 The Whispers – Ashley Audrain
Ashley Audrain's The Whispers is a spine-tingling new thriller from the bestselling author of The Push. This page-turner follows four suburban families whose lives are changed when the unthinkable happens. The Loverlys sit by the hospital bed of their youngest son, Xavier, who is in a coma after falling from his bedroom window in the middle of the night. His mother, Whitney, won't speak to anyone. Meanwhile, back at home, their friends and neighbours are left in shock, as they confront their own roles in the events that led to that awful night. The warm and altruistic Parks, who are the Loverlys best friends; The young, ambitious Goldsmiths, who are struggling to start a family of their own; And the quiet, elderly Portuguese couple caring for their adult son with a disability. The story takes place over the course of a week, told in the alternating perspectives of the women in each family, as they contend with the secrets in their own homes, and the uncomfortable truths that connect them to one another. It's a smart story about difficult choices, and one you won't be able to put down, even when the waves are calling your name. We asked Ashley some questions about the darker themes of the book, and we loved her responses.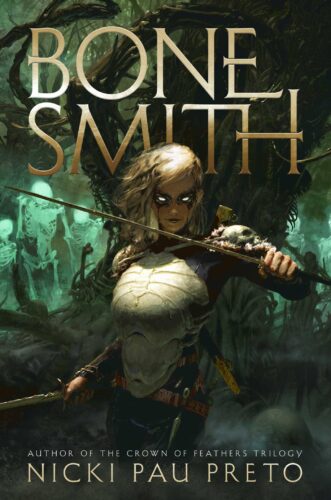 Bonesmith – Nicki Pau Preto
Nicki Pau Preto's Bonesmith is the fantastic and action-packed first book in a new young adult fantasy series. It follows cocky and brash Wren, who dreams of becoming a valkyr – a ghost fighting warrior. However, when she fails her trial due to sabotage, she is banished to a job with no glory, and no chance of solidifying her place in the noble House of Bone – guarding the Border Wall, the last line of defense against the wasteland called the Breach, where the vicious dead roam unchecked. When a visiting prince is kidnapped and taken beyond the wall., Wren gets the chance to gain back her family's respect and prove herself by rescuing the prince. To do so, she has to form a reluctant alliance with one of his attempted kidnappers, a fierce Ironsmith named Julian. But when a dark alliance brews between the living and the dead, and they discover that there's more behind the kidnapping than they first thought, they must work together to determine who the real enemy is. The world-building was fantastic, and I adored every character. It's actually the perfect beach read for when you're working on your tan, because you won't be able to put it down… Just don't forget to reapply your SPF!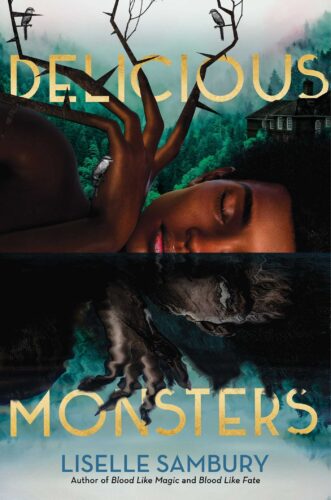 Delicious Monsters – Liselle Sambury
Liselle Sambury's latest YA novel, Delicious Monsters, is a dark, and tense horror thriller that follows two teen girls as they uncover the secrets of a mysterious mansion, ten tears apart from another. Daisy sees dead people… She usually manages to deal with this unwanted ability, even in the bustling, ghost-packed Toronto, but when she's dumped by her boyfriend, she's unmoored and unprepared. So, when her mother inherits a secluded mansion in northern Ontario, Daisy jumps at the chance to escape. But this house – the one where her mother spent her childhood summers – is like nothing Daisy had expected, and she realizes that her experience with the supernatural might be no match for her mother's secrets, or what lurks within these walls. A decade later, Brittney is desperate to get out from under her abusive mother's thumb. She's a bestselling author who claims her stay at "Miracle Mansion" allowed her to see the error of her ways, but Brittney knows that's a sham. She decides that the new season of her popular web series will uncover what happened to a young Black girl in the mansion ten years ago, and hopes to finally expose her mother's lies… But as she gets more and more wrapped up in the investigation, she has to decide: If she can only bring one story to light, which one matters more… hers? Or Daisy's? As Brittney investigates the mansion in the present, Daisy's story runs parallel in the past, and both girls face the most dangerous monsters of all… the ones that hide in plain sight.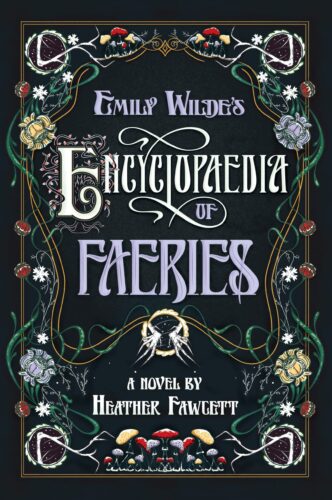 Emily Wilde's Encyclopaedia of Faeries – Heather Fawcett
Heather Fawcett's Emily Wilde's Encyclopaedia of Faeries is a cozy and immersive fantasy that will spark your imagination. It follows the curmudgeonly professor Emily Wilde, who journeys to a small town in the far North to study faerie folklore. Preferring the company of her books, her research, and her dog, Shadow, Wilde is not good at people. So when she arrives at the hardscrabble village of Hrafnsvik, she has no intention of befriending the locals, or spending any time with the other new arrival: Her insufferably handsome academic rival Wendell Bambleby. However, as Emily gets closer and closer to uncovering the secrets of the Hidden Ones, the most elusive of all faeries, who lurk in the forest outside of town, she also finds herself on the trail of another mystery: who is Wendell Bambleby, and what does he really want? To get the answers, Emily will have to unlock the mysteries of her own heart. This is a whimsical and heartwarming story, full of humour and magic, and you're going to fall head over heels for it.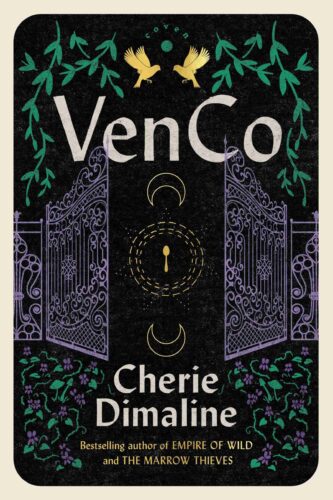 VenCo – Cherie Dimaline
Cherie Dimaline's VenCo is a witchy wonder so delightful, you'd rather dive into this story than into the lake. It follows Lucky, a millennial Métis woman who lives with her grandmother Stella… at least for now. Lucky has just found out that they're going to be evicted from their tiny Toronto apartment. Then, one night, she finds a silver spoon in the walls – it's etched with a crooked nosed witch, and the word SALEM, and is simply humming with otherworldly energy. Meanwhile, hundreds of miles away in Salem, Myrna Good has been looking for Lucky. Myrna works for VenCo, a front company fueled by vast resources and dark money. Lucky is familiar with the magic of her Indigenous ancestors, but has no idea that the spoon links her to VenCo's network of witches throughout North America. Generations of witches have been waiting for centuries for the seven spoons to come together, in order to restore women to their rightful power, and ignite a new era. But even as reckoning approaches, so does a powerful adversary, Jay Christos, a roguish and deadly witch-hunter as old as witchcraft itself. To find the last spoon, Lucky and Stella embark on a rollicking and dangerous road trip to the city of New Orleans, leading up to a final showdown which will determine whether VenCo will usher in a new beginning, or remain underground forever.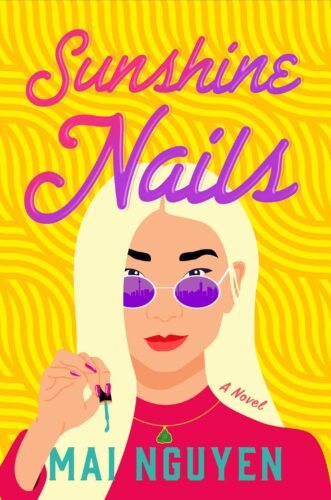 Sunshine Nails – Mai Nguyen
Mai Nguyen's Sunshine Nails is both tender and funny. It follows a Vietnamese Canadian family in Toronto, who would do whatever it takes to protect their no-frills, family-run nail salon after a new high-end salon opens up. Complicating manners further, their landlord has jacked up their rent, and it feels like only a matter of time before they lose everything they've built. Vietnamese refugees Debbie and Phil Tran enlist the help of their daughter Jessica, who has just returned home after being fired, and suffering from a messy breakup. Together, with their son Dustin, and their niece Thuy, they decide upon some old-fashioned sabotage. As the lines between right and wrong get blurrier, relationships get put to the test, and Debbie and Phil must choose: Do they keep their family intact, or fight for their salon? This is a story about gentrification, resilience, family, and community. The perfect summer read for fans of stories that will make you cry a little, and laugh a lot, you can start reading this one as you get your vacation nails done!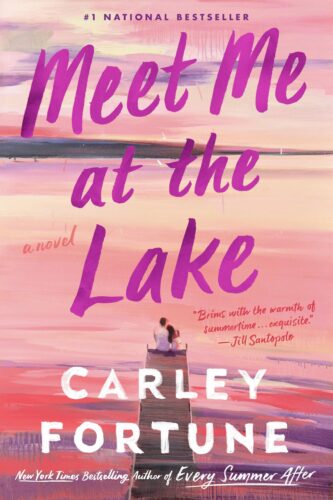 Meet Me at the Lake – Carley Fortune
Carley Fortune's Meet Me at the Lake is a tender, summery second chance romance, set in the Muskokas. If there is one book on this list that screams "read me at the beach/on the dock/at your cottage" it's this one! After a chance encounter in their twenties that led to them spending a whirlwind daylong adventure in Toronto, Fern Brookbanks has not been able to stop thinking about Will Baxter. In fact, she's spent way too much of her adult life thinking about him. The timing was wrong, but the connection was obvious. They shared every dream, every secret, and made a pact to meet a year later. Fern showed up, Will didn't. Now thirty-two, Fern's life doesn't look anything like she imagined it would. Instead of living in the city, she's back home in Muskoka, running her mother's lakeside resort, something she vowed she would never do. The place is in disarray, her ex-boyfriend is the manager, she's overwhelmed, and doesn't even know where to begin. An unexpected lifeline shows up in the form of Will Baxter, rolling into town, suitcase in hand, nine years too late. He may be the only one who understands what Fern is going through, but how can she possibly trust this man, who is so different from the Will she met so long ago? Will is hiding something, and Fern isn't entirely sure she wants to know what it is. But ten years ago, Will rescued Fern, can she now do the same for him?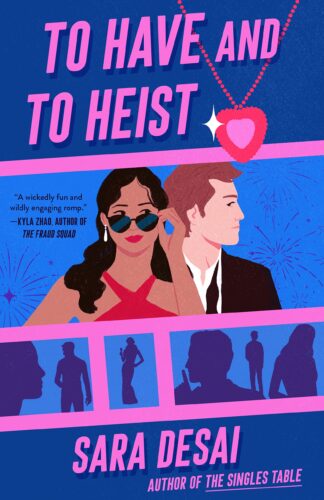 To Have and to Heist – Sara Desai
Sara Desai's To Have and to Heist is the perfect hilarious and action-packed rom-com for fans of Ocean's Eleven. Simi Chopra is on a bad luck streak (to put things lightly). She's in debt, she's just lost another job, her basement apartment is a flood zone, and now her best friend has been accused of stealing a multimillion dollar diamond necklace. That's right when the charming and mysterious Jack waltzes into her life, offering to help her find the missing necklace and steal it back. Simi jumps at the chance to clear her friend's name and collect the substantial reward. But every good heist needs a crew, and all she needs is to transform a ragtag group of strangers, infiltrate a high-society wedding, and steal the necklace from a dangerous criminal…all before the happy couple says "I do". Fast-paced, fun, and full of all the making of a great beach read, this book will steal your heart!
–
Ameema Saeed (@ameemabackwards) is a storyteller, a Capricorn, an avid bookworm, and a curator of very specific playlists, customized book recommendations, and cool earrings. She's a book reviewer, a Sensitivity Reader, a book buyer at Indigo Books & Music, and the Books Editor for She Does the City, where she writes and curates bookish content, and book recommendations. She enjoys bad puns, good food, dancing, and talking about feelings. She writes about books, big feelings, unruly bodies, and her lived experiences, and hopes to write your next favourite book one day. When she's not reading books, she likes to talk about books (especially diverse books, and books by diverse authors) on her bookstagram: @ReadWithMeemz