June is National Indigenous History Month in Canada. This is a month designated to recognize the history, heritage, and diversity of First Nations, Inuit, and Métis Peoples in Canada, as well as to recognize their contributions (past and present). As a reader, and a lover and recommender of books, it was important to me to highlight many of the literary contributions of Indigenous peoples.
This list includes incredible and thoughtful writings by Indigenous authors, across a variety of genres and styles. There's atmospheric horror for lovers of tense and chilling stories; there's fantasy and romance for those who love a little escapism; there's incredibly well-researched nonfiction on history and social and cultural issues for those who love to learn; There are powerful literary works, memoirs and heartfelt coming-of-age stories, all here for your reading pleasure.
While most of the authors on this list are from the land we call Canada, not all of them are, as when we talk about colonialism and Indigenous Peoples, it's also important to remember that many of the borders we have designated are colonial tools, often breaking up, or carving imaginary lines through lands traditionally and historically held by Indigenous Peoples.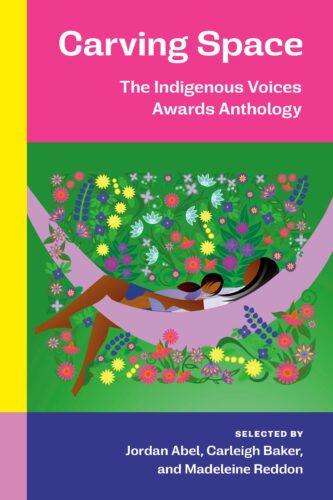 Carving Space: The Indigenous Voices Awards Anthology – Selected by Jordan Abel, Carleigh Baker, and Madeleine Reddon
This anthology was put together to celebrate the fifth anniversary of the Indigenous Voices Awards, and consists of selected works by finalists from the past five years. The Indigenous Voices Awards honour the sovereignty of Indigenous creative voices and nurture the work of emerging Indigenous writers in lands claimed by Canada. This anthology highlights some of the most incredible and "pathbreaking" Indigenous writing, featuring poetry, prose, and theatre, in English, French, and Indigenous languages. This is a celebration of Indigenous storytelling that introduces readers to emerging voices in literature, as well as reconnecting them with treasured favourites. There's a little something for everyone in this collection.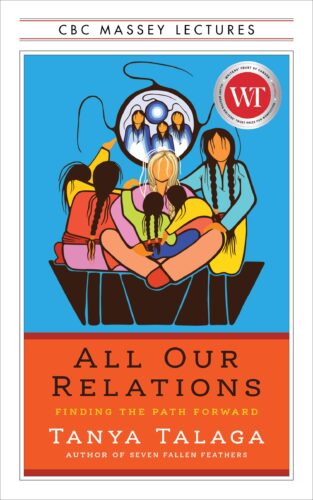 All Our Relations – Tanya Talaga
Tanya Talaga's All Our Relations is a powerful, incisive, informative, and important piece of work. It's heartbreaking, eye-opening, and incredible, reading a little like an educational resource, however it is full of stunning narrative elements, and written in an accessible and compelling way. All Our Relations explores the alarming rise of youth suicide in Indigenous communities in Canada and beyond. It guides readers to reframe and redefine reconciliation, and what it means. Told through historical information, personal account, research, and statistics, this book paints a sober and harrowing picture of the ways that years of trauma, genocide, colonization, and abuse, as well as a loss of culture, land, freedom, and ways of life, have lead to unprecedented and unimaginably high rates of suicide in Indigenous populations around the world. Challenging and urgent, this is the kind of book you'll find yourself going back to again and again.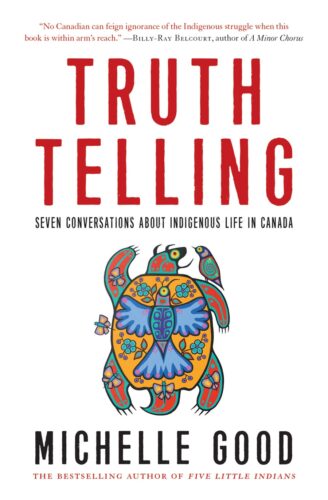 Truth Telling – Michelle Good
Michelle Good's Truth Telling is a bold, brilliant, and beautiful collection of essays that explore the Indigenous experience in Canada, both historical and contemporary. From racism, broken treaties, and the importance of Indigenous literature, to the value of Indigenous lives, and the ongoing theft of Indigenous culture, this collection offers powerful insights about a wide range of Indigenous issues and realities. Meticulously researched, and interspersed with Good's personal knowledge and experience, and iconic historical and contemporary imagery, reading this book is an EXPERIENCE. Good knows her way around words, and each of the seven essays in this collection serves as a conversation, inviting readers to learn and unlearn, to challenge themselves, and their deeply held impressions and biases. This is a must-read for Canadians, not just because of what Canadians will confront and learn about our history, or the ways this book may reshape how we think about reconciliation, but also because of how well-written and compelling this book is.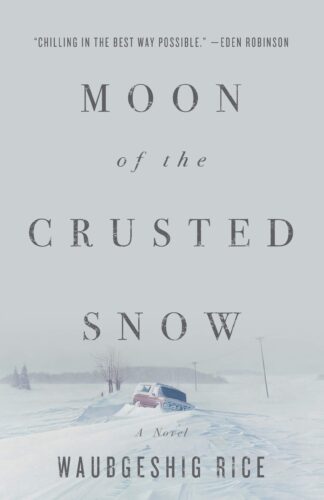 Moon of the Crusted Snow – Waubgeshig Rice
Waubgeshig Rice's Moon of the Crusted Snow is an immersive and compulsively readable post-apocalyptic literary thriller, set in a remote, northern Anishinaabe community. With winter looming, the community goes dark — losing satellite access, power, and phone services, leaving the community confused and passive. As the food supplies start to dwindle, the community starts to panic, and the band council is struggling to maintain order. Then, an unexpected visitor arrives, and starts manipulating the tired and hungry in their attempt to take control of the reserve. Frustrated by the building chaos, a group of young friends and families, led by an unlikely leader named Evan Whitesky, turn to the land, and Anishinaabe tradition, in the hopes of helping their community thrive again. After watching The Last of Us, I was desperately seeking character-driven, human stories about "who we are at the end of the world", and this book really scratched that itch for me. It was smart, tender, and so so well written… I listened to the audiobook, and was thrilled to learn that there's a sequel expected later this year!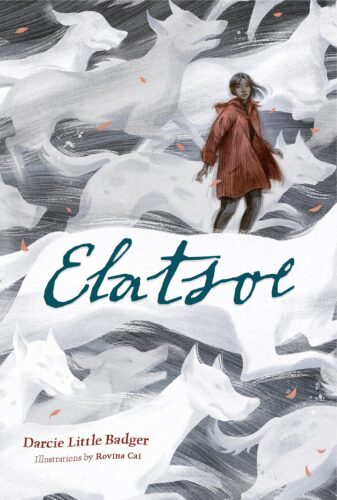 Elatsoe – Darcie Little Badger
Darcie Little Badger's Elatsoe is a vivid young adult fantasy set in an America very similar to our own. It has homework, best friends, and pistachio ice cream… However, there are some differences. This America has been shaped dramatically by the magic, monsters, knowledge, and legends of its peoples – both Indigenous and not. Some of these forces are charming and simple, like the ability to make an orb of light appear, or travel across the world through rings of fungi, while others are less charming. Elatsoe lives in this slightly stranger America, and she can raise the ghosts of dead animals, a skill passed down through generations of her Lipan Apache family. When her beloved cousin is murdered, she must rely on her wits, skills, and friends to try to dig deeper, and protect her family.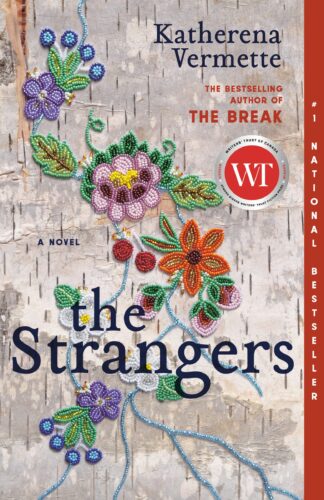 The Strangers – Katherena Vermette
Katherena Vermette's The Strangers is a breathtaking, emotionally devastating, and lyrical intergenerational saga. It's an intimate and literary tour-de-force, exploring the ways we remain connected, even when we're no longer together, and even when we're forced apart. It follows three women: Cedar, who has nearly forgotten what her family looks like; Phoenix, who has nearly forgotten what freedom looks like; And Elsie, who has nearly given up hope. Chronicling their often heart-wrenching stories of love, loss, addiction, trauma, and racism, this story is also full of joy and warmth and support, as these women fight to survive in a fractured system, and make their way through the darkness. This book serves as a companion to The Break, however, you don't need to have read it to read this story.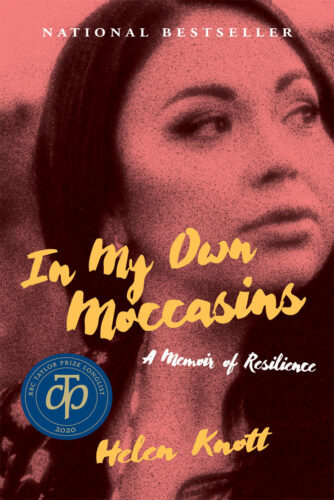 In My Own Moccasins: A Memoir of Resilience – Helen Knott
Helen Knott's debut memoir, In My Own Moccasins, is a powerful memoir of addiction, intergenerational trauma, and the lasting wounds of sexual violence. This is an unflinching account of her life, full of stories as well as historical insights, going back to the signing of Treaty 8 by her great-great grandfather, Chief Bigfoot. This book and Knott's journey expose the legacy of colonialism, and a reconnection and reclamation of her own spirit. It's a story of resilience, but also sisterhood, ceremony, the love of family, and the possibility of redemption. Intimate, vulnerable, and so beautifully written, even at the darkest of moments, this is a book you won't soon forget.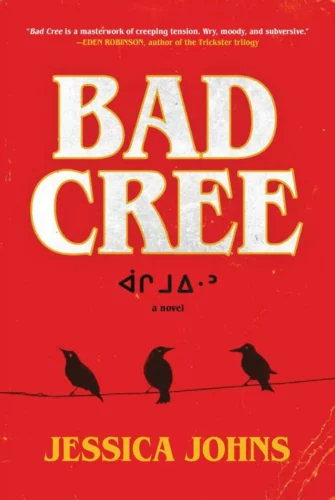 Bad Cree – Jessica Johns
This is an unsettling and chilling story following a young Cree woman whose dreams take her on a dangerous journey. Night after night, Mackenzie is haunted by strange dreams that blur the lines between reality and fiction, as they bring forward memories from before her sister Sabrina's untimely death. When she starts getting mysterious text messages from someone claiming to be Sabrina, she realizes she can't handle this on her own, and travels back to her hometown in rural Alberta, to find her family trapped in the throes of the same grief she's been so desperate to outrun. Unfortunately, her reunion only seems to make her dreams more vivid and more dangerous, facing her with questions she doesn't know how to answer, and taking readers along on her journey of self-discovery, as she also grapples with the violent legacy colonialism has left behind. This book was haunting and tense, but at the same time so full of love and care and community, in a way where you don't feel alone while reading it. The characters were so wonderfully written, so vibrant and vivid, and human, that you could almost imagine you knew them. Ugly and beautiful all at once, this book was a treasure, and definitely one of my favourite reads of the year so far.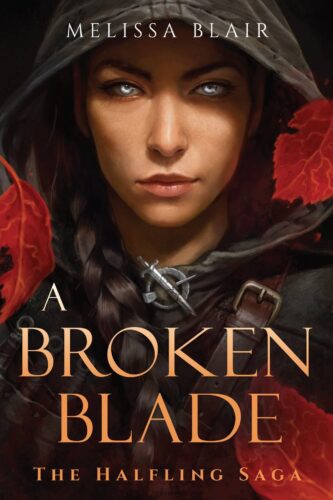 A Broken Blade – Melissa Blair
Melissa Blair's young adult fantasy debut A Broken Blade is the first in a #BookTok favourite series. It follows Keera, the King's Blade. A killer and a spy, she's the King's most favoured assassin. When a mysterious figure called the Shadow starts making moves against the Crown, Keera is forced to hunt the masked menace down. Her journey takes her into the magical lands of the Fae, as she tries to determine if her foe is a Mortal, an Elf, or a Halfling like her… But nothing in Faeland is quite what it seems, including the Shadow, leaving Keera wondering who her enemy truly is… As she hunts for answers, she's haunted by a promise she made a long time ago, to save not only herself, but the entire kingdom. Fast-paced, and utterly captivating, you won't be able to put this book down!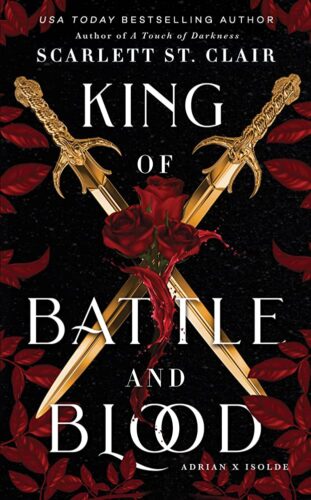 King of Battle and Blood – Scarlett St. Clair
Scarlett St. Clair's King of Battle and Blood is a steamy and epic adult high fantasy romance for people who like their stories with a bit of "spice". Isolde de Lara considers her wedding day her death day. To end a years-long war, she is set to marry the vampire king, Adrian Aleksandr Vasiliev, and kill him. But her assassination attempt is thwarted and Adrian threatens Isolde that if she tries to kill him again, he will turn her into the thing she hates most, and raise her as the undead. Faced with this horrifying possibility, Isolde seeks other ways to defy him and survive the brutal vampire court… Except it isn't the court she fears the most, it's Adrian, the fierce, savage, and merciless king. As she tries to fight their undeniable chemistry, she wonders why Adrian would choose HER as consort… What she doesn't expect is that the answer may shatter her entire world.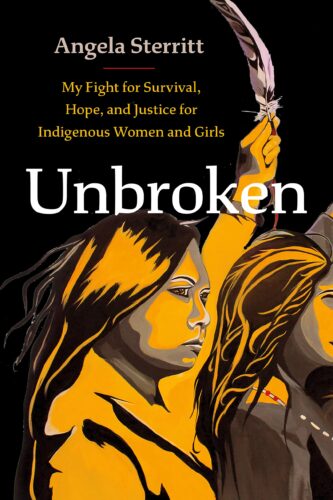 Unbroken – Angela Sterritt
Journalist and writer Angela Sterritt's debut Unbroken is a remarkable work of memoir and investigative journalism, focusing on Missing and Murdered Indigenous Women and Girls. As a Gitxsan teen navigating life on the streets, Sterritt used to write in her journal as she tried to survive and find her place in the world. Now, she's an acclaimed journalist, writing for major news outlets to push for justice and draw a path for Indigenous women, girls, and survivors. As a vulnerable young woman, she was kicked out of the family home, living on the street in places that are infamous for being communities and lands where women have gone missing or been murdered. She chronicles her journey through the darkness, from violence to seeing friends and community members die or disappear. However, this story also follows her through the light, as she finally finds her place in journalism and academic excellence, relying entirely on her own strength, resilience and creativity, along with the support of her community, and her ancestors, in order to help light her way. This is an empathetic and fierce piece of work, highlighting Sterritt's own story, as well as her investigative journalism, while also underlining the strength, courage, resilience, and brilliance of Indigenous women.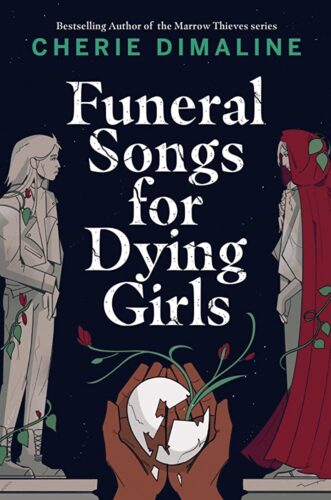 Funeral Songs for Dying Girls – Cherie Dimaline
Cherie Dimaline's latest novel is a young adult fantasy called Funeral Songs for Dying Girls. It follows Winifred, a teenager who lives in the apartment above the cemetery office, with her father, who works at a crematorium, and her mother's grave nearby. With her sixteenth birthday approaching, she's making the most of a lazy summer schedule, lugging her obese Chihuahua around the grounds as she visits neglected graves, while nursing a crush on her best friend Jack. Unfortunately, her habit of wandering the graveyard at all hours has inadvertently started a rumour that the cemetery may be haunted… But fortunately, this is welcome news, since the crematorium is on the verge of closure, and her father's job is set to be outsourced. Now that the ghost tours have started, and interest in the cemetery has been renewed, Winifred may just be able to save her father's job, as well as the only home she's ever known. Her plate is already pretty full, when Phil, an actual ghost of a teen girl who lived and died in the ravine next to the cemetery, starts showing up, leaving Winifred to question everything she believes about life, and death, and everything she knows about love…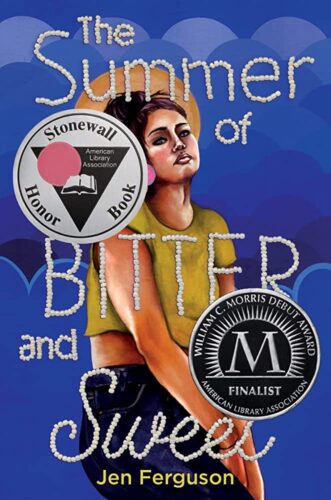 The Summer of Bitter and Sweet – Jen Ferguson
Jen Ferguson's The Summer of Bitter and Sweet is a complex and emotionally resonant young adult debut about rage, secrets, and the many spectrums that make up a person. It follows Lou, who is working in her family's ice cream shack with her newly ex-boyfriend, whose kisses never made her feel desire, only discomfort, as well as her former best friend, King, who's back in town after disappearing without a word three years ago. Things are confusing (and stressful) enough, but when she gets a letter from her biological father, a man she hoped would stay behind bars for the rest of his life, she knows that no matter how much he insists, she simply CANNOT meet him. All the while, she's reconnected her friendship with King, and it makes her feel safer and warmer than she ever thought possible. However, when her family's business comes under threat, she soon discovers that she can't ignore her father forever. This is a powerful coming-of-age story, tackling heavy and painful themes, while also exploring joy and love and tenderness.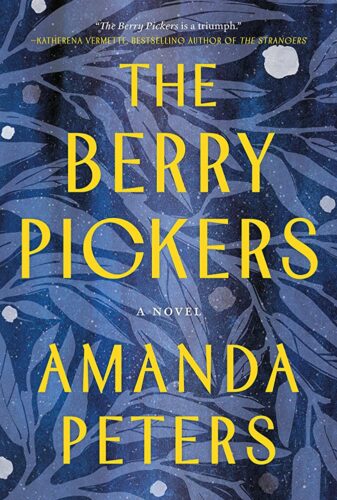 The Berry Pickers – Amanda Peters
Amanda Peters' The Berry Pickers is a stunning historical fiction debut about an unsolved mystery. In July 1962, a Mi'kmaq family from Nova Scotia arrived in Maine, to pick blueberries for the summer. Weeks later, the family's youngest child, Ruthie, mysteriously vanished, last seen by her six-year-old brother Joe. In Boston, a young girl named Norma grows up as the only child of an affluent family. Her father is emotionally distant, and her mother is overly protective, and Norma is often troubled by recurring dreams and visions that seem a bit too real to be just her imagination. As she grows older, Norma learns that there's something her parents aren't telling her, and she is unwilling to let this go, spending decades trying to uncover this family secret. This is a powerful story about trauma, the search for truth, and the persistence of love. Read an excerpt from the book here!
–
Ameema Saeed (@ameemabackwards) is a storyteller, a Capricorn, an avid bookworm, and a curator of very specific playlists, customized book recommendations, and cool earrings. She's a bookseller, and the Books Editor for She Does the City, where she writes and curates bookish content, and book recommendations. She enjoys bad puns, good food, dancing, and talking about feelings. She writes about books, big feelings, unruly bodies, and her lived experiences, and hopes to write your next favourite book one day. When she's not reading books, she likes to talk about books (especially diverse books, and books by diverse authors) on her bookstagram: @ReadWithMeemz