This summer, Brampton-born actor and activist Oluniké Adeliyi stars in Darken, an action-packed, female-led sci-fi thriller. The genre-busting film follows Eve, a young woman who, following a chance encounter, finds herself thrust into a viciously violent otherworld where she must fight for her own survival.
Darken opens this Friday on screens across Canada (Toronto, Vancouver, Calgary, Winnipeg, Ottawa, Halifax). We chatted with Oluniké this week.
SDTC: What's at the top of your bucket list?
OA: Climbing the pyramids in Egypt. What an epic historical workout that would be, mentally, physically and emotionally. I love to visit places where I can feel the pride of my ancestors. Next up, Brazil, to learn more about the Yoruba tribe that journeyed from Nigeria and the African tribe I belong to.
What's your go-to song for getting stuff done?
The remake of "I'm Every Woman" by Whitney Houston or "Remember the Time" by Michael Jackson.
If you could go back in time and tell your younger self anything, what would it be?
Relax and do exactly what you're doing. You're perfect!
What word/phrase should we be saying more often?
I'm not TOO much, you're just not ENOUGH. Find your own light and shine it bright.
Fave horror flick of all time, and why?
Jaws, cause it messed up my psyche with that music. I loved the movies, but I'm forever traumatized of open ocean water. Deep sea diving or snorkelling gets a bit tricky for my heart, but I push through to have an experience and vomit if I need to.
Who/what are you sick of hearing about?
Trump and his disgusting treatment of marginalized people. He has no remorse even when it comes to children and it sickens me to the core. I'm also sick of hearing about mass incarceration of the Indigenous, Hispanic and Black peoples. The history of it is saddening and the only way it will change is if our communities come together to help change laws that were written so long ago. Together, human beings are very powerful.
Best part of working on Darken?
I got to work with Audrey Cummings who directed Darken. We clicked immediately and she trusted me to take the wheel of my talent and drive it anywhere I wanted to go. When a director gives me free will to do anything, it usually turns out to be a rewarding experience. We had fun every single day. I mean, I blew a big fart on one of the takes and it was perfect, because I was free.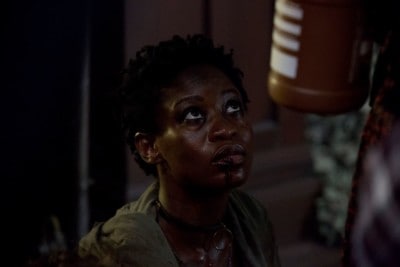 Who has made a big impact in your life recently, and how?
Recently I was a guest teacher at Reel Talent T.O. and the young students at this studio are extremely talented and take notes very well. Their work inspired me so much that I began to cry, because it was so connected to the issues we deal with publicly and privately every day. I was teaching, but I learned from them as well, which is what true artistry is all about. The give and the take.
What does your ideal Saturday look like?
Lying in bed with my lover and pampering each other with love, good food and beautifully deep conversations with an open heart. No social media. No TV.
What's the best part of being your current age?
I'm completely in my body, I have a strong opinion without apology, and I've accepted who I am and where I am in life. I've worked my butt off for twenty years to follow my dreams as an artist, as a student and as a mother. Now I'm maxing and relaxing in my youthfulness that I've maintained for over forty years. Oh, and my body is one of the best I've ever seen all owed to my lineage and healthy, happy living.
What art work would you love to have in your space/on your walls, and why?
Jean-Michel Basquiat, hands down. I gravitated to his artistry A LOT when I lived and studied in New York. It spoke on the issues Black people endured in the past and present. His work is timeless and he wasn't afraid to have an opinion about the social injustices and exploitation of human beings. Plus, he influenced hip hop.
Fave rainy day comfort food? Or activity?
Curried Goat with rice and peas, Ackee & Salt Fish with yellow yam and boiled green banana, Amala with Ogunfe (goat) and Okra pepper stew, Lay's Salt & Vinegar chips, butter tarts, and ginger tea. All this while lying in bed naked with Netflix.
When you were a kid, what did you want to be when you grew up?
The female Michael Jackson.
What was your favourite game/toy as a child?
Mike Tyson's Punch-Out and my Black Cabbage Patch Doll who was a boy and I turned him into a girl.
What do you love most about Toronto?
The summers are EPIC. We have so many festivals here and it's insanely stupid fun for everyone living here or visiting.
What adult task would you like to get better at?
Listening with love.
How would you describe yourself?
A free spirit who is loyal to the bone and loves to dance and travel.
If you could spend a year studying something, what would it be?
I would study the Yoruba language and culture at the University of Lagos in Nigeria.
What is your idea of happiness?
I don't have an idea of happiness. I'm just happy.