Rose Napoli is a Dora-nominated Actor and Playwright. Most recently, her play Ten Creative Ways To Dispose of your Cremains enjoyed a sold-out run at the Toronto Fringe, where she was named an Artist to Watch by NOW, The Globe and Mail and Toronto Star.
Now you can catch her latest play, Lo (Or Dear Mr. Wells), a feminist retake on a student/teacher relationship, wrestling with burgeoning sexuality and consent, literature and passion, right and wrong. The play comprises part 2 of Nightwood Theatre's Consent Event, which takes on the vital and timely discussion of modern sexuality and consent.
SDTC: What's at the top of your bucket list?
RN: Being a mom. Travelling the world. Changing the world. Probably in that order.
What's your go-to song for getting stuff done?
"Invincible" – Pat Benatar
What advice would you give to your fourteen-year-old self?
I wrote a play for her. But I won't include all those words here. Mostly, I would say, "Beautiful Weirdo, all of this is gonna make for interesting drama one day. And it's not your fault."
Who has made a big impact in your life recently, and how?
There is a man who, as I type this, is on his way to my house with Pho. Who – when I had my thirteenth meltdown of the day – said, in the most sensitive way possible, that maybe I should limit my checking of the box office sales to once per hour. He makes me think about doing things like giving up my seat on the streetcar and listening more than I talk.
What does your ideal Saturday look like?
Okay. This is big. I've thought about this A LOT.
– Sleeping in (but only a little)
– Coffee and breakfast and reading in bed
– A facial and massage in the afternoon (Province Apothecary is literally around the corner from me and I dream of going but haven't treated myself yet)
– Dinner at a fancy restaurant wearing a dress (I love Buca, Terroni, and Bar Isobel)
– Dancing with my pals in the Village while some beautiful Drag Queen lip syncs for her life to me
What's the best part of being your current age?
For this I need to quote Nicki Minaj: "I give zero fucks and I got zero chill in me."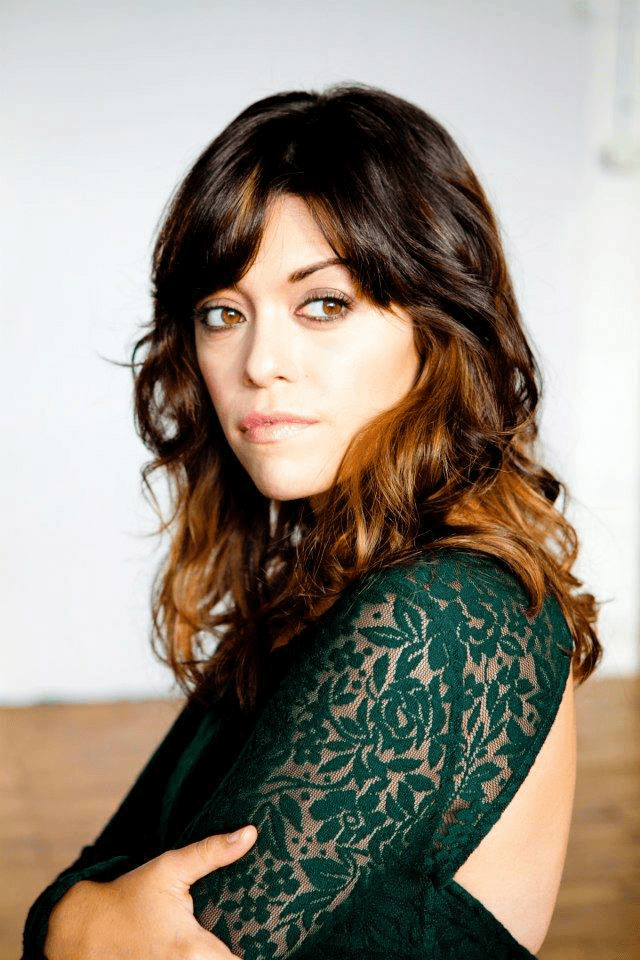 What is your favourite quality in your best friend?
Vulnerability.
What/who is currently inspiring you?
Andrea Donaldson. She is the director of my play, Lo (or Dear Mr Wells). She is the epitome of grace. Her rehearsal room is safe and fearless. She is sensitive and brilliant and loving and egoless. Her direction is both soft and strong – it's so good you simultaneously don't notice it and know that the play simply couldn't exist without it. She is my champion. Also, she is a very cool dresser.
What art work would you love to have in your space/on your walls and why?
If you go in the lower level of the AGO, you will see it. Boy with Fish by Norval Morriseau. I love Inuit art.
Fave rainy day comfort food? Or activity?
Reading books. Eating carbs. (Coincidentally, also the title of my memoirs.)
When you were a kid, what did you want to be when you grew up?
For this, I enlisted the help of my mother, Teresa "Baby T" Napoli:
Rose: Ma, what did I want to be when I was a kid?
Baby T: I don't remember you talking about what you wanted. You did a lot of writing.
Rose: What did I write about? (This was a trick question – I wrote about the American Civil War in an Epic called "Thicker than Blood" and many stories about witchcraft.)
Baby T: I don't remember anything specific.
…
Baby T: Make believe obviously.
Rose: Thanks girl love you.
Baby T: Love you too (kiss emoji).
What was your favourite game/toy as a child?
I read The Thorn Birds when I was tweleve. Does that count as an answer?
What adult task would you like to get better at?
Technology things.
If you could spend a year studying something, what would it be?
Cooking. Or Literature.
Why is it important we further the conversation about consent, in your opinion?
Because one in five sexual assault claims are dismissed every year because they are "baseless." And for those five, who knows what the number is for people who don't come forward – who don't want to. Because we still don't believe them.
Lo (Or Dear. Mr. Wells) runs from October 25 to November 11 at Crow's Theatre (345 Carlaw Ave). Get tickets here.